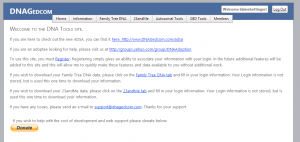 The DNAGedcom team (lead by Rob Warthen, Diane Harman-Hoog and Karin Corbeil) would like to announce the following new items to the DNAGedcom system.
Product: Jworks – Autosomal Grouping Tool
Developer: Juan "Jay" Pizarro
Release Date: May 12, 2014
Download or Location: http://dnagedcom.com/Auto/JWorks.aspx
What It Does: This Excel based tool sorts and groups your chromosome browser results from FTDNA into overlapping DNA sets and assigns the ICW status within the set. By following the paper "Combining Results from All Tests" , the tool can also be used to organize the output from all three testing services. You must have Excel to use this. A Mac Version is also available.
Directions: Full directions are found on a link with in the product interface on dnagedcom.com