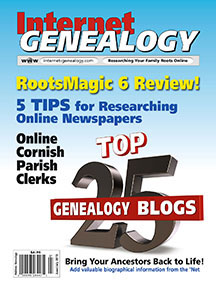 Thanks to Miriam at AnceStories, I learned today that The Genetic Genealogist was named one of the 25 Top Genealogy Blogs by Internet Genealogy!  Congrats to Miriam as well, who was also named one of the 25 Top Genealogy Blogs.  Miriam has a list of the other 23 sites on her blog.
I haven't been able to read the article yet, but according to the website here is the description:
Blogged: 25 Top Genealogy Blogs to Help Speed Your Research!  Tony Bandy highlights twenty-five blogs you can dig your teeth into.

I'm honored by this, and I think it reflects the increasing interest in DNA and Genetic Genealogy that genealogists continue to express.  We're approaching a critical mass at which point DNA must be part of every genealogists' toolbox, and at least a consideration in any serious genealogical search.