From a Press Release issued by Family Tree DNA on August 11, 2010:
FAMILY TREE DNA'S 6th INTERNATIONAL CONFERENCE ON GENETIC GENEALOGY FOR GROUP ADMINISTRATORS TO BE HELD OCTOBER 30 & 31, 2010 IN HOUSTON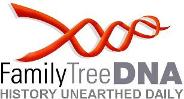 HOUSTON, (August 11, 2010) — Family Tree DNA, the world leader in genetic genealogy, will host its 6th International Conference on Genetic Genealogy on October 30-31, 2010, at the Sheraton North Houston in Houston, Texas. Each year, world renowned experts in genetics and science present cutting-edge developments and exciting new applications at this two-day educational forum which draws attendees from Family Tree DNA's Group Administrators from around the world. This year's conference will focus on the new Family Finder test which allows customers to find relatives across all ancestral lines.