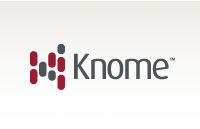 On November 27th, the personal genome sequencing company Knome (pronounced like "Gnome", the mythical creature) officially launched. From the company's press release:
"'Whole-genome sequencing is the endgame,'" according to Mr. Conde [Knome's CEO]. 'It will enable us to look at nearly 100% of your genetic code compared to the less than 0.02% currently available on SNP chips. This is the approach that most fully reveals what our genomes can tell us about ourselves.'"
"Pricing for Knome's service will start at $350,000, including whole-genome sequencing and a comprehensive analysis from a team of leading geneticists, clinicians and bioinformaticians. This team will also provide continued support and counseling."
Here's a round-up of some recent conversation about Knome around the blogosphere:
Eye on DNA announced the launch, and then followed-up with "Eye on DNA Exclusive Interview with Knome CEO Jorge Conde", a must read for anyone curious about the company!
The launch was also covered by DNA and You, SEQanswers, and GenomeWeb.
And, as usual, David Hamilton at VentureBeat: life sciences provides a great deal of interesting information about Knome. The launch was covered here, and an in-depth look at the company is provided in part two.
Misha Angrist at genomeboy.com compares the service of Knome with the Personal Genome Project.
The Gene Sherpa wonders if Knome is going to have some trademark issues.
Berci at ScienceRoll continues his fantastic series reviewing the websites and services of the launched personal genome analysis companies with a post about Knome.