Dr. Moran at Sandwalk brought to my attention a recent segment about genetic genealogy on Marketplace called "Who's Your Grand Daddy?" Marketplace is a Canadian television program. In his post, Dr. Moran states:
"I'm disturbed by the fact that we have a number of prominent bloggers pushing DNA testing. You'd think they would be all over this story. You'd think that they would be in the front lines in the attack on unscrupulous private companies who are overselling the idea of tracing your ancestors through your DNA. If you thought that you'd be wrong. Some of these bloggers are even denying there's a problem."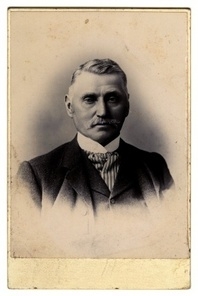 During the Marketplace segment, Johnna – a woman they interview who is interested in learning more about her ancestry – discovers that she belongs to Haplogroup H. Unfortunately, Johnna had expected to learn more about her ancestry, such as the names of ancestors. It would appear that Johnna did not do any research about genetic genealogy.
The journalist then wonders how the company (it happens to be Genebase) can make a claim that Johnna is related to Marie Antoinette. However, the results reveal that Johnna IS related to Marie Antoinette through her maternal line. They both belong to Haplogroup H, meaning that they both descended through their maternal line from a single woman. The problem at this point is that the DEGREE of relation is not clear – most importantly, it is not clear to many potential customers. This is the problem that has prompted so many journalists to pen articles or film segments.
The segment also attempts to drill home the fact that we are all from Africa. The statement is true, but there's no reason to stop at that simplistic answer. There are many scientists who are working on this field of research, attempting to refine the analysis from "we are all from Africa" to "this DNA is strongly associated with this location." Our DNA has changed in those last 150,000 years, and we can learn things from those changes.
I should also point out that regular readers know that I agree that more education is needed. The system is not perfect – I certainly don't think genetic genealogy is a scam, but on the other hand there is always more room for the education of customers.
Genetic genealogy is not an invention of business. It was created by anthropologists, published in peer-reviewed articles, and borrowed by business. In the end, Johnna received the results of her test and an assignment into an mtDNA haplogroup based upon the scientific analysis. Unfortunately, Johnna incorrectly believed that she would be receiving much more.
The question comes down to this – who is responsible for the education of consumers? I am a person who thinks it is 50/50. The company should be as honest as possible and attempt to educate the consumer (and I agree that more can be done by these companies to increase awareness), and the consumer should do their best to learn more. Almost every genetic genealogy company has a website that contains a "learn more" section, and customer should read it before ordering. A quick check shows that Genebase has a "learn more" section as well, available here. Before you buy any expensive product, you should do some research first.
By the way, the strangest part of the video was when they googled "Genographic" and found ads for Genebase, as if that was a sign of bad business practice. Sort of bizarre.