Jasia of Creative Gene! Jasia's winning entry was from a post she wrote about the contest. If Jasia accepts the prize, she will discuss her testing experience or her results either on her blog or here at The Genetic Genealogist, which should be a lot of fun and will help genetic genealogy newbies gain some insight into testing. Congratulations Jasia!
If Jasia doesn't claim the prize, or decides she doesn't want it, the runner-up for this contest is Yann of Yann Klimentidis' Weblog.
Thank you to everyone who wrote about the contest on their blog, subscribed to my feed, subscribed to my mailing list, or left a comment at the original post. Overall, 34 people entered the contest with a total of 117 entries! I met some new readers and read some fantastic posts about the blog. At the end of this post is a list of all the blogs that mentioned the contest.
I wish I could afford tests for everyone that entered! However, don't be too discouraged that you didn't win, as I will be doing this contest again in the very near future!!!
I would like to extend a huge thank you to DNA Heritage, who sponsored this contest.
Here is a shot of the randomizer results: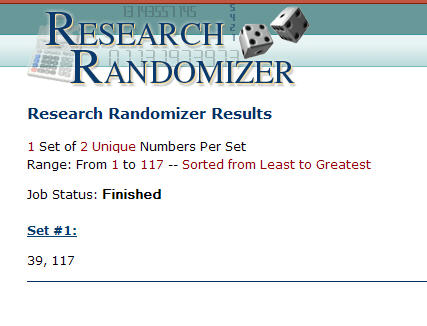 Before obtaining the random numbers, I randomized the Excel spreadsheet. Going back to the list armed with the winning numbers, I found the winner (surrounding names removed for privacy):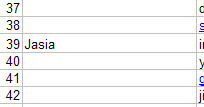 And the runner-up, who happened to be the last entry on the list:

Thank you again to everyone that entered, and to the following list of blogs that mentioned the contest: