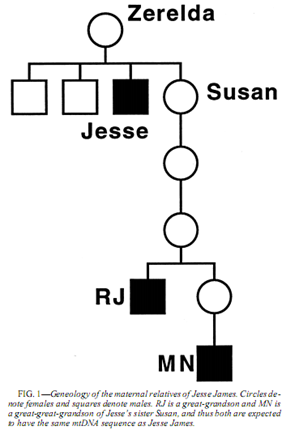 Jesse Woodson James, born September 5, 1847 and died April 3, 1882, was an infamous American outlaw. Despite strong evidence that James was killed on April 3, 1882, some theorized that his death was staged and that he in fact survived to father additional children.
In 1995, researchers set out to use relatively new DNA analysis to examine the rumors surrounding James' death. They exhumed the body believed to be that of James from the Mt. Olivet Cemetery in Kearney, Nebraska. Although the remains were poorly preserved, the scientists were able to obtain DNA from two of four teeth. They also had DNA from two hairs that were recovered in 1978 from James' original burial site on the James farm.
The mtDNA HVR1 sequence from the teeth and hairs were identical and belonged to Haplogroup T2, with 5 mutations relative to the CRS (16126C, 16274A, 16294T, 16296T, and 16304C).
The researchers then compared James mtDNA haplotype to that of his sister Susan's great-grandson and great-great grandson, both of whom were exact matches. Thus, either the body is that of Jesse James, or it is a body that just happens to have the same mtDNA haplotype as James. The authors of the paper did a great job of clearly stating that while strongly suggestive, the results are not absolutely conclusive:
"Do the mtDNA results prove that the exhumed remains are those of Jesse James? The answer to this question must be no, as there is always the possibility (however remote) that the remains are from a different maternal relative of RJ and MN, or from an unrelated person with the same mtDNA sequence. However, it should be emphasized that the mtDNA results are in complete agreement with the other scientific investigations of the exhumed remains: there is no scientific basis whatsoever for doubting that the exhumed remains are those of Jesse James. The burden of proof now shifts to those who, for whatever reason, choose to still doubt the identification. The mtDNA results reported herein provide a standard which other claimants to the legacy of Jesse James must satisfy."
I wonder if any of the original DNA could be recovered again for research in the future.
James' haplotype is available at Mitosearch (EEYCU). Interestingly, even with the increasing popularity of genetic genealogy and the many people who have entered their own haploytpe into Mitosearch, James does not have any exact matches in the database. This fact lends credence to the conclusion that the body tested is that of Jesse James.
Other Posts in the Famous DNA Series: