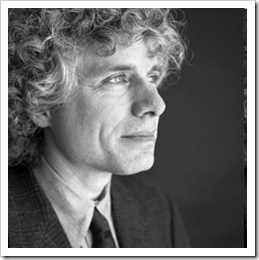 Thomas Goetz has written another terrific article about genetic testing and the Personal Genome Project.  This article, entitled "The Gene Collector," appears in Wired Magazine.  The article provides some new information about the PGP, including some of the incredibly detailed phenotype information that will be collected from the next 100,000 volunteers in the project.
The article also reveals the tenth and final participant of the "First 10", the original 10 volunteers in the PGP.  I wrote about the first nine volunteers in the PGP almost exactly one year ago and noted that the tenth participant had not yet released his or her name.  The Wired article, however, mentions a number of participants including George Church, Esther Dyson, Rosalynn Gill, John Halamka, and Steven Pinker.  Indeed, a check of the PGP website confirms that Steven Pinker is the last PGP volunteer to be identified.
From the PGP-10 website:
"Steven Pinker, Ph.D. is the Johnstone Family Professor of Psychology at Harvard University, and has also taught at Stanford and MIT. His research on visual cognition and the psychology of language has won prizes from the National Academy of Sciences, the Royal Institution of Great Britain, and the American Psychological Association. He has also received five honorary doctorates, several teaching awards, and numerous prizes for his books The Language Instinct, How the Mind Works, and The Blank Slate. He serves on the Usage Panel of the American Heritage Dictionary and many editorial boards, and often writes for Time, The New York Times, The New Republic, and other publications. He has been named Humanist of the Year, and is listed in Foreign Policy and Prospect magazine's "The World's Top 100 Public Intellectuals" and in Time magazine's "The 100 Most Influential People in the World Today." His latest book is The Stuff of Thought: Language as a Window into Human Nature, published by Penguin books in the fall of 2007."
There is more information at Dr. Pinker's Harvard website and at Wikipedia.