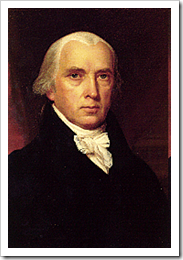 According to a 200-year-old family legend, Bettye Kearse – an African American – is the direct descendant of James Madison.  Madison, of course, was a founding father and fourth President of the United States.  As the story goes, he fathered a child name Jim with a slave cook named Coreen.  For the past 4 years she and genetic genealogist Bruce Jackson of the Roots Project have tried to use DNA to prove or disprove a story passed through 5 generations of the family.
Unfortunately, Kearse and Jackson have been unable to obtain DNA samples from Madison's descendants, stating that they have been "neither sincere nor forthcoming in this effort."  The president of the National Society of Madison Family Descendants, Frederick M. Smith, cited confidentiality concerns and declined to comment.
An article in the Washington Post describes the situation.  According to Smith, "his society has received several claims of family ties to the president over the years and those wishing to test their DNA against that of a Madison family descendant can do so through an online genetic testing service, a method he called objective and without racial bias."  However, Jackson called the approach "scientifically flawed."  I disagree with Jackson; this method would clearly shed light on the question.  Of course a negative result will mean more research and testing, but a positive result would really get the ball rolling.  I also don't believe that Jackson's lab or organization should perform the comparison; it clearly should be a neutral third party.
The Madison Society has suggested that Family Tree DNA be used to compare Kearse's DNA to DNA from an anonymous Madison descendant.  According to the article, Jackson maintains that "there was no way to verify, genetically or historically, whether the so-called Madison DNA being used for the test would be valid. If the test came back negative, he said, it would prove nothing, but Kearse's claim might still be dismissed as false."
Of course, traveling down the Madison family tree is not the only direction to go.  I'm sure Kearse will be able to identify a distant Madison relative who will be willing to submit a DNA sample.  Indeed, in December, "Jackson traveled to England to meet with a British genealogist in hopes of locating a descendant of Madison's great-great-grandfather, John Maddison Sr., a ship's carpenter who emigrated to Virginia in the 1650s."