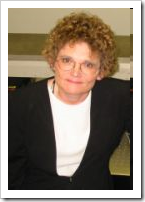 Colleen Fitzpatrick, Ph.D. is one of the most recognizable names in the field of forensic genealogy.  She has authored two books entitled Forensic Genealogy and DNA & Genealogy, and continues to make headlines in this fascinating field.  Here is just an excerpt from her biography, located at her website:
"Colleen Fitzpatrick, Ph.D., is the author of two of the best-selling books in genealogy.  Forensic Genealogy has been widely recognized for its innovative forensic science approach to genealogical research.  She has been featured on NPR's Talk of the Nation radio program (July 2005), and has written cover articles for Internet Genealogy (June 2006), Family Tree Magazine (April 2006) and Family Chronicle (October 2005).  Colleen writes a regular column for Ancestry magazine."
Colleen's work has been very much in the news during the past few weeks as a result of the a project to identify human remains found at the site of a DC-4 airliner that crashed on March 12, 1948.  As a result of this project, the remains were identified as belonging to Francis Joseph Van Zandt, a 36-year-old merchant marine from Roanoke, Virginia.  The story was picked up by hundreds of newspapers – see the Washington Post and Anchorage Daily News stories here, for example.  An MSNBC video is available here.
I recently had the opportunity to interview Colleen about the "Hand in the Snow" project, and about some of the other projects she has or is currently working on, including identifying Titanic remains.
The Genetic Genealogist:Â  You are the Principal Genealogist for the Armed Forces DNA Identification Laboratory in Rockville, Maryland, and you were recently part of a press conference to discuss efforts to identify remains of a serviceman who died in the crash of Northwest Flight 4422 in 1948. What can you tell us about this work?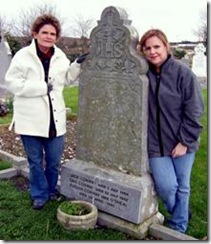 Colleen Fitzpatrick:  By far, the most meaningful moment of my life was last March when I stood in front of the Conway tombstone in the Mount Pleasant Cemetery, Askeaton, Co. Limerick, Ireland.  It read "Dedicated by John Conway, Mount Pleasant, in honor of his dear father and mother who died in 1853, aged 53 years.  Also his wife Ellen and her children Michael and Lizzie." Our search for the identity of the remains found in the crash of Northwest Flight 4422 was at an end. It had been a long journey to this moment- almost nine years to discover the link between the Conway family of Askeaton and the frozen hand and arm found in the snow of the plane that crashed in 1948 in a remote area of Alaska.
Our investigation team was composed of the top experts in the field of DNA analysis, fingerprint identification, and forensic genealogy.  The key to our success was that not just that our team members were accomplished scientists and genealogists, but also that we were all dedicated to working together to making an identification. We worked side by side with no rivalry.  Each of us competed only with himself to do his best.  There were many times each of us faced discouragement, but everyone was determined to do everything possible to identify the remains of the serviceman who died in the accident.
As we eliminated one passenger on the plane after the other, through fingerprints, through DNA analysis, or through both, the possibility occurred to me, as it did to each of us, that we might never find a match.  It was possible that there was someone onboard who was not listed on the passenger manifest – perhaps a CIA agent.  Another possibility was that the victim's female line had died out – that there were no living family members to use for a mitochondrial comparison. If so, a DNA match would be impossible, and if the victim did not have a fingerprint card archived by the military, there would be no fingerprint comparison to fall back on. Still another possibility was that one of the passenger's family members had not been honest and had submitted a DNA sample from a friend or another relative, producing a non-match where the results should have been otherwise.  In all of these cases, the hand and the arm would probably remain unidentified forever. We all held our breath.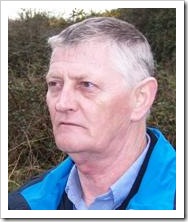 Finally on Thanksgiving Day 2008, our search was over. My forty years' experience with Irish genealogy, combined with a lot of creative thinking and persistence, paid off. We obtained a mitochondrial DNA match between the remains and Maurice Conway, a retired maintenance supervisor I had located in Askeaton, Co. Limerick. Maurice was a distant cousin of Francis Joseph Van Zandt along the exclusively female line of his family. Frank was the second to last passenger we had left to investigate. Even better, Maurice proved to be a double match to the remains – not only did his mtDNA match Frank's exclusively female line, but his Y-DNA matched that of the descendants of Frank's maternal uncle from upstate New York. In the meantime, a fingerprint match was made between the hand and Frank's military records, for a triple confirmation that the remains were those of Van Zandt. This was the best we could have ever hoped for!
The publicity we have received announcing our success has been overwhelming to me. The news of our press conference was published by the Associated Press and was picked up by 300 newspapers worldwide. A video clip of the conference was shown on both MSNBC and CNN. Feature articles are now coming out– two appeared just this week in the Irish Daily Mail and the Irish Independent. There is even a documentary planned for the coming year.
Yet amid all of the excitement, our team has not lost sight of the purpose of our investigation. It had been judged impossible to identify the arm and hand through DNA or fingerprint analysis because they had been embalmed and were severely degraded and contaminated by bacteria. Yet AFDIL devoted much time and effort to developing new techniques for teasing out DNA from the remains, hoping that these techniques could be used to identify nearly 900 embalmed remains of unidentified Korean War veterans buried in the Punchbowl Cemetery in Honolulu. Our fingerprint experts developed new techniques to rehydrate the hand that led to the oldest fingerprint identification ever. In the end, the hard work of our world-class team of DNA analysts, fingerprint experts, and forensic genealogists was rewarded with success. It was thrilling to be part of a team that had accomplished the impossible.
TGG:Â  Stay Tuned for Part II tomorrow!