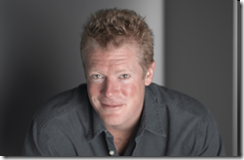 Last week I had the opportunity to attend a lecture by Spencer Wells, director of the Genographic Project from National Geographic and IBM.
The talk was a Syracuse Symposium event, and the first big event ever to be held in Syracuse University's new $110 million Life Sciences Center.  I thought it was fitting that the first event to celebrate the future of the new life sciences building was a lecture that examined the collective genetic journey of mankind.
Dr. Wells began by giving the audience a very brief introduction about DNA and genetic genealogy.  He included a great quote that "The question of origin is actually a question about genealogy."  For those that are not familiar with the Genographic Project, it was launched in 2005 and includes three primary missions:
Global DNA sampling from indigenous and traditional cultures which retain a geographic link with their current location;
Public participation; and
The legacy fund, which is funded by the public participation aspect of the project and aims to "empower indigenous and traditional peoples by supporting locally-led efforts."
Dr. Wells is a great speaker and the hour-long lecture went by extremely quickly.  Some of the more interesting information he shared is not readily available on the Genographic Project's website:
According to current projections, the project is about halfway finished and is predicted to end in 2011.
So far, 41,000 samples have been collected from indigenous populations, and 270,000 kits have been purchased by public participants in 130 countries (currently at about 800 kits ordered per week!).
The indigenous DNA samples are stored for future analysis – this will undoubtedly be an irreplaceable asset as indigenous populations continue to decline (although it does raise issues of informed consent; do indigenous people really understand the information?).
Eventually, the Genographic Project's database will be searchable.
Valuable Research
He also highlighted the previous papers that resulted in party from the Genographic Project, including:
A new paper, soon to be released, will examine the genetic ancestry of the Toubou people indigenous to northern Chad in Saharan Africa.  The Toubou people have a rich and interesting history, but their actual genetic roots are unclear.  According to Sougoui, a Toubou:
"The Genographic Project is a great opportunity for us, the Toubou, because we are a people who are extremely interested in our origins… According to Toubou legend, we are a people who came from different places. This is a question that we continually talk about. We are anxiously waiting for the results of this study to answer this question for us. It is important for us as Toubou to know where we came from, how we got separated from other peoples, and how we actually fit into the world God created."
Dr. Wells showed a short clip of a new documentary that is being made about the Genographic Project.  In the clip, we were shown the challenges of collecting DNA from the Toubou; looks like it will be another very interesting documentary.  See more about the Toubou project here and here.
The Q&A Session
During the Q&A session, someone asked what regions are missing from the database.  Perhaps unsurprisingly, the answer was the Americas and Australia.  Apparently the Project has had a very difficult time getting permission to take samples from these populations.
Many of the questions reflected the fact that many people are confused about the inheritance of Y-DNA and mtDNA.  Half the them were about whether a child or a sibling would have the same or different Y-DNA or mtDNA.
Conclusion
Dr. Wells is a great lecturer, and I highly recommend watching him speak if you are ever able to do so.  I learned a great deal about the Genographic Project, and I look forward to the information that will continue to be released from this valuable endeavor.