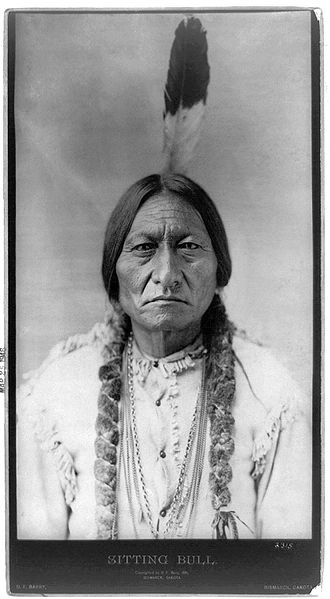 ScienceNews reports that researchers led by Eske Willerslev at the University of Copenhagen are attempting to sequence the genome of legendary Native American "Sitting Bull" (see "Genome of a Chief").
Earlier this year (2010), Eske Willersleve announced the successful sequencing of approximately 80% of the genome of "Inuk," a man from Greenland who left behind a few small fragments of bone and four hairs frozen in permafrost when he died about 4,000 years ago (see "Long-Locked Genome of Ancient Man Sequenced").  Using these ancient DNA sequencing techniques, Willersleve's group is analyzing DNA from other samples.
One of these samples is a lock of hair from Sitting Bull.
Sitting Bull (c. 1831 – Dec. 15, 1890) was a Hunkpapa Lokota Sioux born in South Dakota.  Sitting Bull played an important role in the June 25, 1876 Battle of the Little Bighorn, and later toured as a performer in Buffalo Bill's Wild West show.
It is not clear from the ScienceNow article, but the lock of hair being used for the analysis could be the same lock of hair that was repatriated to Ernie LaPointe, the great-grandson of Sitting Bull, in December 2007 (see "Assessment of a Lock of Hair and Leggings Attributed to Sitting Bull, a Hunkpapa Sioux, in the National Museum of Natural History, Smithsonian Institution").  Ernie LaPointe is believed to be the closest lineal descendant of Sitting Bull, and one of his few remaining descendants (see "Smithsonian traces Sitting Bull's descendants").  The lock of hair was acquired from Sitting Bull's body upon his death in 1890 by U.S. Army surgeon Dr. Horace M. Deeble, and when Deeble died in 1896 it was loaned to the National Museum of Natural History.
It's unknown when the researchers plan to release their results.  The ScienceNews article mentions that one of the researchers, Cristina Valdiosera, revealed the plan to sequence Sitting Bull's genome at an August 2010 scientific meeting:
"Valdiosera said that the researchers have the approval of Sitting Bull's descendents to perform DNA tests on a sample of his hair, and that the team is trying to extract a full genome. If so, his would become the first ancient, non-frozen, Native American genome sequenced."
Interestingly, it appears that working with Sitting Bull's genome may be a life-long dream for Willersleve (see "Fossilized feces found in Oregon suggest earliest human presence in North America"):
"[Willersleve] said his own interest in the subject [of ancient American DNA] was sparked by a boyhood fascination with Sitting Bull and other American Indians."
Sequencing Famous Genomes
As new techniques for sequencing ancient or low-quality DNA samples are developed, researchers will begin to analyze any famous or ancient genome they can get their hands on, which is already beginning to happen.  As a genealogist, I know very well the affiliation humans have for keeping mementos of the past.  There are probably hundreds of famous and ancient DNA samples waiting their turn for sequencing.
Off the top of my head, here are 5 people – either known or likely to have DNA kicking around – that I would nominate for analysis:
Albert Einstein;
Abraham Lincoln;
Ötzi (I believe this one is already in the works);
Juanita the Peruvian Ice Maiden (a 600-year-old mummy); and
My great-grandmother Helen (hey, I can't deny my genealogy side!).
Whose genome would you nominate for sequencing?
Ethical Issues
The ScienceNews article notes "the researchers have the approval of Sitting Bull's descendents to perform DNA tests on a sample of his hair."  Certainly they needed permission to obtain DNA from the hair clipping, but did they need permission to sequence that DNA? (setting aside for the moment the many ethical concerns regarding Native American remains).
For example, if I find a hair clipping in a book I purchased at an estate sale, do I have a duty to find the owner's descendants and ask for permission before sending it away for sequencing?  What if the hair clipping is clearly labeled with the owner's name and other identifying information?  Further, can I leave instructions for my descendants that they do not sequence or give permission to sequence my DNA?
I'm not a believer in genetic exceptionalism, so I look outside the realm of DNA for insight.  If that book I'd purchased at the estate sale was an old diary or journal, it most likely would not cross my mind to contact the author's descendants before reading it.  And, interestingly, that diary or journal is much more likely to reveal personal information about the author than anything I could possibly discover in their genome.
What are your thoughts?  What permission might be required when sequencing ancient or famous DNA?