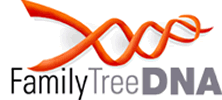 Family Tree DNA has announced the 7th Genetic Genealogy Conference for Family Tree DNA Group Administrators, to be held in Houston, Texas on November 5th and 6th, 2011.
Featured speakers at the meeting include the following:
Another interesting speaker at the meeting will be Jessica L. Roberts, J.D., an Assistant Professor of Law at the University of Houston Law Center (recent C.V. here (pdf)).  Although it's not clear what Roberts will be speaking about, her recent publications (pdf) focus on genetics and the law, including the Genetic Information Nondiscrimination Act.  Kudos to Family Tree DNA for again bringing together a wide array of viewpoints and opinions at the conference.
——————————————————- ... Click to read more!