I just discovered today that The Genetic Genealogist was recently included in a list of 50 top genealogy blogs by Inside History Magazine.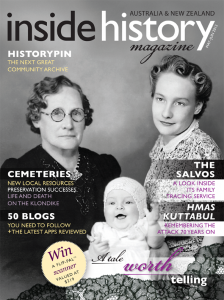 Inside History Magazine is a periodical "for people passionate about Australian and New Zealand genealogy, history and heritage."  The current May-June 2012 issue has an article entitled "Entering the Blogsphere" in which author Jill Ball (of Geniaus) writes about the prevalence of genealogy bloggers.  As part of the article, she compiled a list of 50 blogs that "every genealogist needs to follow."
I'm honored that The Genetic Genealogist was included in this list, especially considering the others blogs, many of which I've been reading for years!
Be sure to check out Inside History Magazine and the many terrific blogs listed in the article.  Also, Jill just included a nice follow-up list of "the blogs that got away." ... Click to read more!