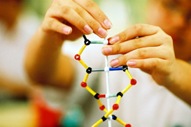 Do you have a burning question about genetics that's been keeping you up at night? Ever wonder why the combination of red hair and brown eyes is so rare? There are two great resources currently available online for anyone who is curious about genetics.
AsktheGeneticist is a partnership between the Department of Human Genetics at Emory University and the Department of Genetics at the University of Alabama at Birmingham. The mission of AsktheGeneticist "is to answer questions about genetic concepts, and the etiology, treatment, research, testing, and predisposition to genetic disorders." AsktheGeneticist has a genetic genealogy section, but it's pretty sparse.
The Tech Museum of Innovation in San Jose, California has partnered with the Department of Genetics at Stanford University to present "Genetics: Technology with a Twist." The interactive site has an 'Ask The Geneticist' section where you can ask a Stanford geneticist a question.
The site also has an interactive eye calculator you can use to predict the color of your child's eyes (for fun, of course). For example, both my wife and I have brown eyes, but both our mothers have blue eyes. According to the calculator (which takes other factors into account), our child had a 75% chance of have brown eyes, 10.9% green, and 14.0% blue. Note that these percentages suggest that he might have had a 0.1% chance of no eye color (just kidding, of course!). Our son, against the odds, has blue eyes.
Although these websites could be both entertaining and a great source of information, I don't recommend their use for the diagnosis or treatment of any type of genetic disorder.