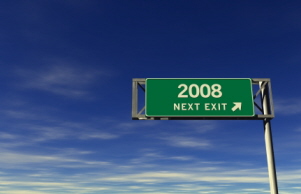 As 2007 comes to a close, I thought I would take a moment to reflect upon the past year of blogging and set some goals for the coming year.
The Genetic Genealogist was created just 10 months ago. My first post on February 12, 2007 was "New estimates for the arrival of the earliest Native Americans." Interestingly, this research was just named one of the Top 100 Science Stories of 2007 according to Discover Magazine.
Since the debut, I have written a total of 211 posts. There have been over 32,000 visitors and almost 100,000 page views since February. My eBook, "10 DNA Myths Busted, and Other Favorite Posts", has been downloaded almost 150 times. My top 10 most viewed posts are the following, which represent a wide array of topics:
To top the year off, I have met an amazing array of individuals through this blog, including professional genealogists, people in the DNA Network, The Genealogists Network, members of genetic genealogy companies, commentators, and many others. In addition, I would like to thank all of the readers and visitors who make blogging such a rewarding experience.
So, in closing and as part of the "Group Writing Project: 2008 Blogging Goals" by DailyBlogTips, here are a few of my goals for 2008:
1. I would like to increase the number of comments and promote conversation among readers;
2. I would like to continue to increase the number of readers and visitors to TGG (which would of course also help #1!);
3. And I would like to blog about a wider variety of sub-topics within the field of genetic genealogy (maybe a few interviews with surname project leaders, more about recruiting members to projects, just to name a few).
What are your blogging goals for 2008?