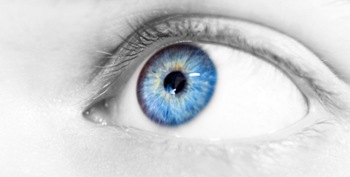 Researchers at the University of Copenhagen suggest that a mutation that arose around 6,000 to 10,000 years ago was inherited by every individual who has blue eyes (original study here). This mutation, located within an intron in a gene called HERC2, reduces the activity of a neighboring gene called OCA2. The researchers located the same mutation in 155 blue-eyed individuals from Denmark as well as in 5 individuals in Turkey and 2 in Jordan. From ScienceDaily:
"'Originally, we all had brown eyes,' said Professor Eiberg from the Department of Cellular and Molecular Medicine. 'But a genetic mutation affecting the OCA2 gene in our chromosomes resulted in the creation of a 'switch,' which literally 'turned of' the ability to produce brown eyes."
This is the big question: How do the researchers come to the conclusion that everyone with the blue eye gene is descended from the same blue-eyed individual?
The researchers make this conclusion because 97% of the blue-eyed individuals in their study had the same set of 13 SNP mutations in the OCA2 and HERC2 genes on chromosome 15. The other 3% differed by only 1 to 3 mutations. The argument goes that if the the rs12913832(G) mutation had happened randomly in populations around the world, then it would have sprung up in different haplotypes (that is, the 13 SNPs in the OCA2 and HERC2 genes would be randomly different amongst those populations). Instead, 97% of blue-eyed people tested have exactly the same SNP haplotype at that particular location, suggesting that the rs12913832(G) mutation only successfully arose once and has spread around the world in conjunction with those 13 SNPs.
Why are there so many blue-eyed people in the Scandinavia and Baltic areas?
The authors suggest that there is a positive selective force to select for blue eyes in this region. Theories include "selection for pigmentation traits which include UV expositor causing skin cancer, vitamin D deficiency, and also sexual selection."
rs12913832 is tested by 23andMe, SeqWright and deCODEme (from SNPedia).
More information: