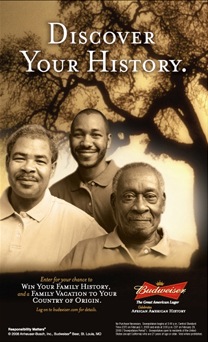 In honor of Black History Month, Anheuser-Busch – through the flagship Budweiser brand – announces a sweepstakes called "Discover Your History" in which a grand-prize winner and three guests will be given a trip to "their ancestral background as determined via genetic testing." Nine other winners will receive "genetic genealogy testing and ancestral family tree research."
The testing will be performed by AfricanDNA.com L.L.C., the company founded by Harvard University Professor Henry Louis Gates Jr. in conjunction with Family Tree DNA.
From Anheuser-Busch's press release:
"One of the most basic human desires is to understand who we are and how our family is woven into the broader, historic context of humanity," said Johnny Furr Jr., vice president, Community Affairs and Supplier Diversity for Anheuser-Busch, Inc. "We at Budweiser are proud to offer a lucky family the chance to embark on this remarkable journey of discovery. We hope to inspire others to use today's technology to learn about their ancestors and region of origin."
In addition to the contest, Anheuser-Busch is also partnering with radio host Michael Baisden to offer 20 additional genetic genealogy tests and complete family tree compilations. To win these tests, listeners must call in during "The Michael Baisden Show" to answer questions about black history. Visit www.michaelbaisden.com for more details. Back to the press release:
"In total, 30 families will receive priceless information regarding their family history. The genetic testing will be done by AfricanDNA.com LLC, a company founded by Harvard University Professor Henry Louis Gates Jr. His firm aims to use historians and anthropologists to explain which of various genetic possibilities – prompted by DNA traces – is more historically likely. The genealogy investigation works by matching a customer's DNA to a database of samples collected from Africans living today. The large migrations of African people during the last 3,000 years mean that a contestant's DNA might share genetic similarities with somebody living today in Ghana, Cameroon, Kenya, Angola, Nigeria or Sierra Leone."
I was unable to find the contest rules at either www.michaelbaisden.com or www.budweiser.com, but hopefully they at least note some of the limitations of genetic genealogy tests. I do like the fact, however, that they are offering traditional genealogical research along with the testing. As I've always said, genetic genealogy is at its best when it is combined with "old-fashioned" paper trail research.
Given that I hosted a contest to give away a free genetic genealogy test just a few weeks ago, you could probably guess that I think this is a fun idea. I do wonder, however, how Anheuser-Busch of all companies came up with the idea.