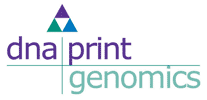 GenomeWeb Daily News announced on Friday that DNAPrint Genomics is being purchased by Nanobac Pharmaceuticals (I've written about DNAPrint here and here, including about their Doggie DNAPrint product). Here is the press release from Nanobac.
DNAPrint had a big year in 2007 with a number of partnerships and new products, and many people have forgotten or were unaware that the autosomal genetic genealogical tests offered by DNAPrint's AncestrybyDNA are just a small part of the company's business. From the Nanobac press release:
"DNAG's primary objective has been, and Nanobac's primary objective will be, to develop progressive theranostics drugs, which combine extensively modeled drugs with genomics-derived intelligence to create more economical and powerful drug/test combination products with superior performance parameters. DNAG's flagship product, PT-401, is expected to result in more effective treatment of anemia, and its Protectin(TM) (CD-59) diagnostic test is expected to allow patients and their physicians to more effectively manage the risks and treatment decisions for diabetes. DNAG supports its clinical programs, in part, through the sale of consumer genetics tests genotyping services on a contractual basis."
Will DNAPrint/Nanobac continue to offer and develop their autosomal DNA testing products in the face of startups like deCODEme, 23andMe, and SeqWright? I wonder if they've seen any decline in business since the launch of these companies. I think DNAPrint/Nanobac will have to implement some type of SNP chip technology to be competitive in this market.