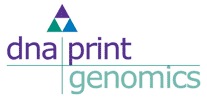 In February, I received a number of comments and emails which suggested that DNAPrint Genomics was not processing results and could not be reached by telephone.  DNAPrint was one of the first companies to offer 'large-scale' autosomal testing, although their tests were unable to compete with the testing currently offered by companies like 23andMe and deCODEme.
Indeed, the company has recently ceased operations.  From the site: "DNAPrint® Genomics, Inc. has regrettably ceased operations. We thank you for your support."  As I wrote last February, the company was scheduled to be purchased by Nanobac Pharmaceuticals, but the deal fell through shortly thereafter.
GenomeWeb Announces DNAPrint's Demise
From an announcement today at GenomeWeb – "DNAPrint Genomics Goes Bust":
NEW YORK (GenomeWeb News) – Genetic testing company DNAPrint Genomics has shut down its operations, according to a notice on its website.
The Sarasota, Fla.-based firm shut down operations sometime during the past month. Its most recent filing with the US Securities and Exchange Commission was on Feb. 9, in which it announced that its President and CEO Richard Gabriel had resigned from the firm as well as its subsidiaries Ellipsis Biotherapeutics and Trace Genetics.
The cash-strapped firm, which had been trading on the Pink Sheets, had inked a deal a year ago to be acquired by Nanobac Pharmaceuticals. However, the deal fell apart after Nanobac was unable to raise additional funds before a deadline on March 31, 2008.
Attempts by GenomeWeb Daily News to reach company officials were unsuccessful.