I often get emails from people who are new to genetic genealogy asking questions about their newly-received DNA testing results. They are unsure about about what the results mean, how to find more information, or what to do next. I also see people ask these questions in all of the DNA forums and mailing lists that I subscribe to. Although I do my best to help the people that email me, I often wish there was more I could do.
In an attempt to assist people with the interpretation of their genetic genealogy testing results, I've written an eBook that takes the reader step-by-step through an analysis of their Y-DNA or mtDNA results, including estimating a haplogroup and sub-clade from testing results, finding resources to learn more about particular haplogroups, and finding haplogroup and haplotype matches, among many other topics. Here is the Table of Contents from the 28-page eBook:
Chapter 1: What Is (And Isn't) Genetic Genealogy?
Chapter 2: How Do I Interpret My Y-DNA Results?
Chapter 3: How Do I Interpret My mtDNA Results?
Chapter 4: Monitoring the Field of Genetic Genealogy
I'm offering this eBook for free to anyone that might be interested in interpreting the results of their genetic genealogy test. And please feel free to share this eBook with your friends, mailing list, or anyone else. Without further ado: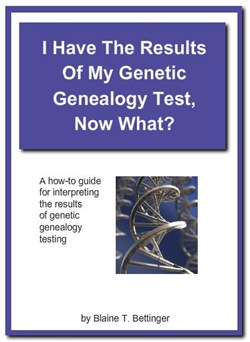 I've spent many hours over the past few months working on this eBook, and I hope that you find it helpful in your own genetic genealogy journey. If you find anything that might need correction, or have any suggestions for future editions, please feel free to email me. And check back often for updates to this eBook. If you find the eBook helpful, please consider subscribing to my blog for updates and future releases.