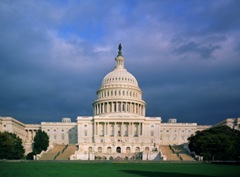 On April 27, 2007, I wrote "GINA: A Primer", which was an introduction to the Genetic Nondiscrimination Act. Today, nearly a year later, the bill will most likely be voted on and passed by the Senate, the last step before being handed over to President Bush to sign into law (which he has indicated that he will do). As I wrote last April:
"GINA aims to protect individuals in a variety of different areas. The legislation would prohibit access to genetic information by insurance companies and would prohibit insurance companies from discriminating against an applicant based on genetic information, the refusal to submit genetic information, or for have been genetically tested in the past. Additionally, the Act would prohibit employers from using or collecting genetic information to make employment decisions. The Act also establishes a Genetic Nondiscrimination Study Commission that is charged with reviewing new developments in the field of genetics and advising Congress."
This bill is considered by many to be an important first step in providing protections against the misuse of recent and future developments in genetic sequencing and analysis technology.
There is a great deal of information about today's vote:
There is also some very recent information from the Center for American Progress entitled "Genetic Nondiscrimination: Policy Considerations in the Age of Genetic Medicine" (full pdf report here).  The Center (which I am not familiar with) also has a recent interview with a genetic counselor: "It's All in the Genes (Or Is It?)"
Stay tuned!