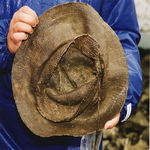 Around the year 1700, a relatively healthy young hunter was walking along a glacier in land that would one day be British Columbia in Canada. He wore a robe of 95 animal skins, perhaps gopher or squirrel, stitched together with sinew, and carried a walking stick, iron-blade knife, and spear thrower. For some reason, the young man, aged 17 to 22, died on the glacier and was quickly incorporated into the ice. There he remained, frozen, for the next 300 years.
In August 1999, three hikers noticed a walking stick, fur, and bone lying on a melting glacier (60′ N 138′ W). The young hunter, renamed Kwäday Dän Ts'ìnchi in the Southern Tutchone language of the Champagne and Aishihik First Nations, was removed by scientists for analysis (see the NY Times article, and the Journal of Canadian Archaeology article). From an article in the Sydney Morning Herald:
[When scientists were led to the site], they found a torso with the left arm attached. The hand was mummified. The fingernails were missing. The head was missing, too. A few metres away lay the lower body, with thighs and muscle attached. They also found a wooden dart and walking stick, and pieces of fish and scales within the folds of the man's robe.

Over the next two days the team members carefully lifted the remains. They collected a knife still in its sheath and a leather pouch. They found a woven hat, fragments of clothing and what was later described as the man's "personal medicine bag", which was considered sacred, even after more than five centuries. They did not open it.
In 2001, Kwäday Dän Ts'ìnchi's remains were given back to the Champagne and Aishihik, and in July 2001 he was cremated in a closed ceremony and returned to the glacier. Kwäday Dän Ts'ìnchi's skull was found in 2003 but was not removed from the site.
Discovery Continues
Even though Kwäday Dän Ts'ìnchi has been cremated, the analysis of his DNA, intestinal contents, and artifacts continues. This past weekend, at the Kwäday Dän Ts'ìnchi Symposium, researchers around the world presented the results of their research:
The conference brings together more than 30 researchers from fields as diverse as archeology, criminology and microbiology. They come from local universities, the Royal B.C. Museum, Vancouver General Hospital, first nations, and institutions as far afield as Indiana and Scotland.
Haplogroup A
One of the research projects involved sequencing of Kwäday Dän Ts'ìnchi's mtDNA, which revealed that it belonged to Haplogroup A, with the polymorphisms 16111T, 16189C, 16223T, 16290T, 16319A, and 16362C. As part of the study, the researchers collected blood samples from 250 to 300 members of the Champagne and Aishihik First Nations to compare their mtDNA sequence to that of Kwäday Dän Ts'ìnchi's (more info here and here). At the Symposium, the researchers revealed that 17 people had mtDNA that closely matched that of the subject, suggesting that they are close maternal relatives. 15 of those 17 people belong to the Wolf clan, also suggesting that Kwäday Dän Ts'ìnchi might have belonged to the Wolf clan himself (more info here).
This topic is of particular interest to me, since my mtDNA belongs to Haplogroup A and therefore I am also (very) distantly related to Kwäday Dän Ts'ìnchi. Last year I profiled the Qilakitsoq mummies in Greenland, all of whom belonged to Haplogroup A.
HT: Geneasofts