I don't often post pure genealogy on this blog, but I thought I would take a break from genetic genealogy and join in on the Genea-Bloggers Weekly Genealogy Blogging Prompt, which was:  "Upload your favorite picture and talk about it on your blog. Answer the who/what/when/where/why of the subject matter and explain why it is your favorite."
Although it is nearly impossible to pick a single favorite from my extensive photo collection, I chose the following photo as one of my favorites: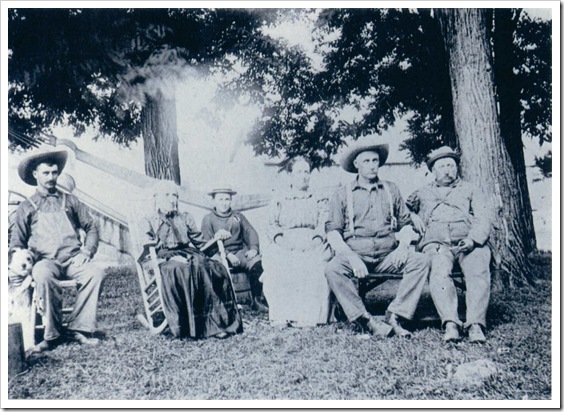 People (L to R): Frank Bettinger (my great-grandfather), Angeline Taylor Bettinger (my great-great-great-grandmother born in 1815!), Ward Bettinger (my great-great-uncle), Melissa Albro Bettinger (my great-great-grandmother), Edgar Bettinger (my great-great-grandfather), and George Bettinger (my first cousin three times removed).  Unfortunately, I never met anyone in this photo, although I've heard a great deal about them.
Date:  I estimate that the photo was taken between 1898 and 1901, based on two facts.  First, Angeline died in 1901 meaning the photo must have been taken before then, and the second is that Ward – who appears to be at least ten years old in the photo – was born in 1888, suggesting that the photo was taken after 1898 or so.
Place: Probably the Bettinger Family Farm in Jefferson County, New York.
Why is this my favorite?
What's not to love in this photo?  It's an amazing collection of three generations of my surname family and includes four of my direct ancestors.  The photo also captures a moment in the final years of my great-great-great-grandmother Angeline, an incredibly interesting woman who was born in 1815.  And lastly, it is most likely taken on the grounds of the Bettinger Family Farm where my ancestors lived for 150+ years.
Maybe a little genetic genealogy?
OK, I can't help but sneak in just a little tidbit of genetic genealogy.  I share a Y-chromosome with every male in this photo!  In fact, my Y-chromosome passed through two of the people in photo before reaching me: Edgar and Frank.  Interestingly, if I include my son, I have photographs of seven generations of my Y-chromosome line going all the way back to 1812 (196 years).