Yesterday I posted about my recent testing experience with 23andMe, focusing on the health and traits information.  This post examines the genealogical aspects of testing at 23andMe.
Ancestry Information
Although I was interested in the health and traits information, I was most excited about the ancestral information.  23andMe's test looks at mtDNA, Y-DNA, and autosomal coverage.  I believe that the company is working to report on ancestry of the X-chromosome, but as I have previously reported X-DNA ancestry can be extremely challenging.
This was my second foray into autosomal DNA testing.  In 2003 I purchased an AncestrybyDNA 2.0 test from DNAPrint Genomics.  The test looked at 71 Ancestry Informative Markers (AIMs) to determine percentages of Indo-European, East-Asian, Native-American, and African ancestry.  It is worth noting that before AncestrybyDNA went out of business (more info here), the company was offering more advanced tests that examined as many as 1,700 markers (still far below the number of markers used to quantify percentages at 23andMe and deCODEme).
My 2003 test showed the following ancestry percentages: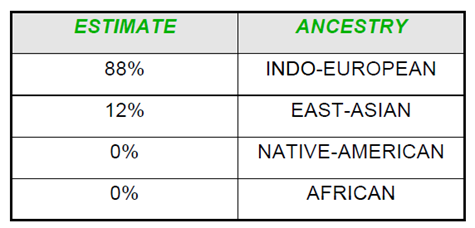 The results show that I was strongly Indo-European, which was not a surprise.  However, the test also suggested that my ancestry was 12% East Asian despite the fact that I am unaware of any Asian contributors to my DNA.  The AncestryByDNA test was often unable to distinguish between East Asian ancestry and Amerindian ancestry despite the fact that they reported the two separately.  Based on my understanding of my genealogy, I had concluded that the East Asian ancestry reported by AncestryByDNA was most likely Amerindian.
The Ancestry Painting created by 23andMe suggested that I was 98% European, 2% Asian, and >1% African: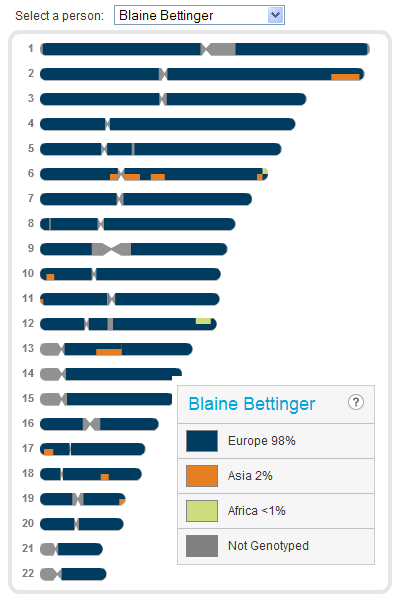 Why the discrepancy between 23andMe's test and the AncestrybyDNA test?  It is undoubtedly due to the number of markers included in the two tests.  This early AncestrybyDNA test looked at less than 75 markers, while the 23andMe test presumably examined thousands of locations.  Below is a graph of 23andMe's autosomal coverage, although it is unclear how many of these SNP results are actually used to determine ancestry: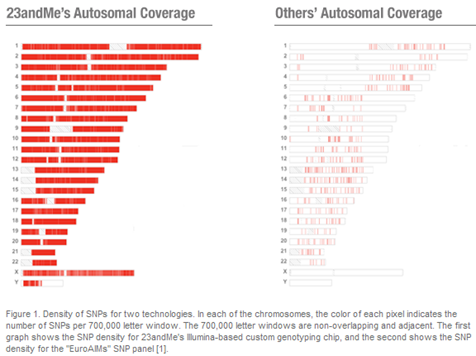 The 98% European certainly wasn't a surprise, nor was the 2% Asian, although I'm quite certain that it is Amerindian based on other clues in my results and my genealogy (which we will see under "maternal ancestry").  The small percentage of African DNA was surprising, although it has been suggested that the small percentage could be an artifact.  More research (and perhaps more testing) will be probably be required to fully understand the results.  It is certainly interesting, however, that the results line up so well with my understanding of the genealogical contributions to my DNA!
Maternal Ancestry
As I noted above, my autosomal results suggested that I am 2% Asian, which I interpreted to be 2% Native American.  This actually confirmed a hypothesis that I had formed after receiving my mtDNA results from Family Tree DNA many years ago.  My maternal haplogroup is A2, a distinctly Native American haplogroup.  My most distant maternal ancestor, a woman named Julia Ann Rebecca born c1820 probably in the Cayman Islands.  The people of the Cayman Islands have a very rich genetic background, encompassing individuals from Europe, Central America, and Africa.  It is likely that this portion of my ancestry also explains the <1% African DNA in my Ancestry Painting at 23andMe.
The 23andMe test confirmed that I belong to Haplogroup A.
Paternal Ancestry
And lastly, my Y-DNA SNPs revealed that I belong to Haplogroup R1b1c9, now known as R1b1b2a1a.  This confirmed results from Family Tree DNA.  After receiving my results, I downloaded my Y-DNA SNPs and contributed them to the Y-Chromsome Genome Comparison Project (more information here).  This project compiles the SNPs into a public spreadsheet for use by researchers to identify novel SNPs.
Conclusion
If you have any questions about the testing process or ancestry results that I didn't address, please feel free to leave a comment.  If you are interested in learning more, Andrew Meyer at BUZZYEAH posted a series similar to this one in which he analyzed some of his own results:
How Breast Cancer and Other Four Star-Rated Topics Relate to My DNA, Part 1 (Apr 11, 2008)
Fun with mtDNA: Exploring my Maternal Ancestry (Apr 12, 2008)
Fun with Y Chromosomes: Exploring my Paternal Ancestry (Apr 16, 2008)
How Heart Attack and Other Four Star-Rated Topics Relate to My DNA, Part 2 (Apr 24, 2008)
Visualization of My Genetic Similarity to People Around the World (Apr 30, 2008)
Just Downloaded a File Containing my Raw Genome Data. Now What? (May 4, 2008)