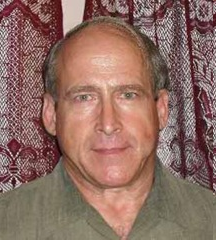 In January I wrote about Benjaman Kyle, an amnesiac who was found on August 31, 2004 next to a dumpster behind a Burger King in Richmond Hill, Georgia.  In that post, "Using Genetic Genealogy to Solve the Mystery of Benjaman Kyle," I suggested that a Y-DNA test might be helpful in elucidating Mr. Kyle's biological surname.  Y-DNA testing has shown to be highly useful for identifying unknown surnames (see here and here), and so I contacted Mr. Kyle to suggest the possibility.
The Results Are In
Shortly thereafter, Mr. Kyle took a 67-marker test from Family Tree DNA.  The results, announced it seems by Kimberly Powell of Kimberly's Genealogy Blog, suggest that his surname might actually be POWELL or a variant thereof.  His results are now part of the Powell Surname DNA Project as kit #140314 where he very closely matches the "Joseph Powell Group."  See more here.  From Kimberly's post:
A 50/60 year old amnesia victim going by the name of Benjaman Kyle recently had his Y-DNA tested in an attempt to learn something about his origins; resulting in a close 37 marker connection with several members of the POWELL Surname DNA surname project at FamilyTreeDNA. Interestingly, just like the Unclaimed Persons Web site, founded by Megan Smolenyak, which brings together genealogists with medical examiners, coroners, and investigators searching for next of kin of recently deceased individuals, amnesia victims also have groups of volunteers who help try to reunite them with family. You can read more of the discussion on Benjaman Kyle at WebSleuths.com, which is where using genealogy as a possible tool was suggested.
The Indianapolis Star ran a story last month – Man with Amnesia Still Searching for his Past – that mentioned the DNA testing but failed to mention the potential POWELL link.
Proof?
This isn't proof that Benjaman's last name before he suffered from amnesia was Powell.  He might have legally changed his name, or there might have been some other non-paternal event that introduced the Y-DNA into the family (infidelity, adoption, etc…) such that Benjaman possessed the [potentially] Powell Y-DNA at birth but did not have the Powell surname.  In any event, this is a new clue that might help Mr. Kyle rediscover his identity.