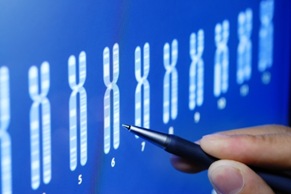 An article in the United Arab Emirate newspaper The National (wikipedia) does a terrific job of highlighting recent research from Family Tree DNA.  The story – "DNA could illuminate Islam's lineage" – discusses research that has attempted to elucidate the Y-DNA signature of Mohammed.  Although Mohammed did not have a son, he had a daughter who married her paternal second cousin, thus passing to Mohammed's grandchildren the same Y-DNA.  From the article:
"For almost 1,600 years, the title Sharif, Sayyed, or Habib has been bestowed on Muslims who have been able to trace their roots back to the Prophet Mohammed through intricate family trees, oral histories and genealogical records. But now an American DNA lab says it may have identified the DNA signature of descendants of the Prophet Mohammed, and perhaps the prospect of a direct, more accurate means of confirming or identifying such a connection."
The caveat, as the story briefly mentions by the phrase "if their oral tradition is accurate", is that no one has an authenticated DNA sample directly from Mohammed.  If there were, this type of research would not be needed.  Instead, the conclusion that it might be Mohammed's Y-DNA is based on testing individuals who are likely to be descended from Mohammed and looking for a common Y-DNA signature.  Until a DNA sample from Mohammed is obtained (likely an impossibility), the conclusion will not be 100% proven, which means that any information about this conclusion should also contain info about this caveat.  Of course, as all genealogists know, almost none of our conclusions about ancestry/descendancy are 100% proven, especially when they are based at least in part on oral and paper records.
Sharifs DNA Project at FTDNA
There is a public Sharifs DNA Project at Family Tree DNA, which contains the following information:
"Sharif's are people who claim to be descendant from the Prophet Muhammad, Peace on him, through the two sons of his daughter Fatima Ezzahra, which are Hassan and Hussein. The descendants of Hassan and Hussein sons of Ali Ibn Abi Taleb spread all over the world and particularly in the muslim world from Indonesia to Moroco. There are actually hundreds of thousand of people who are claiming to be be Sharifs. Some of them have a lot of genealogy documents heritated from fathers to sons and which contain many data about the genealogy trees."
Perhaps the deduced Y-DNA signature is there?
Twitter
I first announced this story early this morning via twitter.  If you are a twitter user and would like to follow me, just click below: