From a Press Release issued by Family Tree DNA on August 11, 2010:
FAMILY TREE DNA'S 6th INTERNATIONAL CONFERENCE ON GENETIC GENEALOGY FOR GROUP ADMINISTRATORS TO BE HELD OCTOBER 30 & 31, 2010 IN HOUSTON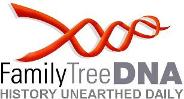 HOUSTON, (August 11, 2010) — Family Tree DNA, the world leader in genetic genealogy, will host its 6th International Conference on Genetic Genealogy on October 30-31, 2010, at the Sheraton North Houston in Houston, Texas. Each year, world renowned experts in genetics and science present cutting-edge developments and exciting new applications at this two-day educational forum which draws attendees from Family Tree DNA's Group Administrators from around the world. This year's conference will focus on the new Family Finder test which allows customers to find relatives across all ancestral lines.
Founded in April 2000, Family Tree DNA was the first company to develop the commercial application of DNA testing for genealogical purposes. Previously, this type of testing had only been available for academic and scientific research. Almost a decade later, the Houston-based company continues to establish standards and create new milestones in the increasingly popular and rapidly growing field of genetic genealogy.
Today – with over 300,000 individual records – Family Tree DNA has the largest DNA databases in genetic genealogy, a number that makes it the prime source for anyone researching recent and distant family ties. Family Tree DNA's database also encompasses over 95,000 unique surnames and nearly 6,000 lineage and geographic projects.
In 2005, Family Tree DNA was selected by National Geographic and IBM as the designated DNA testing company for their Genographic Project, a history-making study of the migrations of mankind. To date, the company has processed more than 300,000 Genographic Project DNA tests. Family Tree DNA's own laboratory-the Genomics Research Center-participated in the Genographic Project's first published paper and other scientific papers.
Offering the most popular and wide-ranging DNA-testing service in the field of genetic genealogy, Family Tree DNA prides itself on its commitment to the practice of solid, ethical science. Since its beginnings, the company has associated itself with leading researchers and scientists in the field, many of whom will be speaking at this year's conference. Among these prominent names are Dr. Michael Hammer, Dr. Doron Behar, and Thomas Krahn. Family Tree DNA has also been involved with several scientific papers and has provided assistance in updating the YCC Y-Chromosome Phylogenetic Tree.
* * * * *
Online information and registration for the 2010 conference is available at: http://www.familytreedna.com/conference/
For registration information, please contact Jane Buck-tel: 713-868-1438; e-mail: [email protected]
Media contact for Family Tree DNA: Sharon Weisz, W3 Public Relations-tel: 323-934-2700; e-mail: [email protected]
For media information on The Genographic Project, please contact Glynnis Breen at National Geographic-tel: 202-857-7481; e-mail: [email protected]