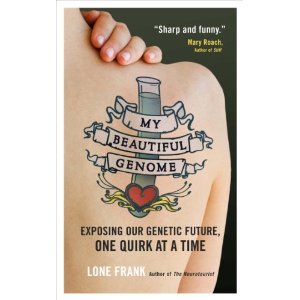 Lone Frank, a journalist and author with a Ph.D. in neurobiology, has just published her fourth book, entitled "My Beautiful Genome: Exposing Our Genetic Future, One Quirk at a Time" (available for pre-order at Amazon).  A chapter of the book is available here (pdf).
Frank describes her book thusly: "This book is my very personal take on personal genomics. It chronicles my meetings and interviews with leading scientists and lays out the – somtimes [sic] disquieting – discoveries I make in my own genome."
The book is described as follows at Amazon:
"Internationally acclaimed science writer Lone Frank swabs up her DNA to provide the first truly intimate account of the new science of consumer-led genomics. She challenges the scientists and business mavericks intent on mapping every baby's genome, ponders the consequences of biological fortune-telling, and prods the psychologists who hope to uncover just how important our environment really is – a quest made all the more gripping as Frank considers her family's and her own struggles with depression."
I haven't read the book myself, although I will soon be receiving a review copy.  Once I've finished it, I'll write more about the book here at the blog. There is a recent write-up of Frank's experiences at the Daily Mail entitled "If the blues genes fit…"
I'm most interested to see what Frank finds in her genome, and how she interprets and uses her data beyond the interpretation provided by the testing companies.