I received my results from the Geno 2.0 test from National Genographic tonight.  The results align fairly well with what I already know about my DNA.  For example, I knew I was haplogroup A2 (a Native American haplogroup), but the A2w is new so I have to do some research there.
Even more interesting is my paternal haplogroup designation.  The NatGeo tests lists the terminal SNP instead of a haplogroup that will typically encompass multiple SNPs.  I am listed as R-Z306, which is R1b1a2a1a1a3a1 on the current ISOGG Y-DNA tree.  However, my results indicate that I am L1+, which is associated with Null439 (I previously knew I was null439).  Many believe that L1+ is downstream of Z306+, but these types of questions are exactly what the NatGeo 2.0 test will help determine.
I immediately transferred my results to FTDNA, and if you go to the public null439 Y-SNP results page (here), for example, you'll see that under my results are listed all SNPs for which I am derived, including L1, Z306, etc.  It's truly an incredible list, and the real power of the results will come from comparing them to many other people.
As you can see, NatGeo estimates 3.2% Neanderthal (23andMe predicted 2.7%), and 3.3% Denisovan.  I'm not completely up on my Denisovan research, but I wonder if I am enriched for Denisovan because of my Native American ancestry.
Lastly, the NatGeo results report 2% Native American, directly in line with other tests.  23andMe, for example, has consistently reported 2-3%.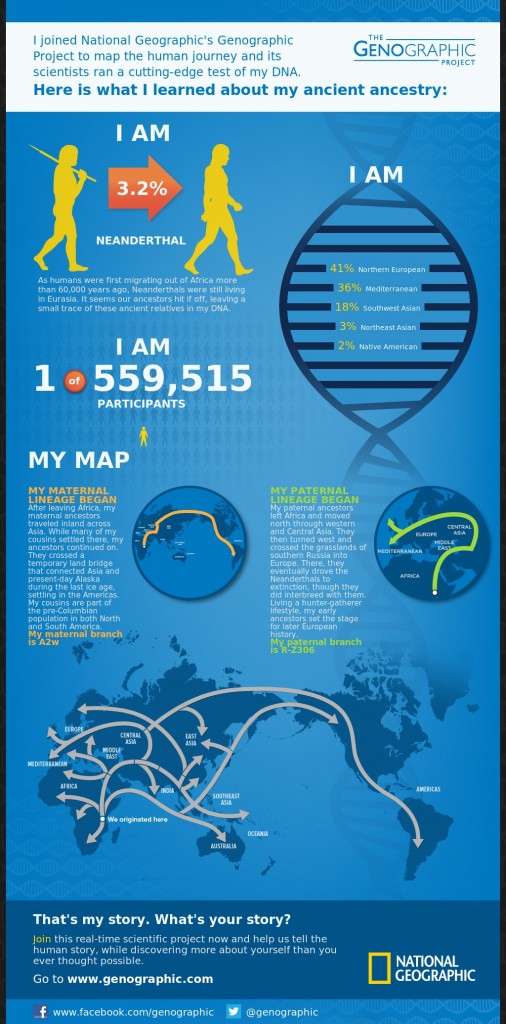 Disclosure: I received a complementary test kit from National Genographic for analysis purposes. My analysis, however, is based on my own opinions of the product and the results.