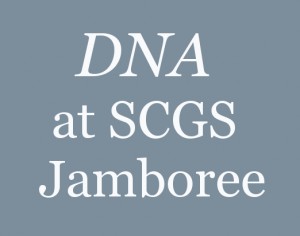 As I wrote previously, the Southern California Genealogical Society has officially announced the 45th Annual Southern California Genealogy Jamboree (June 6-8, 2014), which will again be preceded by Family History and DNA: Genetic Genealogy in 2014.
In addition to many presentations on DNA Day (Thursday), there are DNA-related presentations planned throughout Jamboree (Friday through Saturday).
Browsing through the schedule (links at top of page here), these are the presentations I found either directed to DNA or explicitly utilizing DNA:
Blaine Bettinger (FR018) – "DNA and the Genealogical Proof Standard"
CeCe Moore (FR019) – "Why Should I Take a DNA Test?"
Nicka Smith, Angela Walton-Raji, Bernice Bennett and Shelly Murphy (FR024) – "The Future of African American Genealogy"
Bennett Greenspan (SA037) – "The Future of Genetic Genealogy"
ISOGG (SA049) – "Ask the Experts about DNA and Genealogy"
Maurice Gleeson (SU020) – "Ireland and the Slave Trade"
Drew Smith (SU024) – "DNA 102: Understanding and Using Test Results"
Blaine Bettinger (SU029) – "Begging for Spit"
My Other Presentations
I'm especially excited about presenting "DNA and the Genealogical Proof Standard."  This topic has not received nearly enough coverage by the genealogy community, and I think it's very important. I will absolutely be asking for input from others, so feel free to share your thoughts below (or on a future post I'm planning). Here's the short summary of the presentation:
"

DNA and the Genealogical Proof Standard

." How does DNA fit into the Genealogical Proof Standard? Since DNA testing is now so affordable, should it be part of every reasonably exhaustive search? DNA is great for refuting a hypothesis, but is it any good at supporting one? We will examine when DNA testing might form part of a reasonable search, as well as the many ways that DNA testing can be used to test an existing conclusion or hypothesis.
And here's the summary for my other non-DNA Day presentation:
"

Begging for Spit

." One of the biggest challenges facing genealogists is asking family members and non-genealogists to undergo DNA testing. Together we'll examine novel and interactive ways to encourage participation by making these individuals stakeholders in DNA testing.
The Future of Genetic Genealogy
I'm also very excited about Bennett Greenspan's presentation on "The Future of Genetic Genealogy" because this is a topic that I'm particularly interested in, and which I lecture on (see my presentations page).  I've even shared my thoughts on "The Science Fiction Future of Genetic Genealogy," which was the first such published comprehensive prediction.
Here's the summary of Bennett's presentation:
Bennett Greenspan – SA037 – "The Future of Genetic Genealogy." This presentation is sponsored by Family Tree DNA. Once upon a time, the idea of using DNA to solve genealogical mysteries seemed like science fiction. Now many genetic genealogists have become citizen scientists. So what does the future of genetic genealogy hold? Y-DNA and mtDNA have moved on to the next generation, and autosomal and X-DNA have become powerful tools in many genealogists' tool kits. Where do we go from here?
Hope to see you all at Jamboree this year! Be sure to say hello!