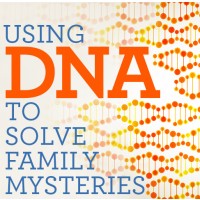 Tomorrow night at 7 PM EST, I will give a live webinar demonstrating some of the basics of DNA testing for ancestry, including many different ways you can use DNA to solve your family mysteries.  The cost is $49.99, which includes the hour-long webinar and my presentation slides.  This is the second DNA webinar I've given for Family Tree University, and the last one was very well received. It is better suited for those who are new to DNA testing or have received their results and are unsure how to apply them.
And if you are unable to attend tomorrow night, you can download the video and slides at any time! I hope to see you there!
From the website:
Using DNA to Solve Family Mysteries
Format: Live Webinar Registration
YOU'LL LOVE THIS IF:

* you want to explore how DNA can enhance your genealogy research you want to understand more about genetic genealogy

* you want to know which DNA tests to take and how to interpret test results

Date: Thursday, March 27

Starting Time: 7pm EST/6pm CST/5pm MST/4pm PST

Presenter: Blaine Bettinger

Duration: 60 minutes

Are you busy during this date and time? Don't worry! You don't have to attend the live webinar to get a recording of the presentation. Each registration comes with access to download the video, slides and handouts—all are yours to keep forever. You'll receive your copy of the webinar materials in an e-mail sent out after the live event.

In all webinars, no question goes unanswered. All attendees have the opportunity to ask questions during a live Q&A session at the end of the webinar.

DNA testing can connect you with living cousins, steer your research away from dead ends and lead your ancestral investigations in promising new directions. It can provide strong evidence of an ancestral connection and even suggest when—and where—the most recent common ancestor (MRCA) might've lived. Bottom line: Genetic testing can't replace traditional genealogy research, but it can complement it significantly. In this hour-long webinar, Blaine Bettinger, The Genetic Genealogist, will teach you all about what DNA can—and perhaps more importantly, cannot—do.

WHAT YOU'LL LEARN:

We will explore what DNA can – and, more importantly, cannot – do
Using examples, we will explore how to identify what test(s) might help shed light on your mystery – Y-DNA, mtDNA, autosomal, or a combination?
We will explore how to identify who to test to help shed light on your mystery
We will explore how to interpret the DNA test results
We will explore whether DNA test results are definitive or merely supportive
And much more!

ABOUT THE PRESENTER:

Blaine T. Bettinger is the author of The Genetic Genealogist blog, which examines the intersection of traditional genealogical techniques and modern genetic research. The

blog also explores the latest news and developments in the related field of personal genomics.

REGISTRATION FOR THE LIVE SESSION INCLUDES:

Participation in the live presentation and Q&A session
Access to the webinar recording to view again as many times as you like
25+ page PDF of the presentation slides for future reference

* Please note: You do not have to attend the live event to get a recording of the presentation. All registrants receive an email two business days following the live webinar with instructions on how to download the recording and handouts.