[Read on to learn how you could win THREE hours of FREE consultation and research from me for registering in this course before March 21st!]
For the next two Saturdays, March 21st and 28th, I will be spending some quality time with genetic genealogists! My new course entitled "(Finally!) Understanding Autosomal DNA" is a four session course designed to educate genealogists on all the ins and outs of autosomal DNA.
The course is being offered through the wonderful new Virtual Institute of Genealogical Research. The Virtual Institute offers courses on a wide variety of genealogical subjects, providing vigorous year-round education for the genealogical community using a virtual platform.
The four courses will provide attendees with the fundamentals of autosomal DNA, third-party tools, and triangulation. Here is the course schedule (all times U.S. Eastern):
21 March 2015
11:00am – "Introduction to Autosomal DNA": Learn the fundamentals of autosomal DNA and compare company offerings.
1:00pm – "Using Third-Party Tools": Free tools offer powerful additional analysis of autosomal DNA test results.
28 March 2015
11:00am – "Advanced Techniques and Tips": Use autosomal DNA to confirm your research and break through brick walls.
1:00pm – "Autosomal DNA: Promise and Pitfalls": Examine the limitations of ethnicity estimates, and discuss some of the ethical issues associated with autosomal DNA.
Hands-On Exercises as Homework!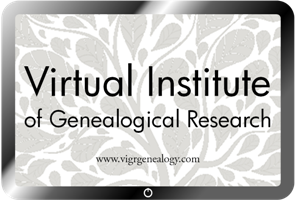 Best of all this course will provide homework for attendees, with two assignments to be completed between the first and second weekend, and a third assignment to be completed after the second weekend.
Unfortunately, there are very few opportunities for hands-on exercises in the world of genetic genealogy! These kinds of exercises are extremely time-consuming and challenging to create, and thus there are almost none in existence. This course will offer some of the only hands-on exercises – with an accompanying answer key (and some class discussion) – available anywhere!
Cost?
The course is offered for $69.99, and registrants will receive all syllabus material and a complimentary copy of the course recordings. These recordings will be invaluable for future reference!
There is also a PLUS Option for $99.99. People who choose the Plus Option will an additional one-hour Q&A/discussion session held on an evening either midweek or at the conclusion of the course, and instructor feedback on a fourth hands-on exercise by email.
Register Before March 21st
If you register for "(Finally!) Understanding Autosomal DNA" before March 21st, you will go into a drawing for a prize of THREE free hours of consultation, advice, research, or anything else you might need in the world of genetic genealogy. There will be one (1) winner, who will be notified by email. This prize has a value of $225.00, and I can work with the winner by phone, email, or both.
I hope to see you next weekend!
.