Last week, AncestryDNA announced that their database has reached 3 million people, and that they had sold 1.4 million kits on top of that in the last 3 months of 2016.  See "Ancestry Sets AncestryDNA Sales Record Over Holiday Period and Fourth Quarter" for more information.
This means that by summer or fall of 2017, the database is likely to reach 5 million people.
Many people have noted that many of these new test-takers will undoubtedly not have trees. That's true, unfortunately, although it is a challenge rather than an absolute roadblock. It is an opportunity for experienced genealogists to engage new genealogists and encourage and help them. Indeed, many of them will never add a tree, and that will be very, very frustrating. But at least a small fraction of those will have a good reason for not doing so. The majority without trees will likely either not know how to do it, or may only be interested in ethnicity.
What I find surprising, however, is that there are any complaints about all the new test-takers at AncestryDNA! You can't get new test-takers WITH trees attached unless you get a lot of new test-takers. To me, the growth of the database can only help me.
Must Read!
Now, before you read this post, you MUST read this post from Kerry Scott about new test-takers at AncestryDNA: "Genealogy Changed Dramatically in 2016. I Can Prove It." You won't regret it!
Also, I suggest reading "Let's Stop Hand Wringing About DNA and Genealogy" from Amy Johnson Crow, which mentions the lamentation that is heard when anything about many new test-takers is mentioned.
Then come back and read this post.
Who Has Attached Trees at AncestryDNA?
Although there has been a lot of discussion of newbies not having trees, I have not seen much or any quantification of tree availability for test-takers at AncestryDNA. Accordingly, I wanted to know how many of my genetic matches have trees, and whether there is a relationship between the year they joined Ancestry.com as a member, and the likelihood of having a tree.
Approach #1 – A Rough Glance
I took everyone at or above my self-imposed safety threshold of 10 cM (with a 94% probability of being real matches, see "The Danger of Distant Matches"), and I removed the people that I had tested myself and linked to my own tree. That turned out to be 4,176 matches.
Of the 4,176 matches, a total of 2,473 matches (59.2%) had some tree attached. I analyzed this by downloading my matches using the DNAGEDcom client. Unfortunately, I couldn't tell which trees were locked and which matches had a tree available but not attached to their DNA results.
So, this very simplified approach suggests somewhere around 60%, although it is likely to be extremely inaccurate for two reasons: (i) a profile will report as having a tree attached to the DNA even if that tree is private; and (ii) many profiles have public but unattached trees, and these profiles do NOT report as having a tree attached.
Approach #2 – A Detailed Review
To perform this analysis with greater detail, I looked at each of my 500 closest matches, skipping over those that I had tested myself. This allowed me to determine when the match joined Ancestry, whether an attached tree was public or private, and whether the match had an unattached tree for review. I would have liked to do 1,000 matches or even all my matches, but there were time constraints. So keep in mind that the data set is on the small side.
Tree Availability for my first 500 matches:
298 matches (60%) had a public tree linked to their DNA;
48 matches (9%) had a private tree;
109 matches (22%) had one or more public trees unlinked to their DNA;
45 matches (9%) had no tree at all.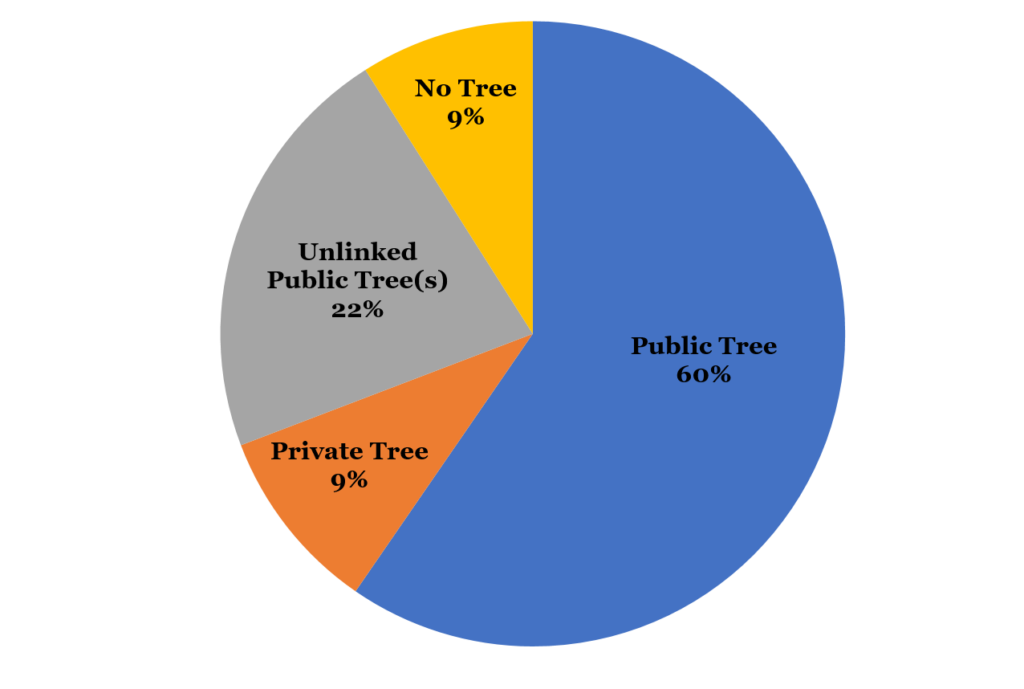 So this meant that 82% (60% Public Tree + 22% Unlinked Public Tree(s)) of my first 500 matches had some tree available to review, and 18% (9% Private Tree + 9% No Tree) had no tree to review.
Now I know there are lots of caveats here. For example, you can contact people with private trees to ask if they might be willing to share. As another example, who knows which of those unlinked public trees might be the right one. But at least there is something, which is better than nothing.
Additionally, I did not quantify the size of the attached tree, so some of the trees could have been very small. However, my biggest breakthrough at AncestryDNA came from a tree with just 3 people in it, so I think tree size is an issue but usually not an insurmountable problem.
Year of Joining and Likelihood of Having a Tree
For my first 500 matches, there was a relationship between the year someone joined AncestryDNA, and the likelihood that they have some tree available ("available" means either a public attached or unlinked tree). As we might predict, the more recently someone has joined AncestryDNA, the less likely they are to have a tree available: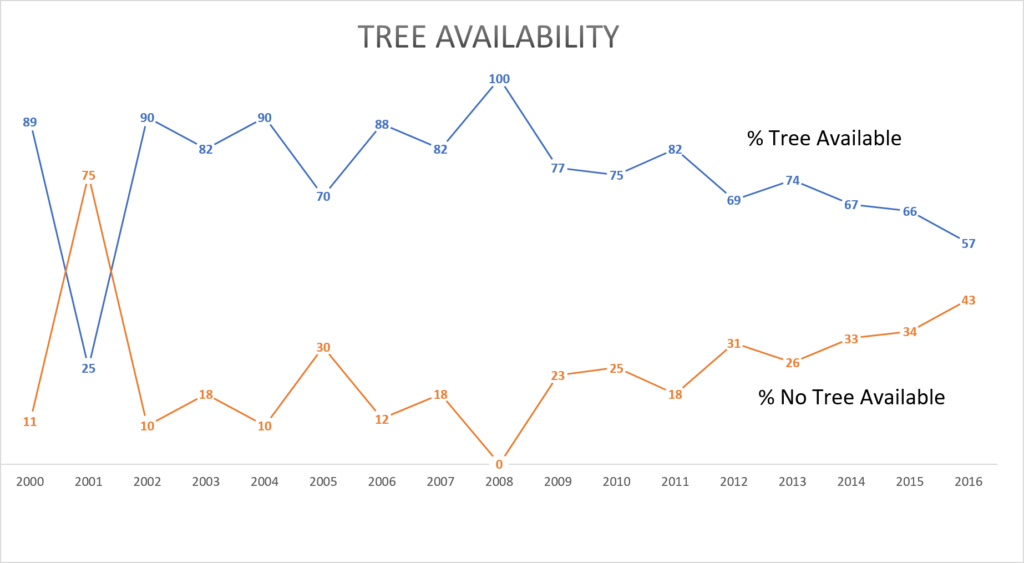 What surprises me, however, is how many people DO have some tree available, even recent members (who are probably recent DNA test-takers). For people who joined in 2016, 57% of them had some tree available for me to review.
Not surprisingly (see Kerry's post above), many of my first 500 matches joined AncestryDNA in the past few years:
Another interesting pattern that emerged from the data was the percentage of test-takers that had one or more public trees that were not yet linked to their DNA. These trees are public and available for matches to review, but are not directly tied to the test-taker.
The results suggest that although MANY new 2016 members of AncestryDNA do in fact have public trees in their profiles, they haven't linked them to their DNA results. Indeed, 35% of these 2016 new member matches had a tree they hadn't yet linked to their DNA: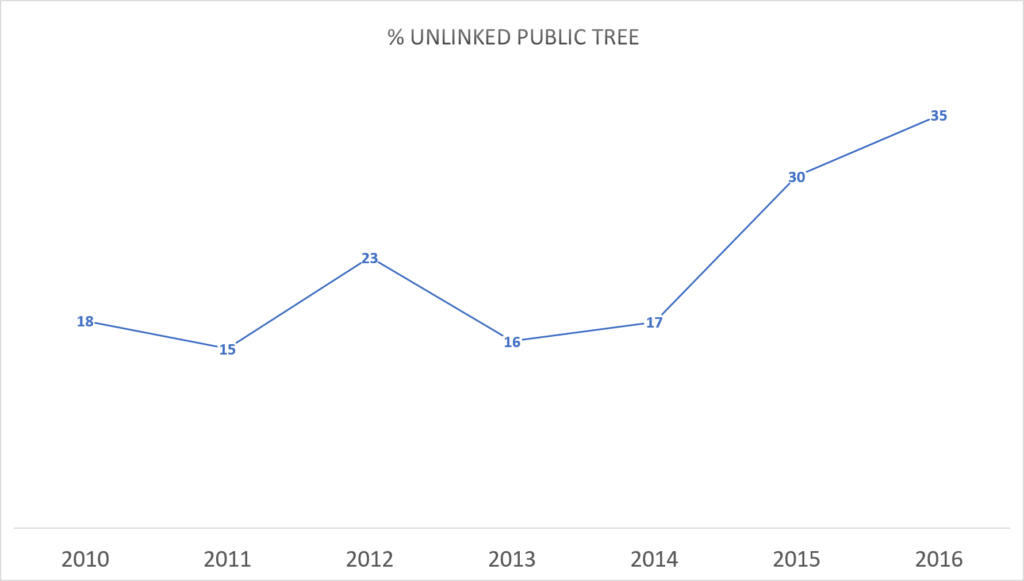 This is an example of a great opportunity for genealogists. Explaining to new matches the benefits of having a public tree attached (DNA Circles, facilitating review by your matches for finding connections, etc.) could convince them to attach their tree.
Conclusions
I don't know how much I learned from this exercise, but it is food for thought. Based on my first 500 matches, many new 2016 members (57%) do have some form of tree available for review. Although it is the lowest percentage by year for the past 15 years, maybe there is reason for hope. As time goes one, perhaps that number will increase. Indeed, it will be interesting to follow the 89 matches who joined in 2016 to see if the percentage of tree availability increases.
I also learned that many new 2016 members (35%) have a tree but have not attached it to their DNA. This is an easy opportunity for genealogists to help new member, and/or to explain the benefits of an attached tree.
It's good to have some quantifiable data, rather than anecdote, which is too easily biased. I'd love to do this for all my matches, or even better have this data for everyone in the database, but this will have to do for now.