Are you attending NERGC in Springfield, MA this April 26-29th?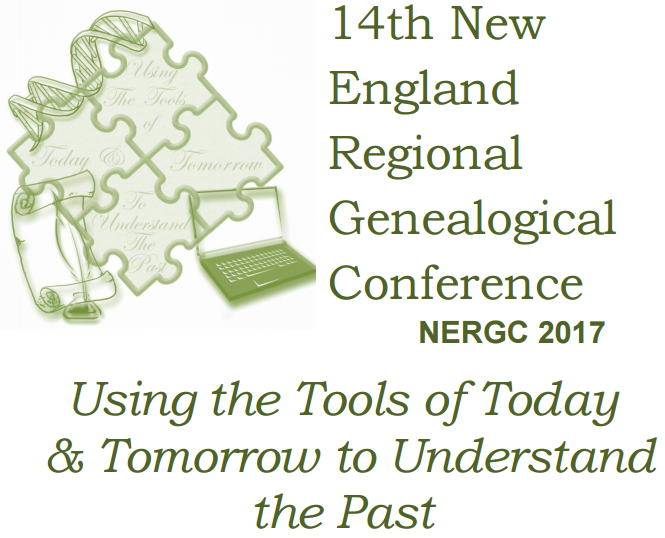 The New England Regional Genealogical Conference (NERGC) is one of the largest – if not THE largest – genealogical conference in the Northeast. NERGC is only held every other year, so you don't want to miss this!
Genealogical conferences are an absolute essential for genealogists at every level, from newbie to experienced to professional. With so many educational opportunities, conferences push your knowledge and help you find records you may never have considered looking for.
Just as important as the education, meeting new people or seeing old friends is so much fun. There is NOTHING like spending a few days with people who share your passion!
NERGC 2013 was a great event; I presented several DNA lectures, and had between 35 to 100 attendees in each lecture. They were terrific audiences!
Great Education and Programming
NERGC 2017 looks to have a great lineup with MANY difference courses! The excellent featured speakers are Thomas MacEntee, F. Warren Bittner, and Kenyatta D. Berry.
Although the organizers were FAR too light on DNA, as it is consistently the most requested area by genealogists, there are seven DNA presentations and one DNA workshop throughout conference, most of which are on Beginning DNA Day (Wednesday, April 27th).
The full program for the conference is HERE. Even if you ancestry isn't from New England, you'll find many courses that interest you!
I'll be presenting the following:
Wednesday (April 27, 10:45 a.m. – 11:45 a.m.) –  Fundamentals of Autosomal DNA
Wednesday (April 27, 2:45 p.m. – 3:45 p.m.) – Genetic Genealogy for Professional Genealogists
Other DNA presenters include Jennifer Zinck, Diahan Southard, Janine Cloud (FTDNA), and Jim Brewster (FTDNA)!
Take Advantage of Early Bird Registration!
Early bird registration for NERGC ends in just two weeks on February 28th. Registration is HERE.
I really hope to see you there! It is an affordable conference in an affordable city, and will propel your genealogy forward!