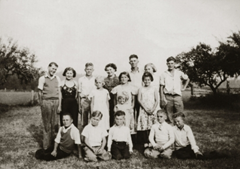 Many people do not realize that the genetics of the future will rely heavily on the work done by previous, current, and future generations of genealogists. Researchers hoping to uncover links between a disease and a particular gene or mutation often recruit entire families or use compiled genealogical databases for information. Just a few of the recent examples of researchers benefiting from the work of genealogists include:
In honor of the contributions that genealogists have and will make to scientist's understanding of the genetic basis of disease, and in honor of the many unique and well-written genealogy blogs, I created The Genealogists, a Feedburner network (subscribe via RSS here). The network, which helps unite genealogy bloggers and introduce new blogs to readers, currently has 18 members:
Please feel free to stop by each of these wonderful blogs, or to ensure that you don't miss any of the latest genealogy news simply subscribe to The Genealogist feed.