Familybuilder, launched in 2007, is a genealogy company that ranks among the top 10 online genealogy services in the world with over 17 million users and over 120 million family tree profiles.  Late last year the company began offering a genetic genealogy product, as I wrote about here on the blog (see "Familybuilder Announces DNA Testing").
Disclosure: This is a review of Familybuilder's Y-DNA service using a kit I received free of charge for purposes of this review.  Please note that this is not meant to be an endorsement but merely a review of the Y-DNA service offered by Familybuilder.
The results of a Familybuilder Y-DNA test includes:
"The Migration Map for you and your ancestors, your 17 Markers, your Haplogroup and the History of your DNA.  In addition, the ability to share your results with family and friends on social networks such as Facebook and MySpace as well as a downloadable PDF (suitable for framing)."

I received the following kit in the mail for the Y-DNA testing, which included a swab, detailed instructions, and a return envelope: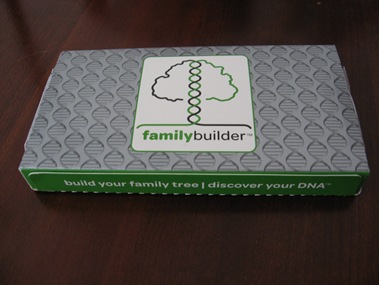 Since I have already tested my Y-DNA, I asked a male relative to take this Y-DNA test.  This surname, Conger, is believed to have originated with a John Belconger who emigrated in 1665 from Great Yarmouth, Norfolk, England to Newbury, Massachusetts and later Woodbridge, New Jersey.  Although there are likely many descendants of John Belconger in the United States, as far as I know there is only one other Conger who has undergone genetic genealogy testing, as discussed below.
After roughly four weeks, I received an email from Familybuilder that my DNA test results were ready (although my name is listed, these are a relative's results, not mine).  Not surprisingly since the surname appears to have originated in Western Europe, the Y-DNA belongs to Haplogroup R:

With the results, Familybuilder included information about the predicted haplogroup.  The description for Haplogroup R, for example, includes the following snippets:
"ORIGIN – Haplogroup R descended from Haplogroup P (M45) in Central Asia.  About 30,000 years ago, one of the tribes in Central Asia moved towards the European subcontinent.  It is in this group that the first M207 mutation (Haplogroup R) occurred."

"MIGRATION AND SPREAD – The highest frequency of Haplogroup R is found in Western Europe, where populations carrying R1b typically reach 75% frequency."
Familybuilder also compares an individual's results to results in their database in order to discover potential matches.  Unfortunately, as shown below, there were no matches with the Conger Y-DNA profile from the Familybuilder database: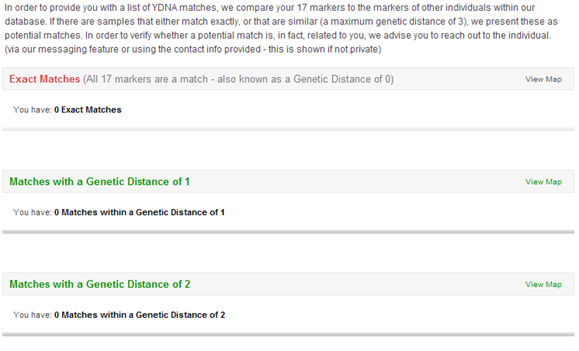 Since there were no results in the database, I entered the results into Ysearch to potentially identify matches (see Ysearch User ID 4KTQB).  A search for matches with a genetic distance of 0 among people who tested at least 13 of the same markers turned up 19 matches, although none with the same "Conger" surname.  Outside of the United States, the most distant male ancestors for these matches are mostly from the U.K.
Interestingly, there is another Conger in the Ysearch database (User ID 4MSTZ), but his Y-DNA belongs to Haplogroup J2.  With these two tests, therefore, we have shown for the first time that not all Congers in the U.S. are descended from the same man.
Familybuilder also offers a "Print My DNA" and "Share My DNA" features, which allow users to share their results with friends and family.  The Share My DNA feature formats the results, for example, for easy posting to websites or social media such as Facebook.  See the following link for a nice display of the Conger results.
Lastly, Familybuilder also offers a new "Groups" feature as of October of 2009.  From the recent press release:
"Familybuilder DNA has added a new feature within their ancestral DNA Test Kits called DNA Groups. This feature allows consumers to create and manage their own groups based on commonalities such as a shared haplogroup, surname, national origin or current location. With DNA tests being a major tool for people searching for more information on their family histories, this feature takes the collaborative nature of genealogists to a digital forum. "By creating groups, users can collaborate with one another to piece together their family stories," said Ilya Nikolayev, CEO of Familybuilder. Recently adding a DNA Matching Tool, this new feature allows consumers to engage with one another in new ways beyond traditional genealogical mechanisms."
A Familybuilder Y-DNA test normally costs $59.95.  Familybuilder uses a state-of-the-art laboratory facility with ISO/IEC and ASCLD Lab Accreditation for testing.