In the past, I've reviewed new autosomal DNA testing options offered by 23andMe and Family Tree DNA:
Today, I'm reviewing the new autosomal DNA test from Ancestry.com called "AncestryDNA." I've already written at length about AncestryDNA, so I won't cover too many of the basics here.  I have an in-depth introduction to the product located at "Ancestry.com's AncestryDNA Product," which you might want to check out before or after reading this review in order to gather more information.
AncestryDNA: An Introduction
The introduction page, which appears after clicking on "View Results" on the front page, consists of my Genetic Ethnicity Summary and the Member DNA Matches (which is further broken into close cousins and distant cousins, as discussed in detail below).  Please note that for purposes of this review I've removed the identifying information for my genetic matches.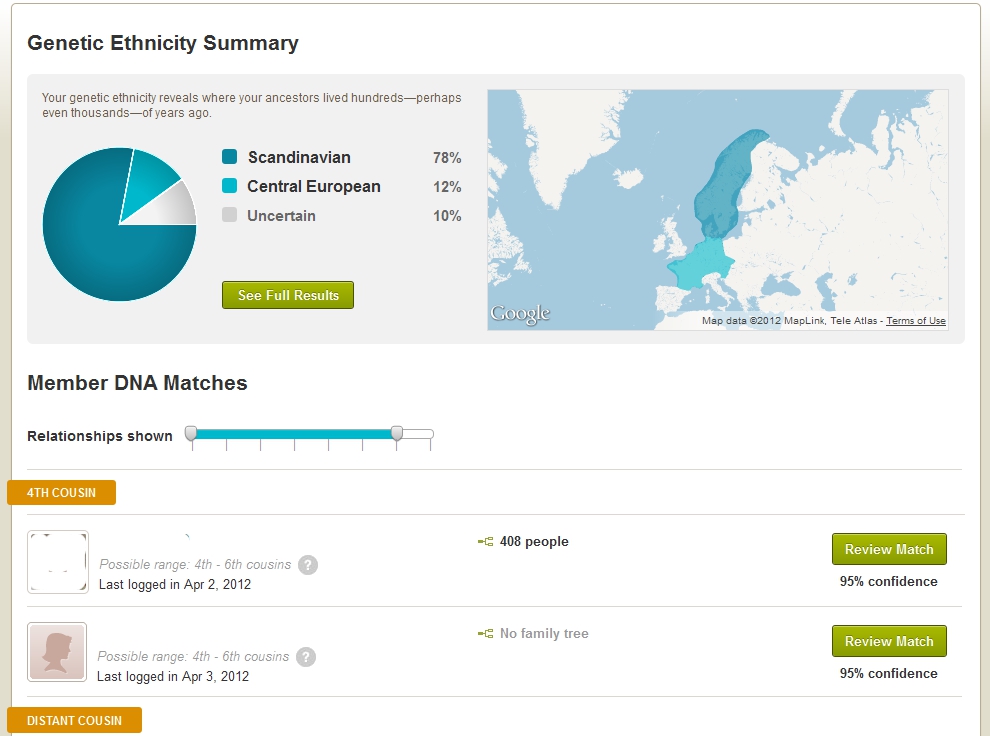 Genetic Ethnicity Summary:
My genetic ethnicity results, which suggest 90% European and 10% Uncertain, are very interesting.  In a recent webinar with the AncestryDNA team, they reported that the genetic ethnicity analysis is still very early in the beta phase, and will continue to be updated and refined as new reference populations are added.  Indeed, I'm predicting that over time as new information is added and the algorithm is refined, some or all of my10% Uncertain will be categorized (perhaps to reflect my maternal Asian and African contributions, which I've written about before), and that some of of my 90% European may very well change.
Under a heading "About Your Ethnicity" is a pop-up file with more information about Ancestry.com's ethnicity estimation algorithm.  In that file, under "Is It Accurate," for example, Ancestry.com provides the following:
When determining your genetic ethnicity, we hold our process and results to an extremely high standard of accuracy.  Our lab's analysis uses some of the most advanced equipment and techniques to measure approximately 700,000 points in your genome (with at least a 98% rate of accuracy).  We compare that to one of the most comprehensive and unique collections of genetic signatures from around the world.  And as this collection improves over time, it can only get better.
I'm not sure whether the AncestryDNA tests these 700,000 SNPs, or whether it tests more SNPs but is currently using a subset of 700,000 for its analysis.  I'll try to find this information.
I thought it might be interesting to compare my genetic ethnicity results from the three companies (Ancestry.com, 23andMe, and FTDNA):
Ancestry.com's AncestryDNA:
78% Scandinavian
12% Central European
10% Uncertain
23andMe's Ancestry Painting:
98% European
2% Asian
<1% African
Family Tree DNA's Population Finder:
68% European (Northeast European) – Finnish
32% Middle East (Jewish) – Jewish
After reviewing the results one thing is certain: all three companies estimate a strong European contribution to my genome, particularly Scandinavian (ranging from 68% to 78%).  It's ironic, however, that I have yet to identify a single Northern European ancestor!  I certainly won't be surprised when one pops up someday.
Clicking on "See Full Results" takes me to a more detailed analysis of my ethnicity results, but not before I click through the following pop-up:
Please keep in mind…Our prediction of your genetic ethnicity is not yet finalized. As we gather more DNA samples and continue our research we expect your ethnicity results to become more accurate and perhaps more detailed.
As I stated above, the ethnicity results are likely to change over time, so be forewarned.
The Full Results page – reproduced below – includes historical and anthropological information about each of the identified regions from your ethnicity profile (Scandinavian and Central European, for me).  It also shows a list of genetic matches who share the relevant region (it's a long list along the right lower side of the page, but it's not shown below for privacy reasons).  You can also zoom into the map where ancestors from a tree you've linked to your account are displayed.  For example, I have 8 listed in Ireland and 2 in Central Europe.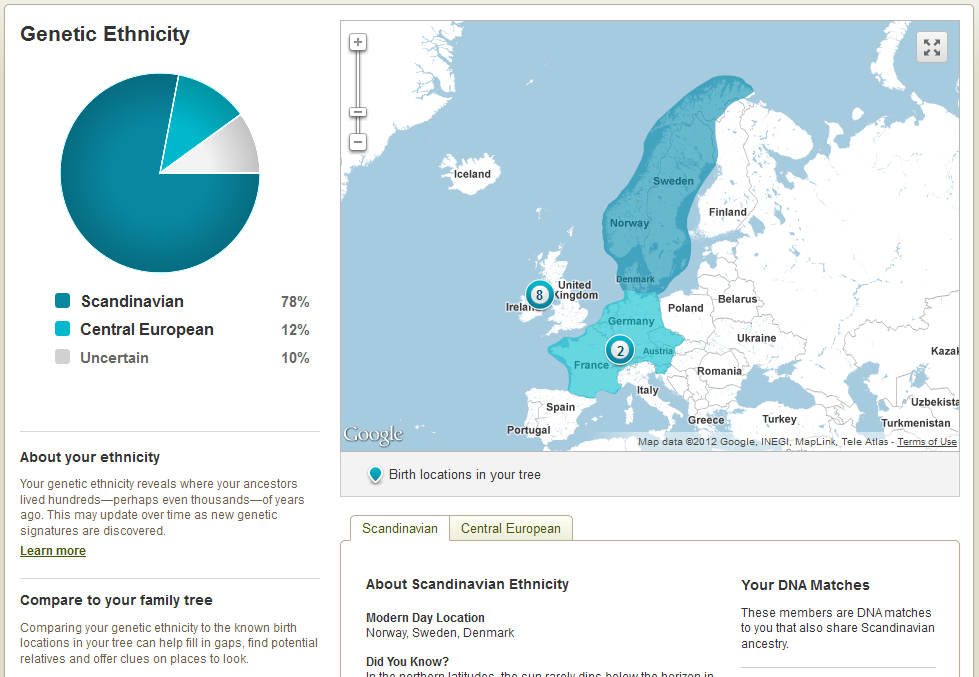 In summary, Ancestry.com's AncestryDNA test provides a genetic ethnicity/region calculation based on about 700,000 SNPs and a large collection of both public and proprietary reference databases.  The product can currently categorize DNA into at least 22 different ethnicities/regions, with more to come.  So be prepared for changes to your estimation as their algorithm and databases grow.
Member DNA Matches
Also on the introductory page is a listing of genetic matches.  These are individuals that, based on shared segments of DNA, you are predicted to share a common ancestor with.  An interesting aspect of the DNA matches list, however, is a sliding scale for the relationship confidence level, which ranges from 99% to 10%:
99% Confidence – Immediate Family
99% Confidence – 1st Cousins
99% Confidence – 2nd Cousins
98% Confidence – 3rd Cousins
96% Confidence – 4th Cousins
50% Confidence – Distance Cousins
20% Confidence – Distance Cousins
10% Confidence – Distance Cousins
Accordingly, the introductory page can be customized to only display cousins of a certain confidence level.  If I reduce the confidence level to 96%, for example, I only have two matches (my two predicted fourth cousins shown in the picture above).
Clicking on the "What Does This Mean" link next to the  possible relationship range on the "Review Matches" page for each genetic cousin (see the figure below) causes the following information to be displayed, along with some nice inheritance charts:
Predicted Relationship Info: FOURTH COUSIN

…

It's interesting to note that (at this degree of separation) we are accurately able to predict only about 85% of the possible relatives that are out there—in other words there is a 15% chance that our DNA analysis does NOT recognize an actual relative of yours. One way to be more certain that the DNA testing captures as many relatives as possible is to have multiple members of your immediate family tested.

It is also interesting to note that at this degree of separation we are sometimes wrong in our prediction of a real relationship. We've found that for this relationship about 15% of the time we predict a relationship that cannot be found in any family tree.
This provides some interesting insight into AncestryDNA's matching algorithm and, accordingly, the algorithm's results.  For example, it's important to always keep in mind that there is a roughly 15% chance of incorrectly labeling an individual either as a match or as not being a match.
As the user slides the scale from 99% down to 10%, more results typically appear.  For example, I currently have two 4th cousins listed as matches, 9 matches with 50% confidence, 14 matches with 20% confidence, and 38 matches with 10% confidence.  I expect these numbers to increase considerably once more test results become available.  I don't know how big the AncestryDNA database currently is, but I'm guessing that only a few 100 to a few 1000 people, at the very most, have undergone testing so far.
Comparing Family Trees
The true power of the AncestryDNA test lies in the ability to automatically compare your uploaded family tree with the uploaded family tree(s) of genetic matches.  For example, one of my predicted fourth cousin matches has a public tree with 408 people.  Clicking on "Review Match" takes me to the next page with more information (see the next screenshot) including each of the following:
A predicted relationship and predicted relationship range;
Our ethnicity comparison (a very cool and potentially very useful feature);
My genetic cousins' entire tree out to 7 generations (and a link to see more);
A possible shared ancestor (a "shaky leaf" hint) if one is identified;
Surnames that we share in common; and
My genetic cousins' surnames through 10 generations.
I especially like the Genetic Ethnicity Bar (I just made that up, but I guess it fits) comparison, which shows your ethnicity prediction next to your matches ethnicity prediction.  For example, my fourth cousin displayed in the image below is 93% British Isles and 7% Uncertain.  Since I have no reported British Isles genetic contribution, my Genetic Ethnicity Bar is gray: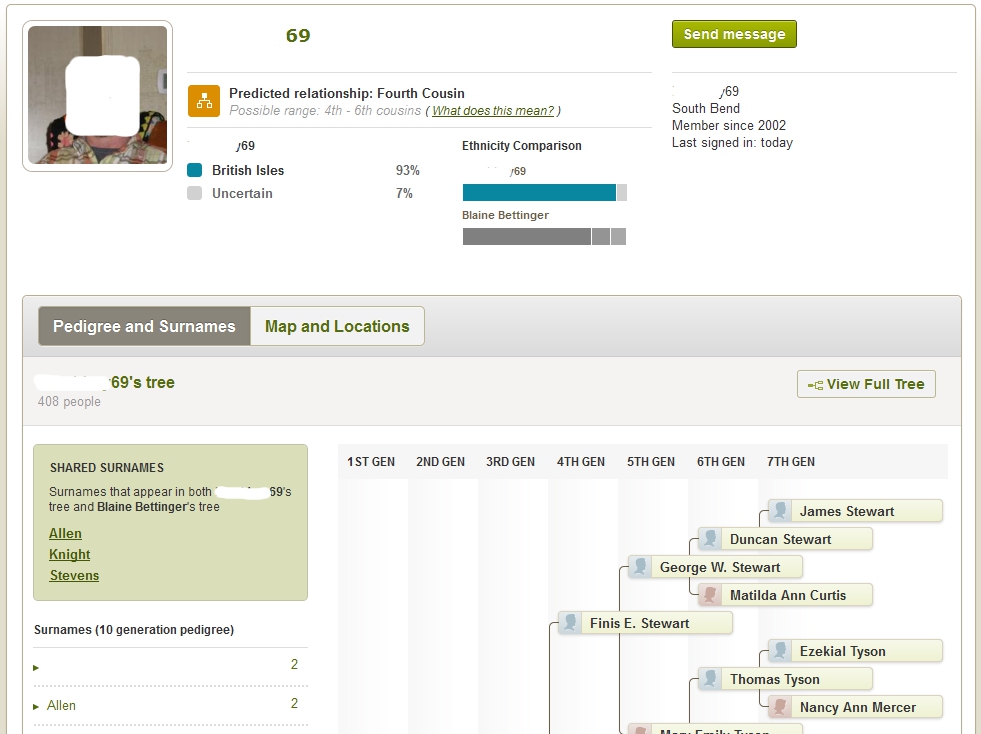 On the other hand, if there is some matching ethnicity contribution, the Genetic Ethnicity Bar comparison will look like this: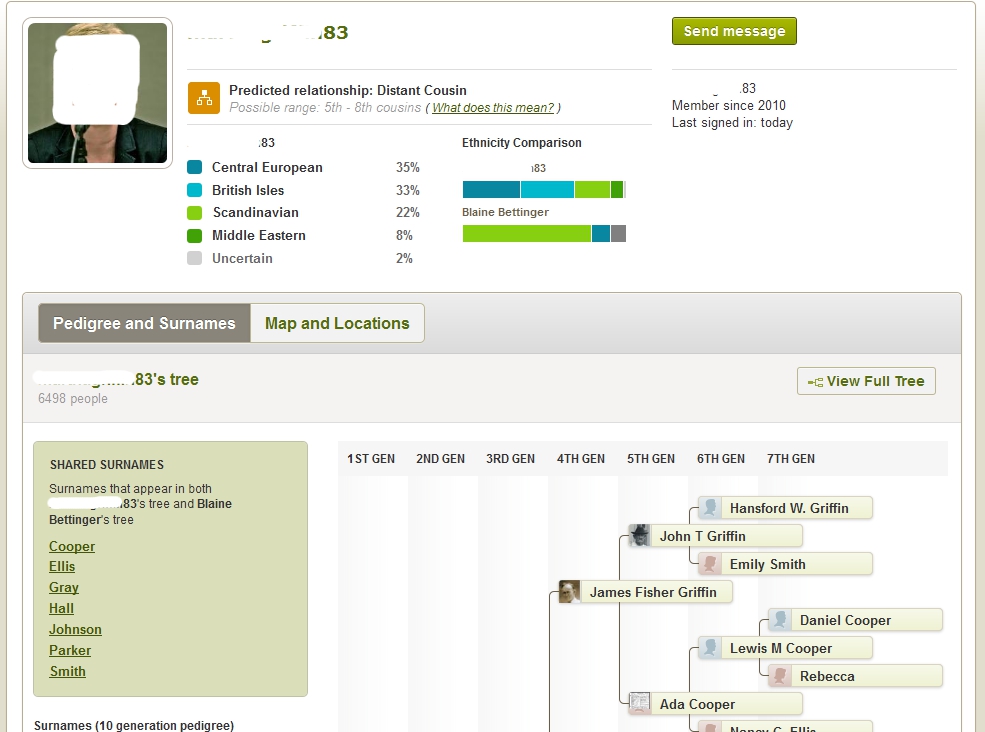 This genetic match and I, predicted to be distant cousins, both have contributions from Central Europe and Scandinavia.  My match also has British Isles and Middle Eastern, which I am estimated not to have.
Also on the the "Review Match" page is a link to send a message to the match (very important for genealogists).  I also like the "Last signed in" information, which lets people know just how active a genetic match might be (and why they aren't answering your email!).
Common Ancestor and Shared Surnames
As can be seen from the last two screenshots, the list of shared surnames (if there are any) is prominently displayed near the top of the page.  If there was an individual in common between our trees, he or she would also be displayed there.  Unfortunately, when I review the match with each of my possible genetic cousins, I typically have one or more shared surnames, but none have a single identified common ancestor.  I was hoping for such a match, but I'll have to be a bit more patient.   While I currently have about 55 matches, only some of those have public trees, and even fewer have substantial family trees (larger trees increase the likelihood of identifying a possible shared ancestor, of course).
Conclusion
This post included just a few initial thoughts about my testing experience and results.  I may add more information, or create a new post, as I continue to review my results.  If you have any questions about the testing process or ancestry results that I didn't address, please feel free to leave a comment.  I'm sure many other people have the same question, so don't hesitate to ask.  I'll also try to get the AncestryDNA team to answer any questions I can't answer.
While there is currently no information about when AncestryDNA will be available, or pricing, I'm sure that this will be available soon.
I'm looking forward to your comments, ideas, and questions.
(Disclosure:  I received my AncestryDNA test without charge from Ancestry.com for review purposes and beta testing.  Regardless, I have attempted to review this product as honestly and as objectively as possible in order to provide valuable information about AncestryDNA to my readers.)