A word of advice: beware anyone who tells you to avoid AncestryDNA.

Many genetic genealogists, myself included, have had incredible success using AncestryDNA's autosomal DNA test.  Personally, several of my own major DNA discoveries have occurred though the service.  Unfortunately, it has become popular among some genetic genealogists to deride AncestryDNA's autosomal DNA test, and some recommend avoiding the service altogether.
While AncestryDNA certainly does have limitations, avoiding the service is missing out on a major opportunity and one of the largest autosomal DNA databases in the world.  This is especially true for adoptees; anyone that tells an adoptee not to test with AncestryDNA (or not to test with any one of the three major testing companies) should not be assisting adoptees.
Indeed, AncestryDNA arguably has the largest autosomal DNA database of solely genealogists.  Further, many of the people in AncestryDNA's database are people who would not typically test at other companies, since Ancestry has so aggressively advertised the product to genealogists of all levels of experience.
Here are some of the major complaints about AncestryDNA, and my comment on those complaints:
There's no Segment Data (Chromosome Browser). It's unfortunately true that AncestryDNA does not share segment data, and that data should be available for those of us who would use it. Indeed, I want that data. Ancestry already has the necessary data, and it would take only a tiny bit of code to present it to users.  But the undeniable fact is that the vast majority of users would not – and perhaps more importantly could not – use segment data.
Those of us who are immersed in genetic genealogy on a daily basis often forget that most test-takers are novices, and would not use segment data or a chromosome browser even if it were offered. Indeed, most test-takers would have no idea what to do with segment data. (For example, I would love to see statistics on what % of customers at FTDNA actually use the chromosome browser or download segment data to any real extent – I guarantee it's a very small percentage).  While this is not meant to be an excuse, it explains in part why AncestryDNA does not focus on a chromosome browser.
This may not be a very popular view, but I believe AncestryDNA's alternative to segment data, triangulation, will be much more useful to the average user than segment data, especially in the long-term future (thinking years ahead when the database reaches critical mass – see my post "The Science Fiction Future of Genetic Genealogy" for a better picture). Many of the things that we use segment data for – chromosome mapping and confirming matches – will be done automatically for the novice using advanced triangulation.
But again, I am not saying I don't want segment data, I in fact do. Professional genetic genealogists need this data for some of the work they do.
The Trees are Wrong (and thus the hints are wrong). Yes, of course some of the trees are wrong. We were all newbie genealogists once, and we all created terrible, undocumented trees (we just weren't able to put them online).  And I have personally created "quickie trees," trees for adoptees or other clients that I need for quick comparisons or for "fishing," but that I don't have time to completely document.
If you're relying only on a tree you found online without doing your own research, then there are more serious flaws in your research than the DNA tree hints.
Indeed, even the most documented and sourced tree is likely wrong, although genealogists are loathe to admit this.  NPEs (non-paternal events) happen, and many were either never publicized or were lost through time. Further, there are simply errors in most family trees that result from inaccurate source documents, or other sources.  Ironically, it will eventually be the DNA that reveals the errors in our trees, even without documentation.
Of course, take all tree hints with a serious grain of salt, but don't throw the baby out with the bath water. A professional genealogist knows to question all records, no matter how official or ordained, and tree hints are no different.
The Biogeographical Calculation is Wrong. This one frustrates me the most, and even experienced genetic genealogists fall prey to it. It's not specific to AncestryDNA, but applies to all three companies.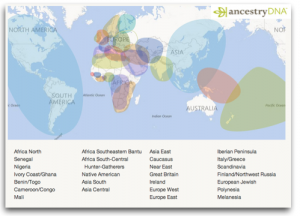 Many people complain because their biogeographical estimate – their "ethnicity" – is not what they "expected" based on, typically, their known genealogy.  However, except for the rarest of circumstances, there is no such thing as "expected ethnicity." No one, not even the most experienced genealogist with the most documented family tree, can completely predict their genetic biogeographical estimate without some previous DNA testing (parents, self, other relatives).  (The only caveat here is the family that has roots in only one tiny biogeographical region, which will be exceedingly rare).
As an exercise many years before autosomal DNA testing was available, I performed my own biogeographical estimate using the known birthplace of each of my ancestors. I suspect many people do this, either on paper or mentally, and believe that the biogeographical estimate they receive from a testing company should bear some resemblance to this number.  Unfortunately, these people are wrong.
At each generation, only 50% of a person's DNA is passed to their children.  That 50% is almost completely random. Further, at about 5-9 generations, ancestors start to completely fall off your Genetic Family Tree.  This means that your Genetic Family Tree is a small subset of your Genealogical Family Tree, and without DNA testing you have no idea what subset that is.  You cannot predict your biogeographical estimate. You can make a rough approximation, but you cannot reject a reasonable biogeographical estimate based solely on what you think it should be.
Now, for several reasons, please don't leave a comment below saying, "well XXXX test found 5% Southeast Asian, and I have a documented family tree of my family in England for 1,200 years."  First, no one has a completely documented tree, and no one knows every instance of our ancestors' lives.  Second, I'm certainly not saying that any company's biogeographical estimates are perfect, or even correct. There is incredible room for improvement.  What I am saying, however, is that you can't discredit it because it's not what you "expected." That's inaccurate, and very bad science. Discredit it for other, more accurate reasons: the parents and children don't align properly, it's based on too few samples to be accurate, etc.
Conclusion
So, in conclusion, beware anyone who tells you to avoid AncestryDNA for any of the reasons above. You'll be missing out on one of the largest autosomal DNA databases, and all the discoveries that could come from that. I look forward to your comments below.