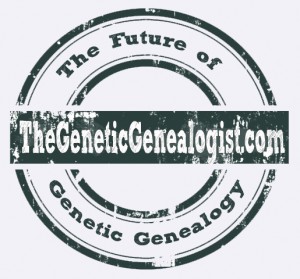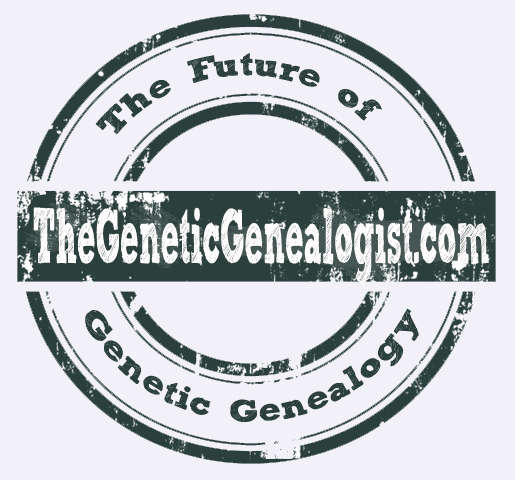 I've written before about a poster presented by AncestryDNA at the American Society of Human Genetics 2013 annual meeting, entitled "Reconstruction of Ancestral Human Genomes from Genome-Wide DNA Matches."  In the abstract, the group describes how they use sequencing information from hundreds of descendants of an 18th century couple to recreate portions of the genomes of that couple.
AncestryDNA's 2014 ASHG Poster 
The AncestryDNA group has continued to refine the process of reconstructing the genomes of ancestral couples, and has a poster in this year's American Society of Human Genetics annual meeting:
Title: Reconstruction of ancestral human haplotypes using genetic and genealogical data.
Author(s): J. M. Granka, R. E. Curtis, K. Noto, Y. Wang, J. K. Byrnes, M. J. Barber, N. M. Myres, C. A. Ball, K. G. Chahine
Here are some key notes from the abstract:
"We develop a novel stitching algorithm to reconstruct up to four chromosomal haplotypes of an ancestor and their partner given the descendant IBD segments and haplotypes."
"Lastly, given descendants of other individuals related to the ancestral couple, we show that it is sometimes possible to tease apart the personal identity of each of the reconstructed chromosomal haplotypes (i.e., which are the ancestors, and which are their partners)."
"Through simulations, we calculate the amount of the genome that can theoretically be reconstructed given the number of generations back to the ancestor and the number of actual and sampled descendants."
"In genomic regions with many inferred IBD segments, we can reconstruct the haplotypes of the couple, in some cases assigning each haplotype to a specific member of the pair."
"Finally, we demonstrate that given these reconstructed haplotypes, we can infer a given ancestors ancestry and select physical features."
I sure would be interested to learn more about the "amount of the genome that can theoretically be reconstructed given the number of generations back to the ancestor and the number of actual and sampled descendants." Is there some critical mass of descendants required? How many generations back is too many? Is there an optimal ancestor range for reconstruction? And, how good/accurate/complete does the paper genealogy have to be in order for this method to be utilized?
And, not surprisingly, they've started to infer information about "select physical features." I'm guessing that includes the easy ones like eye color and hair color. It would be interesting if they could reconstruct an ancestral couple from the 18th century for which there is information about their physical appearance (a painting or written description, for example), and see how well the genomic information aligns with the historical information.
The Future of Genetic Genealogy
So why is this interesting? Well, reconstructed genomes can be very useful for genealogy. First, they can tell us about our ancestor, including physical traits (predicted eye color, disease propensity, etc.). Second, they can be used to recreate family trees. For example, once segments of DNA are assigned to an ancestral couple, those DNA segments can serve as "flags" for future individuals that have the segments but don't have an established paper trail back to that ancestral couple. And there are many more possible applications of this technology.
You can read more about my predictions for the future of genetic genealogy at the following links:
.