Yesterday, when I checked my AncestryDNA account I had 205 pages of matches, or 10,250 matches in the database. Today, thanks to Ancestry's new matching algorithm, I have 57 pages of matches, or 2,850 matches in the database (a reduction of 72.2%!). I also have DNA Circles, groups of people who MIGHT share a common ancestor (some of whom share DNA with me).
A New Matching Algorithm
I wrote recently about the new algorithm (see "Finding Genetic Cousins – Separating Fact from Fiction"), as did Judy Russell ("When less is more") and Roberta Estes ("DNA Day With Ancestry"). In essence, AncestryDNA is leveraging information about allele frequencies ("pile-ups") in which small IBS segments of DNA shared by many, many people are not utilized for matching.
For example, my results show that I share a segment of DNA with 2,500 other people in the database. My next most common segment isn't even close, coming in at 400. For both these segments, I do not share the DNA with the other people not because we're all recently related.
Thus, AncestryDNA is identifying the frequency of certain alleles in the database and using that information to reduce false positives. I certainly don't want to see those 2,500 matches (at least not if the peak is our only shared DNA), or that group of 400 matches. Eliminating the 3,300 false positives in just those three peaks will be a good start!
NOTE: AncestryDNA is NOT using family trees to find genetic matches in their database. The new matching algorithm does NOT utilize your family tree for matches!
NEW NOTE: Check to see if your match fell down your match list rather than being "lost." If the new phasing algorithm or matching algorithm eliminated a segment or two, then your match may have moved down your list.
So how much did your match numbers change?
Beware the Naysayers
Undoubtedly there will be some concern about the loss of distant matches, and some of that will be valid until we get a better handle on AncestryDNA's algorithm, including reading the white paper (beware anyone that hasn't read the white paper!).
However, automatically complaining about the loss of a match because you've "proven" a common ancestor and you have shared DNA is NOT a valid complaint without considerable additional evidence. First, it is not difficult to find a common ancestor with millions of other people, including thousands of people in AncestryDNA's database (especially if the database has a higher-than-average number of people with large family trees, which I would wager it does), and including with false positives. Second, the way this algorithm works is to eliminate shared segments of DNA from the matching algorithm. That means that you will indeed share a segment of DNA with these false positives, but because it is a pile-up, it will not form the basis of a true match. Sometimes the "pile-up" segment can be quite large, possibly even as high as 10 cM or more (although more information will be required to confirm this).
Indeed, even a triangulated group (even a group with 4 or more people) can be incorrectly assigned to an ancestor! Very few people have ALL their lines documented enough to eliminate the possibility of other matches in missing lines (and no one has yet sufficiently proven that all of their recent family tree is free of hidden errors like NPEs). Roberta Estes just posted about this very phenomenon (see "One Match, Two Ancestors – Never Assume").
So, if someone complains about the loss of a distant match because they'd found a common ancestor and shared DNA, ask them for more evidence. Genetic genealogy, after all, is a hard science and they should be able to back up their assertion with evidence.
How many genetic matches did you lose? What do you think of the change?
P.S. – to download your list of old matches, go to SETTINGS and on the right-hand panel click on "Download v1 DNA Matches."
By the way, this is VERY useful, here's the ranking for your matches, which actually gives some information about how much DNA you likely share with many of your matches: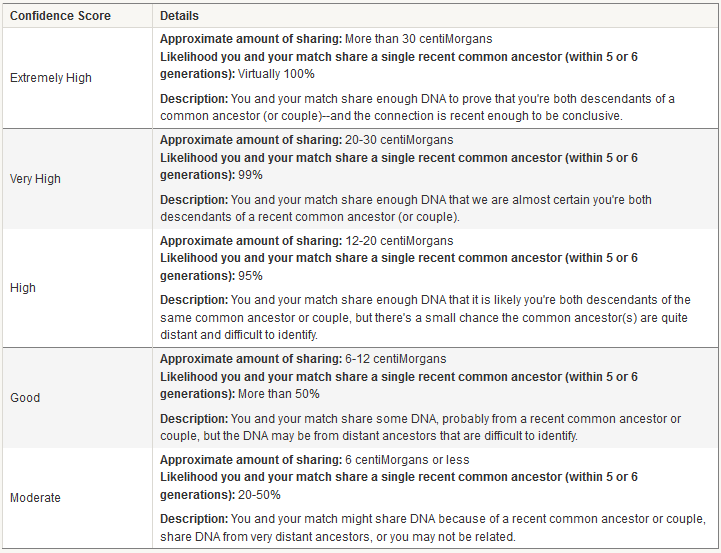 DNA Circles:
Also new today are DNA Circles, a network of related individuals who have a direct line to a shared ancestor, and who share DNA with at least one other person in the network. The purpose of the DNA Circle is to work together to research and study the common shared ancestor. Indeed, you'll be able to view the DNA profile page for non-matches if they are in your DNA Circle!
Placement within a DNA Circle is dependent upon you having a PUBLIC family tree, and I fully support this decision. The strength of your placement within the DNA Circle will also be "ranked" dependent on a variety of factors, including how many descendants of the ancestor have been tested.
A few tidbits about DNA Circles:
You must have a PUBLIC tree to be placed in a DNA Circle.
You will share DNA with at least one person in the DNA Circle, but you might not share with everyone in the DNA Circle. The people you don't share DNA with will share DNA with someone other than you in the circle.
Your relative must be beyond the first cousin once removed stage to be included as a different party in a DNA Circle. In other words, a DNA Circle will not be created for just you and your cousin.
DNA Circles are refreshed every 3-4 hours!! This is because new trees are added, trees are updated, necessitating new matching.
The DNA Circles algorithm looks back 7 generations for a match, so the more complete your tree the more likely you are to find a match.
DNA Circles 

does

require a subscription to Ancestry.com, since it is reliant on family trees.
About 50% of those with public trees will have at least one DNA Circle.
Here are my DNA Circles (I have two DNA Circles):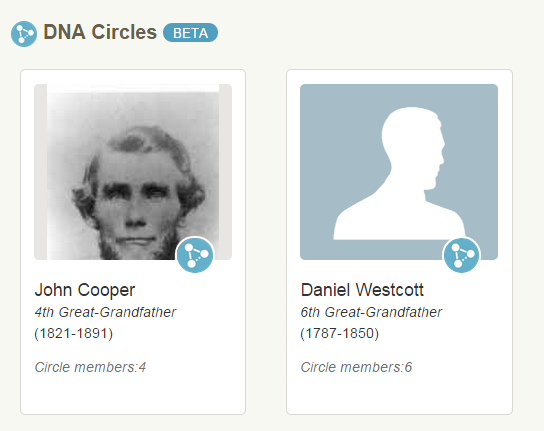 Here are the members of my John Cooper DNA Circle (click to enlarge):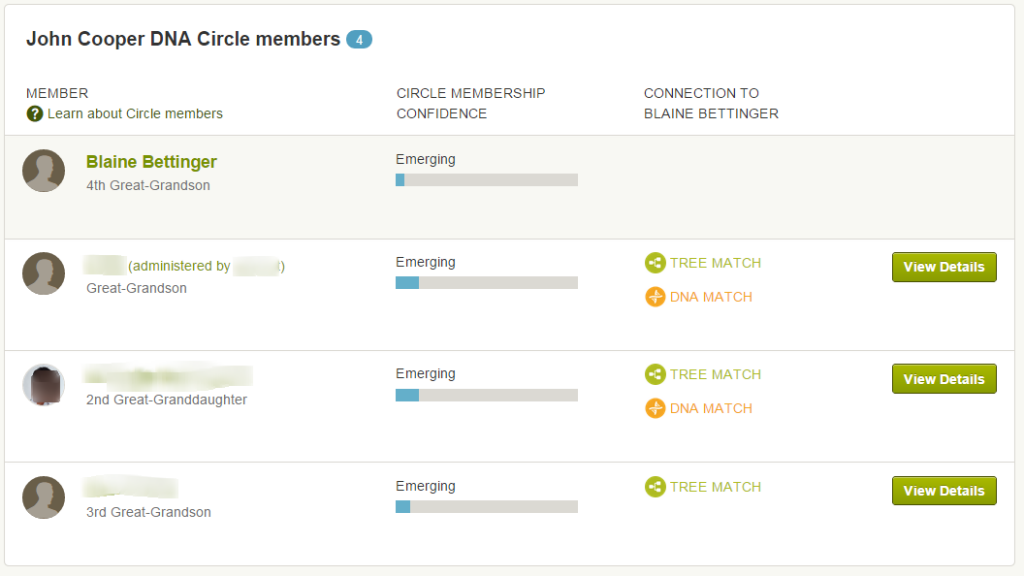 These are all "Emerging," meaning that it's a decent match but that I should be cautious. Note that I am a genetic match to two of my circles, but don't match the third person.
Here's what my DNA Homepage looks like now: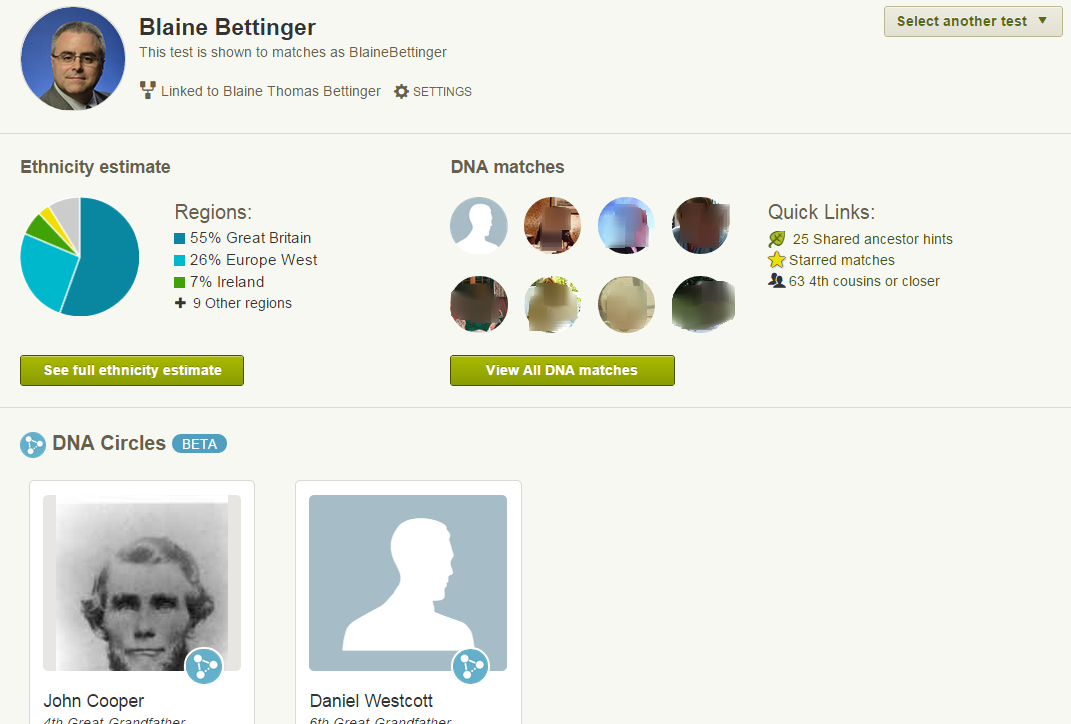 Notice that I have 25 ancestor hints, and 63 4th cousins or closer. I wonder what the relationship between # of hints and likelihood of # of DNA Circles is like?
Be sure to read the White Paper! It's under "Learn More" at the top of your DNA Homepage, and this will pop up: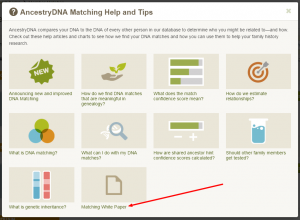 What are your thoughts on DNA Circles? Have you found a new, interesting relatives? How many DNA Circles do you have?
.