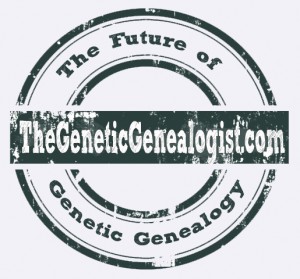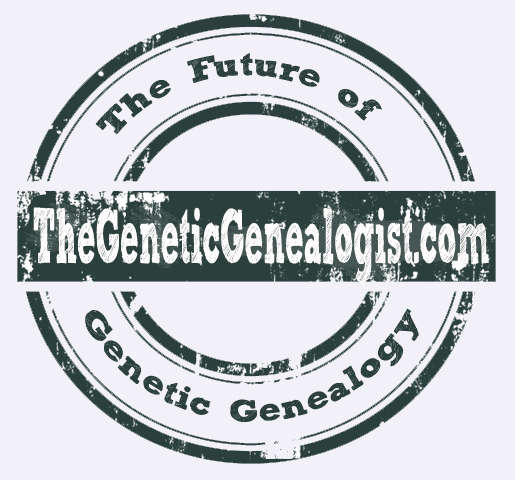 UPDATE: AncestryDNA scientist Dr. Julie Granka posted about this new development at "AncestryDNA Scientists Achieve Advancement in Human Genome Reconstruction," and here's the YouTube video: "AncestryDNA Reconstructs Partial Genome of Person Living 200 Years Ago."
I've written before about a poster presented by AncestryDNA at the American Society of Human Genetics 2013 annual meeting, entitled "Reconstruction of Ancestral Human Genomes from Genome-Wide DNA Matches," and a poster presented at the 2014 meeting entitled "Reconstruction of ancestral human haplotypes using genetic and genealogical data." In these posters, the scientists at AncestryDNA revealed their efforts to recreate portions of the genomes of an 18th century couple using sequencing information from hundreds of descendants.
Today, AncestryDNA revealed the ancestral couple (see "AncestryDNA Reconstructs Partial Genome of Person Living 200 Years Ago"):
Human genome reconstruction methods involve using science and technology to marry the past with the present. By using genetic material of living people, AncestryDNA has reassembled pieces of the human genome from a man named David Speegle and his successive spouses Winifred Crawford and Nancy Garren who lived in the early 1800's Alabama. With many children between the two marriages during his lifetime, David and his spouses Winifred and Nancy were excellent candidates for reconstruction given the number of living descendants that all potentially carry a piece of their DNA.
Here's a link to more information about David Speegle and his wives Winifred Crawford and Nancy Garren. Apparently David and Winifred had 19 children, and David and Nancy had 7 children. According to his obit, he had 300 descendants at the time of his death. This explains why their DNA was so prevalent in the AncestryDNA database.
Physical Characteristics
Recreating genomes of ancestors will allow us to learn things about them that we might otherwise not be able to, such as their ethnicity. We could also learn about some of their physical characteristics like eye color and hair color, although these are not always a perfect estimate based on DNA alone. The press release shares some information about David Speegle/Winifred Crawford/Nancy Garren:
"We've already learned some interesting facts about David Speegle and his spouses Winifred and Nancy," said Ball, "For example; we've identified pieces of the genome that indicate David Speegle or his spouses had a gene attributed to a higher likelihood of male pattern baldness. And David apparently passed along a gene needed for blue eyes."
Certainly not groundbreaking information about the Speegle family, but it's a great start.
Are you a descendant of David Speegle and Winifred Crawford or Nancy Garren? What are your thoughts on this reconstruction?
.