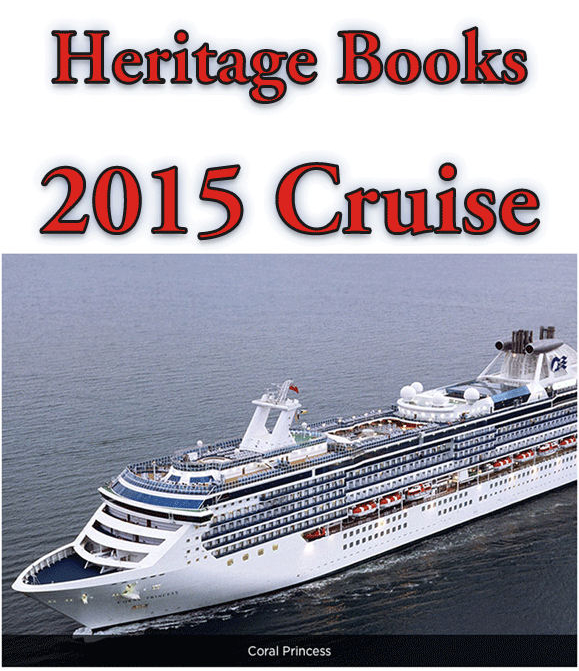 Heritage Books, a leader in the world of genealogy publication for four decades, announces the 2nd Annual Heritage Books Genealogy Conference and Cruise, departing from Ft. Lauderdale, Florida on October 18, 2015 and returning on October 28th!
Interested in DNA?
This year's cruise is focused on using the newest tool for your genealogical research, DNA testing. Are you a DNA newbie? No problem, with more than 20 different genetic genealogy presentations, this conference will take you all the way from complete novice to an intermediate user ready to add DNA to your genealogy toolbox. Are you well-versed in genetic genealogy? Come and learn the latest tips and tricks to enhance your DNA knowledge.
In addition to a full slate of presentations, one-on-one consultations, and several group sessions, conference attendees and passengers will have plenty of time to enjoy the sights, sounds, and flavors of the Caribbean as the Coral Princess makes stops in the topical destinations of Aruba, Cartagena, Grand Cayman, and even makes a partial transit of the unparalleled Panama Canal. You can find the full schedule for this amazing trip here.
Learn with the DNA Experts
Okay, time for a full disclosure. I will be one of the sponsored lecturers on this trip! If you're interested in DNA, you'll learn from some of the top leaders in the field:
CeCe Moore – CeCe Moore is the most widely-recognized name in genetic genealogy. As a professional genetic genealogist, blogger, educator (including SLIG, GRIP, and others) and the genetic genealogy on Finding Your Roots with Henry Louis Gates, Jr. (two seasons) and Genealogy Roadshow (two seasons), CeCe has developed an extensive working knowledge of all aspects of DNA. CeCe also has a strong focus on foundlings and adoptees, and helps reunite families separated by years or even decades. Her work has been featured on national programs on networks like CNN, Fox, and ABC, just to name a few!
Angie Bush – Angie is one of the hardest-working professional genetic genealogists in the world. She works with numerous clients, including many pro bono, to help them apply the results of DNA testing to their family tree. Angie is no stranger to genetics, having worked in molecular and clinical genetics for several years before pursuing a career in genealogy. She is also the Director of Region 1 for the National Genealogical Society, and is helping that organization add DNA to their extensive repertoire of expertise and education. Angie is also the coordinator of the advanced DNA course at SLIG.
Blaine Bettinger – I consider myself a genetic genealogy educator. For more than 8 years I've been sharing information about "the intersection of traditional genealogical techniques and modern genetic research" at my blog, The Genetic Genealogist. I'm a co-instructor for the inaugural DNA courses at GRIP (Genealogical Research Institute of Pittsburgh), SLIG (Salt Lake Institute of Genealogy), IGHR (Institute of Genealogy and Historical Research), and the Virtual Institute of Genealogical Research. I also teach several DNA courses through Family Tree University. This background has allowed me to develop the best ways to share information with newbies, the intermediate, and experts alike.
Wouldn't you like to learn from some of the most active people in the field? Come share this journey with us!
About Heritage Books, Inc.
Heritage Books is the largest genealogy publisher in the world, with almost 4,900 titles and another 40-50 new titles each month. Founded almost 40 years ago, Heritage Books has provided customers with engaging and informative titles in genealogy, history, military history, historical fiction, and memoirs. Heritage Books is located in Berwyn Heights, MD. More information is available at www.heritagebooks.com.
General Information
.