I recently forced the creation of a DNA Circle at AncestryDNA by target testing a descendant of a common ancestor. This blog post offers some information about how I did it, and some of my reasoning for doing so.
AncestryDNA's DNA Circles
AncestryDNA offers a tool called DNA Circles, which is a group of at least three individuals that share a common ancestor in their public family tree at Ancestry, and each member shares DNA identical-by-descent with at least one other person in the circle.
According to AncestryDNA, a DNA Circle "open[s] the possibility for AncestryDNA members to identify distant relatives with whom they do not share DNA IBD directly, but with whom they still have genetic evidence supporting their relationship." Instead of relying on just triangulation, DNA Circles rely on the concept of a Genetic Network.
A DNA Circle requires at least three "family groups," each of which is made up of anyone that is related at a level of first cousin once removed (1C1R) or closer. For example, a person who has tested their siblings, parents, grandparents, aunts/uncles, and first cousins would only create a SINGLE family group. To produce a DNA Circle, at least two other distinct family groups are required: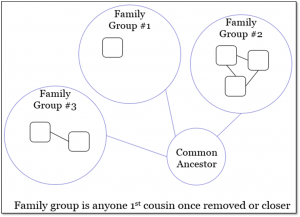 The DNA Circle creates a "Genetic Network" of shared DNA segments between the three or more different family groups. In the following image, a red line represents a shared DNA segment: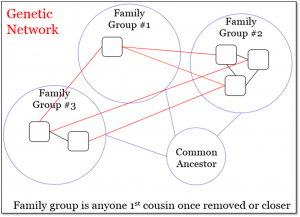 It is possible, but not required, that a single segment of DNA be shared among ALL three family groups; in other words, it is possible but not required that any of the segments of DNA be triangulated. In the example above, for example, none of the individual segments of DNA are shared by all three family groups (i.e, none are triangulated).
For much more about DNA Circles, be sure to see the DNA Circle White Paper.
Some Important Limitations
I'll note at the start that there are several important limitations to DNA Circles that have to be considered. For example, information about the segments shared by the members of the Circle is not provided. Additionally, DNA Circles suffer from the same limitation that triangulation suffers; there are many reasons why the identification of the common ancestor could be incorrect (holes in trees, misattributed parentage, etc.).
Genetic Networks & Triangulation
Over the past few months, I've been working on a blog post about the use of Genetic Networks in genetic genealogy. I keep coming back to it, but I haven't yet had the time to devote to it, unfortunately. (Although now I think THIS is that blog post!).
Essentially, the blog post will examine the concept of Genetic Networks, and how they might be used to supplement and/or work together with triangulation to help map segments of DNA to our ancestors. Although Triangulation is the gold standard, I'm not convinced that triangulation alone should be utilized for identifying IBD segments, or that triangulation alone should be utilized to assign segments to an ancestor or ancestral couple. I believe the idea of Genetic Networks, or sufficiently large groups of people that have segments of DNA which are shared by fewer than three members of descendants of a common ancestor, will potentially be useful as well (especially sufficiently large segments).
Earlier this year, AncestryDNA published a new graph which appears to have been created specifically to address the issue of triangulation, which they recognize is (correctly) important to traditional genetic genealogists. The graph, reproduced below, is a graph of how likely it is that three relatives share the same segment of DNA from a common ancestor. For example, the likelihood that three first cousins share a segment of DNA from their common grandparents is about 85% according to the graph; for second cousins and great-grandparents it is 60%; for third cousins and gg-grandparents it is 15%; and for more distant cousins it appears to be 1% or less: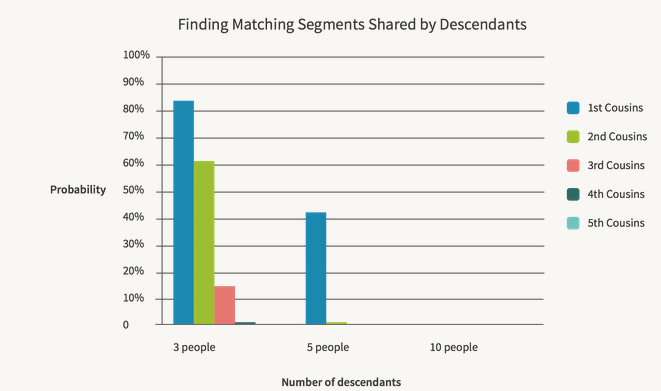 Based on my own data and experience, I don't think the actual numbers and probabilities for triangulation are nearly as poor as the graph reports. For example, we see far too many triangulation groups in our results for the numbers to be this pessimistic. Further, the graph is oversimplified in some respects; I think we may be seldom looking at people in a Triangulation Group who are all at the same level. One or more members of the triangulation group may be 1, 2, or more generations closer to the ancestor, for example.
But the graph does make clear, and common sense dictates, that relying on triangulation alone misses the majority of the possible available genetic information. In other words, triangulation alone misses most of the DNA passed onto future generations by our common ancestors. That simply cannot be argued with; what we can disagree with is the extent.
While that might not be an issue for those of us working on just chromosome mapping our own DNA, it will be an issue for those of us trying to capture as much DNA from an ancestral couple as possible (which will be a more prominent goal in the near future as we do more large-scale projects, including recreating the genomes of our ancestors).
I think Genetic Networks might be one way to try to recapture the vast amount of information missed by triangulation alone. Hopefully this post will create conversation about how we can go about doing that in ways that are robust.
The Colwell Family DNA Circle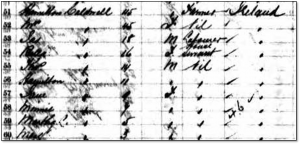 Hamilton and Susanna (Stein/Steen) Caldwell had eleven children, all born in or around County Tyrone, Ireland in the mid- to late-1800's. In 1883, the couple and their eight youngest children left Ireland to join members of their family in Ellisburg, Jefferson County, New York. There, Hamilton and Susanna bought several large farms and had a prosperous few years as their family grew.
Today, descendants of Hamilton and Susanna Colwell family (as the name is used by all descendants of the couple) number in the many hundreds and possibly 1,000 or more.
Colwell Descendants at AncestryDNA
When I tested at AncestryDNA, I discovered that I shared DNA with another descendant of the Colwells, a fourth cousin once removed (4C1R). This person is called "Existing Test-Taker" in the images below.
I also tested other members of my close family who were descendants of the Colwells, all of whom were related to me at 1C1R or closer.
However, since there were only two family groups (see below), there was no Colwell DNA Circle.

To create and see a DNA Circle, we would need a third family group.
Creating a DNA Circle
So, to hopefully force the creation of a DNA Circle, I target tested another descendant of the Colwells, this time a descendant of a different, third one of the 11 children of the common ancestral couple. If this person shared DNA with either me or Existing Test-Taker, then a DNA Circle should be created. In this case, I had the extra benefit of this person being two generations closer to the ancestral couple than me, and one generation closer than the Existing Test-Taker. I did have a great-uncle tested so he and the Targeted Test-Taker would be 3C.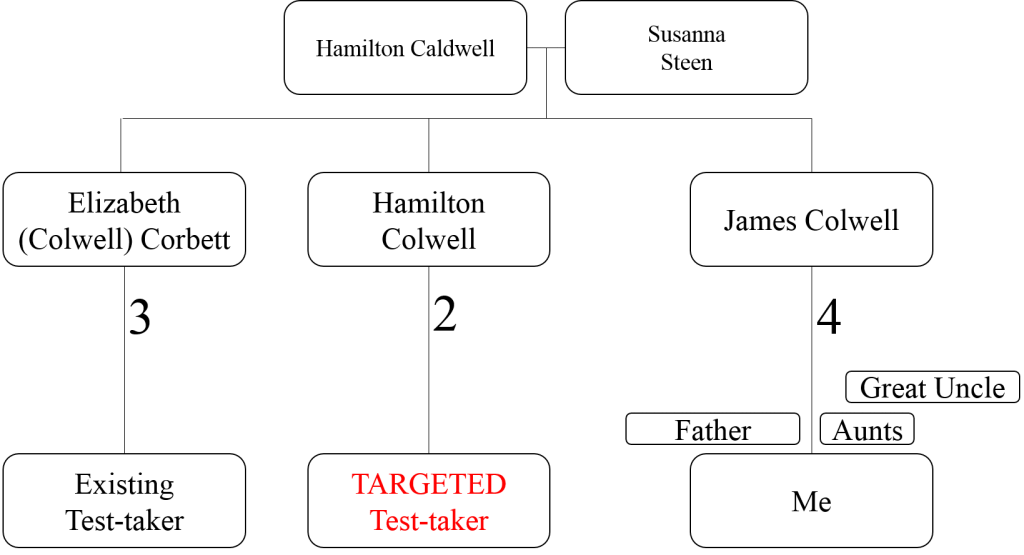 Sure enough, within a few days of the test results appearing, two DNA Circles appeared for the ancestral couple: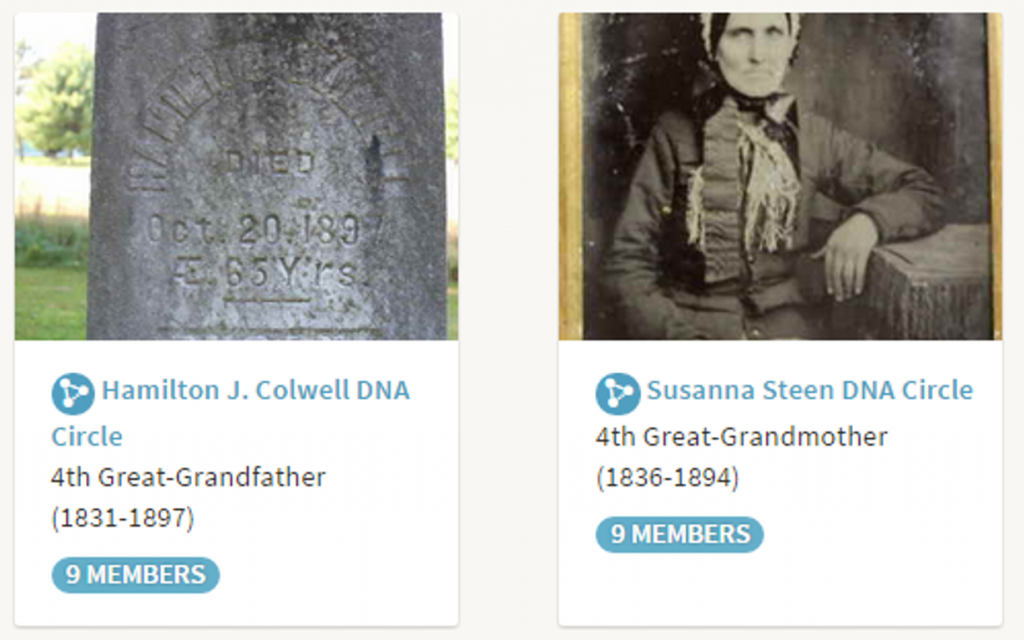 The DNA Circle is made up of only the three family groups, and each family group shares DNA with every other family group: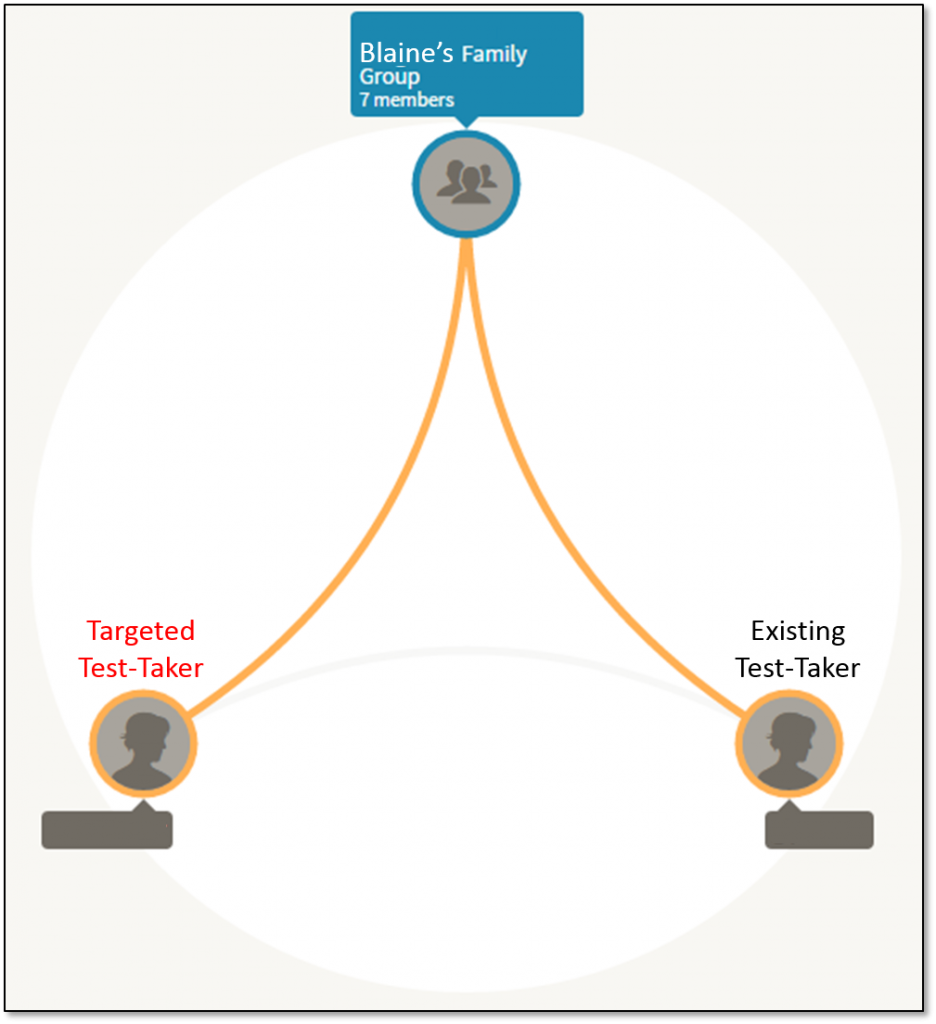 My hope, however, is that new family groups will be added to this Genetic Network, particularly those that would only match the Existing Test-Taker, since I would not see these individual with Colwell Family segments in my own match list or that of the Targeted Test-Taker.
The Usefulness of Genetic Networks
I think that the applicability of Genetic Networks will depend on two competing facts: first, that a robust Genetic Network with closely-related descendants will comprise individuals that would show up in your match list anyway; and second that a less robust Genetic Network will involve most distant relatives and will increase the probability of relationships through multiple family lines (known and/or unknown).
The first scenario will potentially alleviate (but of course not prevent) the likelihood that the large amount of sharing is due to other relationships, while the second scenario will potentially recapture more of the ancestral couple's DNA that would otherwise be unidentifiable.
So if we don't triangulation a segment that is shared within a Genetic Network, how do we ensure that the segment is from the ancestral couple? I don't think there is a clear answer to this yet, but I also don't believe it is impossible, or that we should ignore Genetic Network theory as a result. After all, we know that even the triangulation gold standard can fall prey to this issue.
AncestryDNA claims to do this several ways.
For example, they only go back 6 generations with DNA Circles, since their research showed that descendants of an ancestor who lived more than six generations ago have more DNA in common with other descendants of that ancestor than they'd be expected to (meaning that they are more likely to be related through multiple lines).
Further, AncestryDNA defines this issue as W(Inheritance), which is "the confidence that the individuals have an IBD match due to the shared ancestor in question (as opposed to from another ancestor or from more distant genealogical history)." To calculate W(Inheritance), they use an algorithm that takes into account: (1) direct-line pedigree size, (2) number of [KNOWN] shared ancestral couples, and (3) the generational depth of the shared MRCA couple."
Essentially, to lessen the likelihood that other lines are responsible for the sharing within the Genetic Network, AncestryDNA only goes back 6 generations, and heavily weights trees with a greater number of direct-line ancestors (the theory of course being that the more complete the tree, the less likely that sharing could come from behind a brick wall or other hole in the tree).
This almost certainly is not enough, and I'm sure AncestryDNA is working to refine DNA Circles. At the same time, genetic genealogists should explore ways to lessen the impact of these problems when using Genetic Networks.
Future Directions
So what might be the purpose of this exercise? Could the creation of a DNA Circle actually be beneficial to my research? And this might be the same question, but can we make Genetic Networks workable, and can they help me in any way?
In addition to the discussion above (or perhaps as a supplement to it), here are several reasons that the Genetic Network approach might be useful:
The new Colwell Family DNA Circles are now waiting for other descendants to join. This could potentially include descendants that don't share segments of DNA with me and thus would not ever appear in my match list. I'm also hopeful that two or more of the existing family groups might eventually help form new DNA Circles with descendants of the ancestors of Hamilton and Susanna (Steen/Stein) Caldwell (whom I don't know).
I am amassing DNA to help recreate portions of the genomes of Hamilton and Susanna (Steen/Stein) Caldwell, which might be of immense value in the near future as we develop tools to use recreated ancestral genomes. Although I can amass this by testing at any company, by also having them at AncestryDNA – in other words, by creating a Genetic Network – I can use the DNA Circle as bait.
Future Directions for Genetic Networks
It's easy to dismiss Genetic Networks. They are certainly fraught with problems, some of which triangulation must continue to face as well. However, beware anyone that dismisses Genetic Networks or DNA Circles out of hand.
It is also very easy to look at an existing tool that we know works – triangulation – and believe that it is the only way to achieve our goals. It won't be, especially as we continue to reach critical mass in the databases for all sorts of new tools and new methods of analysis.
And further, it can't be. Although triangulation works, is too slow and time intensive for 90% of genealogists, and it won't allow us recreate sufficiently large portions of genomes of our ancestors unless many, many, many thousands of people are doing triangulation on a massive scale.
I don't have all the solutions, but I do believe we should have these discussions as new tools develop, rather than assuming that our existing tools are the only ones we should use.
Postscript 
To see a real-life example of a genealogical question answered using a combination of Triangulation and a Genetic Network, see my last post about a new article in the NGSQ. In this article, the author uses segments of DNA among descendants of ancestral couple to support a relationship. Some of the segments triangulate among three or more descendants, while some do not triangulate and are shared only among two descendants. Although the NGSQ is subscription only, it is also available at more than 1,000 libraries around the world.
Thomas W. Jones, "Too Few Sources to Solve a Family Mystery? Some Greenfields in Central and Western New York." National Genealogical Society Quarterly 103 (June 2015): 85-103.
Post-Postscript (Added 26 July 2015):
Not surprisingly, the always-at-the-forefront Ann Turner has an essay available entitled "The Trouble with Triangulation" which discusses many of these issues. Apparently published a few months ago in April, I missed this terrific essay. I strongly suggest reading it if you're interested in Genetic Network theory!
.