Autosomal DNA is challenging. Although the results of atDNA testing contains vastly more information than either Y-DNA or mtDNA, it is significantly harder to utilize and understand. To wring as much information as possible out of atDNA test, genetic genealogists use every tool available.
One of those tools is triangulation. Although the topic of much debate recently, and subject to several important considerations and limitations, most genealogists agree that triangulation is a valuable tool for working with segments (especially among close relatives).
Unfortunately, there is a lot of misunderstanding when it comes to what is – and what is not – triangulation.
Let's take a quick look at what triangulation means with regard to atDNA, and why it matters.
The History of Triangulation
The term "triangulation" was not invented by genetic genealogists, although it has been commandeered and now has a very specific meaning in the field. Indeed, the word "triangulation" has been borrowed and its meaning modified in many different fields (see Wikipedia's disambigulation of triangulation here). That is, after all, how languages grow and evolve, particularly as new technologies are developed.
Triangulation also has a slightly different definition with regard to Y-DNA and mtDNA; the process is very similar, except the 'triangle' is often two-dimensional and the third point of the triangle is the MRCA instead of a third test-taker, which significantly lowers the confidence level of the conclusion (see the ISOGG wiki page here).
Why Does it Matter?
The definition of triangulation is important because genetic genealogists who hear or read that a segment has been triangulated assign a very specific meaning to that statement. True triangulation is a very high bar, and thus identifying a segment as being "triangulated" gives it a special status compared to other forms of analysis.
While it is certainly the duty of every reviewer/reader to ensure that a segment is indeed triangulated when it is identified as such, misuse of the term can be misleading and waste the reader's time when they have to go back and re-analyze the content after realizing that triangulation was not utilized. This can be especially problematic when there isn't a sufficient amount of evidence to determine whether segments are truly triangulated.
Even worse, using "triangulation" in the wrong context can mislead people who are new to genetic genealogy. Many newbies misunderstand triangulation because the term is so misused, and thus make unsupported conclusions about their data.
So What is Triangulation?
There is only proper definition of triangulation (note that genealogists may differ on the exact words used below, but I posit that the majority of genealogists will agree that this conveys the very specific meaning of triangulation):
Triangulation

– a process or method by which three or more people all sharing an overlapping segment of DNA in common compare their family trees in order to identify a common ancestor or ancestral couple shared by all.
Triangulation Group ("TG")

– a group of three or more people who all share an overlapping segment of DNA in common with each other.

Members of a TG can work together to identify a shared ancestor that

might

explain the shared overlapping segment of DNA. This is NOT to be confused with an ICW group!
Triangulated Segment

– an overlapping segment of DNA shared in common by three or more people. A segment of DNA can be triangulated even if a common ancestor or ancestral couple has not yet been identified.
Triangulation requires at least three test-takers. The members of a TG must do more than share an overlapping segment of DNA. The members of a TG must do more than be In Common With each other. Triangulation requires that ALL of those test-takers share an overlapping segment of DNA in common with each other.
In Common With (ICW) is NOT Triangulation
In Common With status is often confused with triangulation. While many ICW groups are actually triangulation groups, one must not be confused with the other.
An ICW group means that three or more people all share each other as matches. At AncestryDNA, for example, the "Shared Matches" tool identifies ICW groups. In the image below, Bob, Joe, and I are all in common with each other: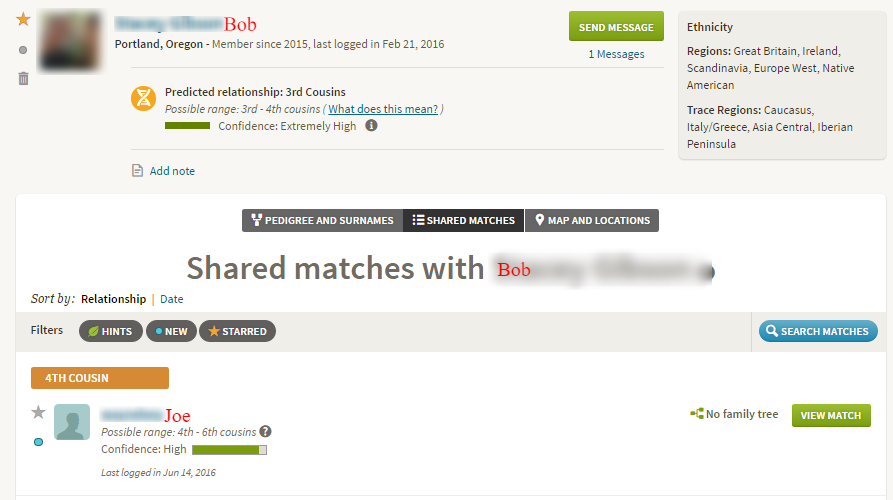 Without segment data, however, we don't know whether Bob, Joe, and I have one or more segments of DNA in common. It could be, for example, that Bob and I share one ancestor, Joe and I share a different ancestor, and Joe and Bob share yet another ancestor:

Alternatively, Bob, Joe, and I may share a single common ancestor or ancestral couple in common:

Although there is a wealth of information in Shared Matches, it is not possible to perform triangulation with Shared Matches. It is first necessary to obtain segment information (for example if all members of the group transfer their raw data to GEDmatch), AND then it is necessary to determine whether the same segment of DNA is shared by Joe, Bob, and I.
An Overlapping Segment is NOT Triangulation
On a chromosome browser, some of your matches will have overlapping segments that can look something like the following (a screenshot from Family Tre DNA's chromosome browser):

This might be a triangulation group (or multiple triangulation groups), or it might not be a triangulation group. Without additional information about the inter-relatedness of the individuals in this group, we won't know anything further about these matches. For example, all of these matches might be related to me on my father's side of the family, they might all be related on my mother's side of the family, or they might be a mix.
Family Tree DNA offers an ICW tool (also called the Matrix tool) that enables some analysis into the inter-relatedness of the individuals in this group, but even with that information we don't know if it is a true triangulation group. See, for example, the next section.
ICW and an Overlapping Segment is NOT Triangulation
It is also possible to combine segment data and ICW information, such as in the following chart (created using the KWorks tool at DNAGedcom), although it is still not triangulation:

This chart demonstrates that there is an overlapping segment of DNA on chromosome 17 in the region of 57021871 to 65442541. The chart also demonstrates that there is a group of people in this chart that shares DNA (shown by the "x" in the intersecting boxes). For example, everyone in this particular graph forms a single large ICW group:
Irene, Mack, Elizabeth, Susan, Michael, and Me
Although I share this region of DNA in common with ALL of Irene, Mack, Elizabeth, Susan, and Michael, there is NO guarantee that we all share the same region of DNA in common.
Indeed, there are many different combinations that could explain the ICW graph. For example, the six of us might all share a recent common ancestor that explains the overlapping segment.
However, it is also possible that some of the members of the ICW group share DNA with each other at another location, while still sharing this segment in common with me. They would still all be ICW, but would not all share an overlapping segment of DNA, and would thus not be a true triangulation group.
Many, many people have reported that having an overlapping segment and ICW status results in a true triangulated segment a very large percentage of the time. My own experience agrees with this anecdotal evidence. However, whether they form TGs or not, these ICW groups shouldn't be called TGs without the necessary confirmation.
True Triangulation
The only way to perform true triangulation is to have segment data and a way to confirm that an overlapping segment is actually shared by two or more genetic matches. This cannot currently be done at AncestryDNA or Family Tree DNA. There are indications of a triangulation tool at 23andMe, but since I am yet to be added to the new interface, I won't report on that until I am transferred.
Triangulation CAN be done at GEDmatch where it is possible to check whether two or more matches share an overlapping segment of DNA in common (such as using the Tier 1 Triangulation tool, discussed below).
Triangulation can also be done the "old fashioned" way, the way we did it before there were any tools available. A possible triangulation group would be identified using segment data (such as segment data obtained from FTDNA), and then members of the potential group would be emailed to ask whether they shared the identified segment in common with the identified matches. If they responded and said yes, it would be a confirmed or rejected triangulation group.
Triangulation Tools
It is very important to note that tools like KWorks, JWorks, and ADSA at DNAGedcom, and Matching Segment Search at GEDmatch, while incredibly powerful and valuable tools, do NOT perform triangulation. They identify overlapping segments among a group of individuals, and then assign ICW status. Although these ICW groups are often triangulation groups, they cannot be called triangulation groups without knowing whether they all share the segment of DNA in common.
In contrast, the Tier 1 Triangulation tool at GEDmatch DOES perform triangulation. It confirms that all members of a reported triangulation group share the same segment of DNA in common.