When does DNA prove a relationship? When is a triangulation group sufficiently large enough to prove descent from an ancestral couple? When is a shared DNA segment large enough to prove someone is your first (or second/third/fourth, etc.) cousin? At what point does the DNA prove that I am descended from Samuel Snell? When does the DNA prove that you've found your great-grandmother's biological parents?
NEVER.
And this is, perhaps, one of the greatest misconceptions in the post-DNA era of genealogy.
What is Proof?
Genealogy is the study of lives and relationships. Accordingly, genealogists spend much of their time identifying, hypothesizing, supporting, and sometimes rejecting, relationships.
Unless you have direct knowledge of a relationship (and even sometimes when you do), you identify relationships using evidence that you've gathered from multiple different sources (including DNA, census, land, tax, vital, and many other types of records).
At some point, you will determine that a relationship for which you've gathered evidence is sufficiently established or confirmed. That is a determination that you make personally based on your knowledge of genealogical methodology, your knowledge of the available records, the evidence you've identified, and more.
But you must also convince others that the relationship is sufficiently established or confirmed. Whether "others" are family members, blog readers, or a child going through your research when you're gone, someday someone will be evaluating that relationship and the evidence you gathered support it. It is a loss to the entire world if no one ever evaluates that relationship.
But when is a relationship "proven"? What is "proof"? (or a "confirmed" relationship, or whatever other terminology you use). Evidence Explained defines proof as "a conclusion based upon the sum of the evidence that supports a valid assertion or deduction (i.e., a conclusion drawn from aggregated clues)." Elizabeth Shown Mills, Evidence Explained: Citing History Sources from Artifacts to Cyberspace, 2d ed. (Baltimore, Maryland: Genealogical Publishing, 2012).
If we take this as the definition of "proof" or "a genealogical conclusion," when does DNA allow us to prove something?
DNA as Proof v. DNA as Evidence
DNA is appropriately recognized as being an important aspect of genealogical research. Indeed, the modern genealogist who ignores DNA does so at their peril; beware a genealogist that intentionally ignores any potential source of evidence.
Although DNA is widely consulted as a potential source of evidence, there are no guidelines for how it should be utilized, or how it can be or should be incorporated into non-DNA evidence. Although there aren't perfect bright-line rules for how any evidence should be utilized, there is also no historical treatment of DNA evidence as there is for other types of evidence. We've all read many proof arguments that include evidence gleaned from census records, probate records, and other widely-used sources. But few of us, actually, have read detailed and complete proof arguments that include evidence gleaned from DNA (where "complete" means the whole picture, both DNA and non-DNA evidence).
NOTE: Anyone interested in how DNA and non-DNA evidence are incorporated to arrive at a genealogical conclusion must be members of the National Genealogical Society to receive the NGSQ (National Genealogical Society Quarterly), and must subscribe to The American Genealogist. Both contain articles that utilize DNA, and will undoubtedly continue to do so.
NOTE: I recognize that even the term "non-DNA evidence" is problematic, as it suggests that there is a [non-existent] difference between DNA evidence and non-DNA evidence. So, use the term cautiously.
Divorcing DNA from Genealogy
Since DNA is such a new record type, genealogists are unsure how to incorporate the evidence into a genealogical conclusion. And new test-takers without research experience tend to focus solely on the DNA, without realizing that it is no more important than the non-DNA evidence. Indeed, DNA evidence has largely been divorced from – or, more accurately, never properly married to – traditional genealogical research.
As a result, there are often questions like the following from both new and experienced genealogists:
"I share the same 23 cM segment with two third cousins. We each descend from a different child of our GG-Grandparents John and Jane Smith. Have we sufficiently proven our descent from John and Jane Smith?"
"I share a 32 cM segment with a known fourth cousin. Is the genealogical relationship sufficiently proven?"
"A genetic match shares 100 cM with me and is predicted to be a third cousin. Looking through their tree, I see a shared ancestral couple. Have we sufficiently proven our descent from that shared ancestral couple?"
"Does the DNA shared by these two GEDmatch kits sufficiently prove a 1C1R relationship?"
The answer to these types of questions is ALWAYS "it depends." It depends not only on the many factors involved in DNA analysis (more on that in a bit), but it also depends on ALL the evidence that has been gathered, including the DNA AND non-DNA evidence.
But when relying on the DNA ALONE, the answer is ALWAYS NO!
DNA As Evidence
Genealogists typically describe DNA evidence as a piece of a puzzle, but for this exercise let's think of DNA evidence as one Lincoln Log® in a construction. There are a few Lincoln Logs (evidence types), situated on end, holding up a building (i.e., supporting a genealogical conclusion):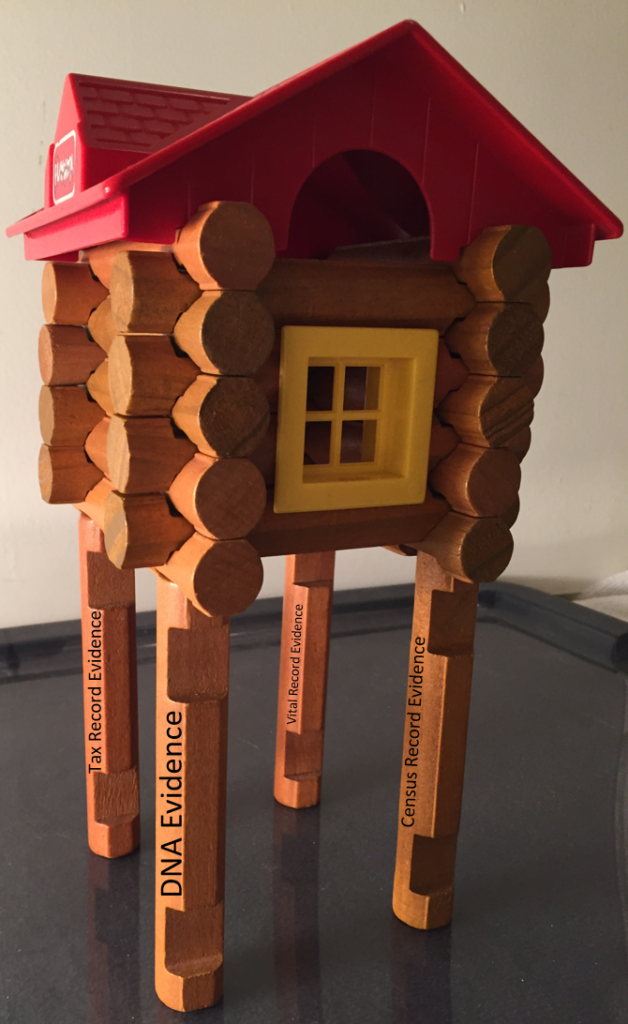 Each of the on-end Lincoln Logs is a piece of evidence supporting the genealogical conclusion (the suspended Lincoln Log building). Each log can be any evidence from any source.
In the example above, there is a minimal amount of evidence supporting the conclusion, including the DNA evidence. What is clear is that the DNA evidence alone cannot support the conclusion. Indeed, without any of the evidence, the genealogical conclusion is inadequately supported and comes crumbling to the ground. Also in this example, the DNA evidence is essential to the conclusion; without it, the conclusion will fail.
But, if someone were to present the DNA evidence to you without the other supporting evidence, you are completely unable to evaluate the genealogical conclusion. This is so often what genetic genealogists do when presenting their DNA evidence; the DNA evidence is divorced from or never married to the non-DNA evidence.
In the following example there is considerable evidence supporting the conclusion. Take out any single piece of evidence, and the conclusion still stands (although it is not as stable as it was with the DNA evidence):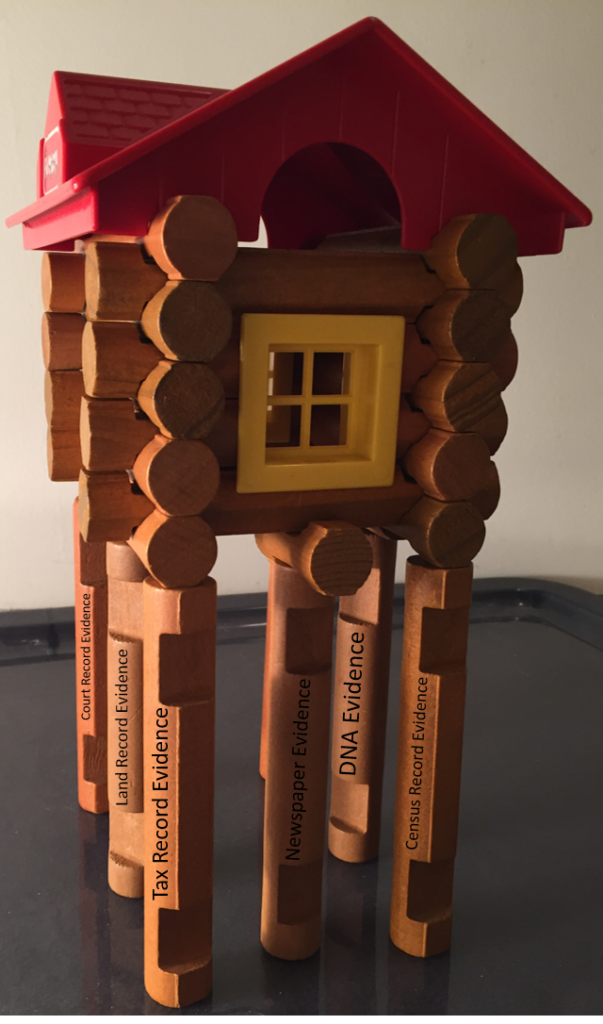 In another example, the DNA evidence is either impossible to obtain (no test-taker is available or the possible test-takers refuse to take a DNA test) or would not help support the conclusion: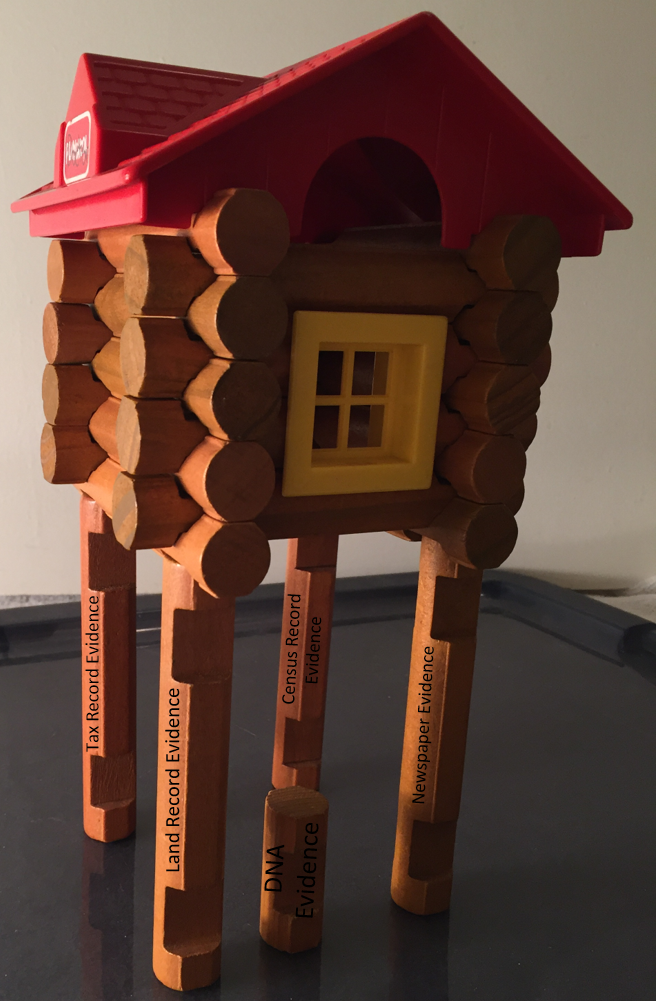 In this scenario, where the DNA evidence is either unavailable or not helpful, the non-DNA evidence must be sufficient to support the genealogical conclusion without DNA.
Unfortunately, we can't test our genealogical conclusions using gravity to determine whether they are sufficiently supported. Instead, every genealogist individually determines whether the gathered evidence stably supports a conclusion. When we share that evidence and conclusion with other people, they in turn analyze the evidence and decide whether the conclusion is sufficiently supported. This is where the Genealogical Proof Standard is essential, as it provides a framework for creating and reviewing genealogical conclusions.
Indeed, it is at this bottleneck – determining whether ALL the evidence, both DNA and non-DNA, supports the genealogical conclusion – that genetic genealogists should be frustrated, not whether the DNA evidence proves something. That is not, however, what I am seeing in my discussions with genetic genealogists.
Does the DNA Evidence Support the Conclusion?
Whether the DNA evidence supports (versus proves!) a hypothesis or conclusion is an entirely different question, and is the one that should be asked. This requires an in-depth analysis of the many specific issues that arise when utilizing DNA, and this is something with which genealogists are still struggling.
Indeed, EVERY type of evidence involves its own issues that must be considered. Among the issues that must be considered when using DNA evidence are the following:
Tree Completeness – how complete are the trees you are comparing? In other words, how confident are you that the DNA couldn't have come from other shared ancestors?
Segment Size – are you avoiding small segments (<5 cM) and ensuring that the shared segment size(s) are reasonable in view of the hypothesized relationship?
Total Shared DNA – are you ensuring that the total shared cM is reasonable in view of the hypothesized relationship?
Each of these issues merits its own blog post and discussion.
Conclusion
DNA alone NEVER proves anything. When you ask others to evaluate your genealogical conclusion, providing just the DNA evidence is pointless. Do not divorce one type of evidence from all the other evidence supporting your genealogical conclusion.
P.S. – I used to say that DNA alone could prove a parent/child relationship due to that unique inheritance pattern, but I realized (with help from a great comment that I can't find at the moment) that is inaccurate. Using current genetic genealogy tests, it is impossible to decipher (using just the DNA) whether a proposed parent match is actually a parent, or an aunt or uncle in the case of identical twins. For example, if two men are identical twins and one of them has a child, DNA alone (from current genetic genealogy testing, anyway) cannot determine which is the father and which is the uncle. Thus, knowing whether the parent has an identical twin requires non-DNA evidence!