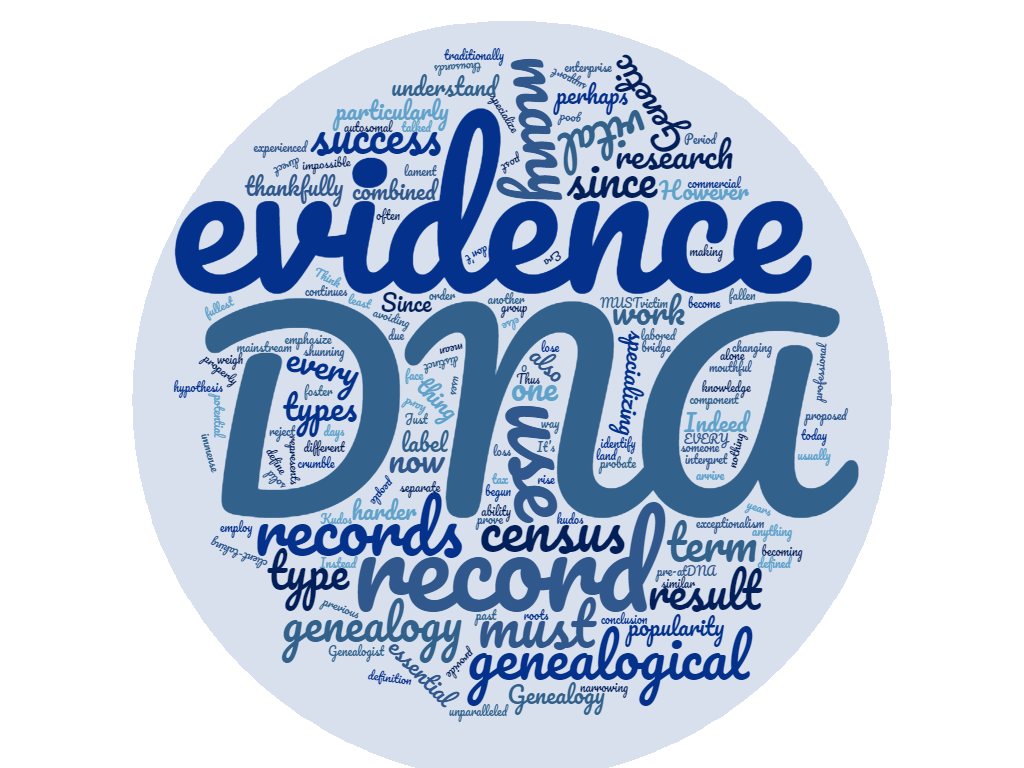 Is there such a thing as a "genetic genealogist" in genealogy today? Should there be such a thing?
In a previous post ("The DNA Era of Genealogy") we talked about how DNA is a record type, similar to a census record, land record, vital record, or tax record. All of these record types provide evidence that – when combined with other types of evidence – support, weigh against, or reject a genealogical hypothesis.
However, DNA alone cannot prove anything; DNA evidence must be combined with other types of evidence in order to arrive at a solid genealogical conclusion. As a result, it is impossible to be a genetic genealogist and nothing else. To use DNA evidence properly (or at least to its fullest potential), one must also be a good genealogist.
What is Genetic Genealogy? What is a Genetic Genealogist?
Genetic genealogy is the use of DNA evidence in genealogical research. With roots as a commercial enterprise in 2000, this record type has experienced an unparalleled rise in popularity in the past 2-3 years (particularly autosomal DNA).
A genetic genealogist, traditionally, has been defined as someone who uses DNA evidence. Period. However, the term "genetic genealogist" is becoming harder and harder to define due to the immense popularity of DNA evidence. Since so many genealogists (many, many thousands) now employ DNA evidence, each one of them is a genetic genealogist. As a result, it is often proposed now that a genetic genealogist is a professional (usually client-taking) genealogist specializing in DNA evidence. This narrowing of the definition is a direct result of the success of DNA evidence.
Indeed, the term "genetic genealogist" has fallen victim to the success of genetic genealogy. DNA evidence is such an essential component of genealogical research that a genealogist avoiding DNA records is no different than a genealogist shunning census records, probate records, or vital records. As a result, EVERY genealogist MUST be a genetic genealogist, and must have knowledge of how to use and interpret DNA evidence.
Thus, thankfully, the term genetic genealogist has begun to lose its ability to identify genealogists that use DNA evidence as a separate and distinct group. Just as there are no census genealogists (since every genealogist must understand and use census records) and no vital record genealogists (since every genealogist must understand and use vital records), perhaps there should be no genetic genealogists. Instead, perhaps there should only be genealogists that specialize in DNA evidence.
Do not lament the loss of the term genetic genealogist! Indeed, kudos to every genetic genealogist, particularly those that have labored since the pre-atDNA days (before 2007), for making genetic genealogy such a success. It is because of your work and the work of so many genealogists since that DNA evidence is now mainstream and is changing the face of genealogical research. Kudos!
I, for one, am a genealogist specializing in DNA evidence. It's a mouthful, but it represents the hard work of many, many people, and the success of DNA as a record type. It is also another way to emphasize that the bridge between genealogists and genetic genealogists continues to crumble, thankfully.
What do You Think?
What does the label "genetic genealogist" mean to you? Since DNA has become an essential record type, why do we use "genetic genealogist" if we don't use "census genealogist"? Does the label "genetic genealogist" foster DNA exceptionalism?