Given the lack of a chromosome browser, the Shared Matches tool at AncestryDNA is one of the most powerful tools available to genealogists. Once you have a list of genetic cousins at AncestryDNA, you can mine the Shared Matches with each of those cousins, looking for patterns of shared ancestry among the shared matches.
This works better if you have a well-researched tree and several tested relatives on multiple different sides/branches of the family.
PLEASE. I know I say this a thousand times in the post and the caveats at the end, but please use caution with this. I'm posting this because I found it useful, and I would like to get feedback on what others are doing in this area, particularly with regard to automation of this process. This is dangerous, so use caution!
The Shared Matches Tool
The Shared Matches Tool can be found by clicking on a genetic matches' profile, and then clicking on the SHARED MATCHES tab. It's not uncommon to have many shared matches, no shared matches, or any number of matches in between 0 and many.


If you've tested close relatives, you might see them in your Shared Matches list. For example, I've tested both my parents, and I get three (3) pages of shared matches with each of my parents.
Now, you might say that together my mother and father should share ALL of my matches in common, but that would be incorrect for several reasons. First, it is common that 20-30% of matches are not shared by either parent (which is either a false positive for you or a false negative for your parents). Second, the Shared Matches tool only shows your fourth cousins or closer shared with a match. There are MANY limitations to the tool, be sure to understand those limitations completely (see "AncestryDNA Announces New IN COMMON WITH Tool").
Clustering Shared Matches into Groups
For this exercise, we'll look at the shared matches between a Test-Taker and her 1C1R, who share 547 cM in common:

I focus on these individuals, for example, because I'm particularly interested in their shared ancestry, some of which I know and some of which I don't know:
I log into the Test-Taker's DNA results, and then I click on the profile for her 1C1R. There, I click on Shared Matches, and I get a list of just nine matches (that is, just nine of Test-Taker's fourth cousins or closer are also shared with the 1C1R). Notably, this list is on the small side.
These are the shared matches between the Test-Taker and her 1C1R (all names changed, of course). The shared matches with public trees are in bold: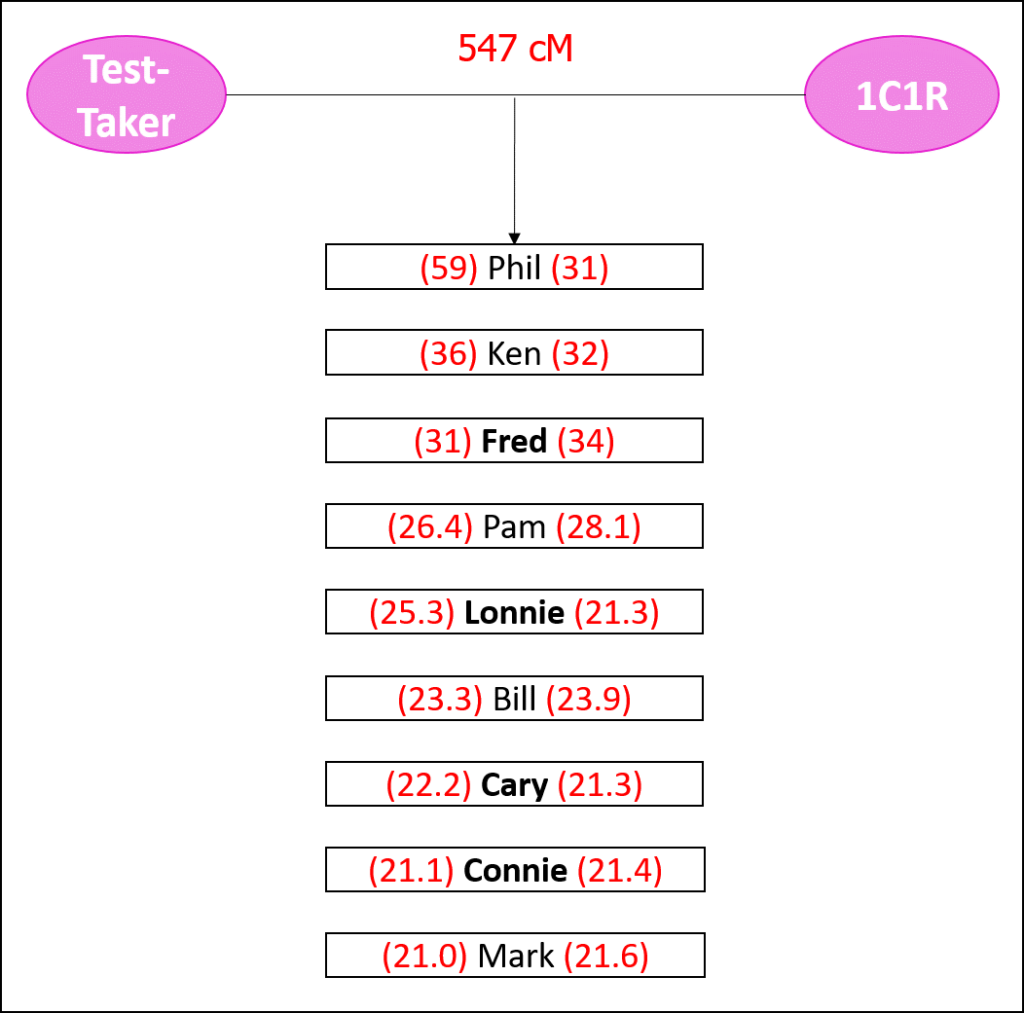 So, Phil is a match shared by both the Test-Taker and the 1C1R. This suggests that Test-Taker, Phil, and 1C1R share a common ancestor. BUT! It is entirely possible that Test-Taker and Phil share an ancestor while 1C1R and Phil share an entirely different ancestor.
Each of the Shared Matches may, in turn, share matches with the Test-Taker and/or the 1C1R. For example, in the following graphic, Ann is shared in common with Phil and the Test-Taker. Pam and Stu are shared matches with Ken and the Test-Taker. And so on: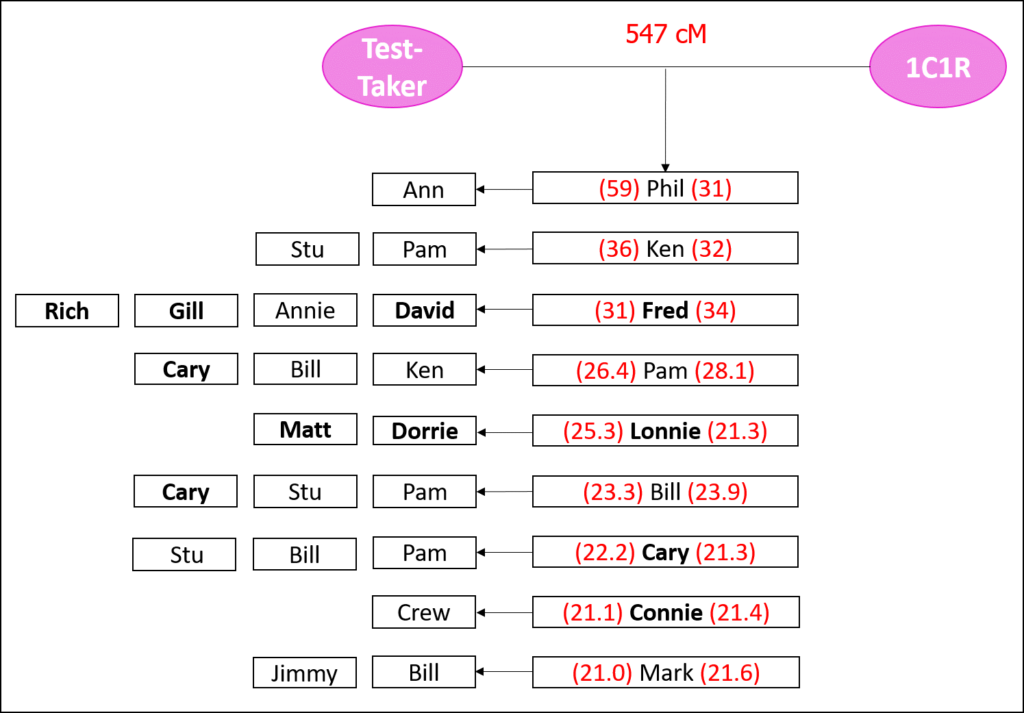 Repeating this on the right side are the matches shared in common with a Shared Match and the 1C1R. For example, Phil and the 1C1R also share Ann in common: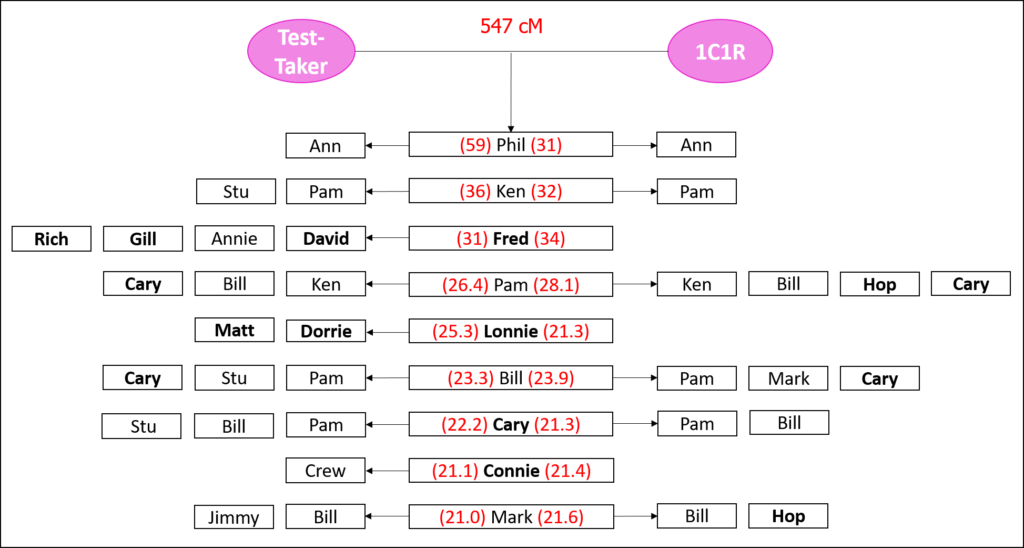 Now, I can take these shared matches and cluster them into groups, while understanding that this is very, very risky.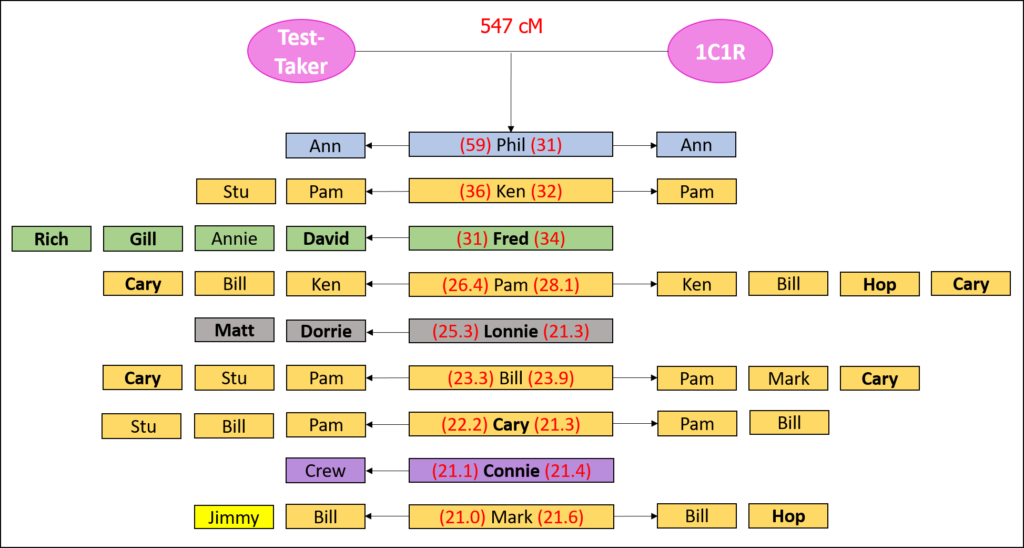 I am risking, for example, bringing in shared matches that are actually shared on different lines. As example, "Jimmy" in the graphic above shares matches with the Test-Taker on the opposite side of the family (i.e., the 1C1R is on the paternal side of the family, and Jimmy looks to be related on the maternal side of the family). So, proceed cautiously.
I can format the shared matches clusters a little differently, eliminating repetition of names: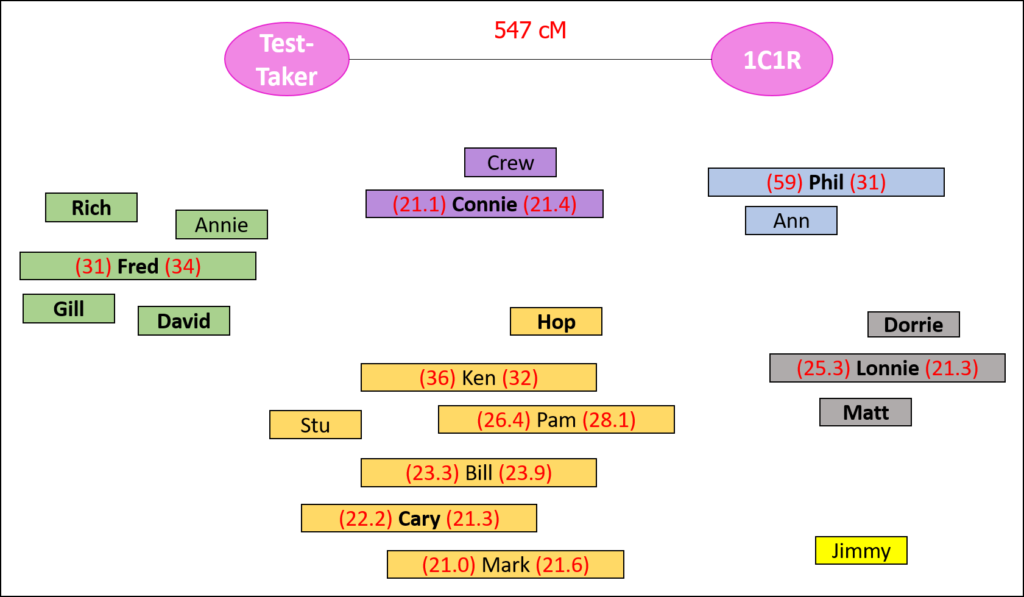 Now, I can mine the clusters for shared ancestry, understanding that I must proceed carefully. For example, the simplest way to proceed is to see whether any of the clusters have a known relative in them. If so, then I can proceed with the hypothesis that those individuals are related to Test-Taker and/or 1C1R through the known relative.
Another way to mine the clusters is to look through their trees to find shared ancestry, working with the hypothesis that their shared ancestry is how they might be related to Test-Taker and/or 1C1R. For example, since Dorrie, Lonnie, and Matt all have public trees, I can look through their trees to find ancestry that they share in common. It may be that it is only a location that they share in common.
Using this method, I discovered that Fred, Rich, Annie, Gill, and David are descendants of a single family (on multiple different lines) from Upstate New York in the late 1700's and early 1800's that are helping me solve my great-grandmother's adoption (which is on the line of the Test-Taker and the 1C1R):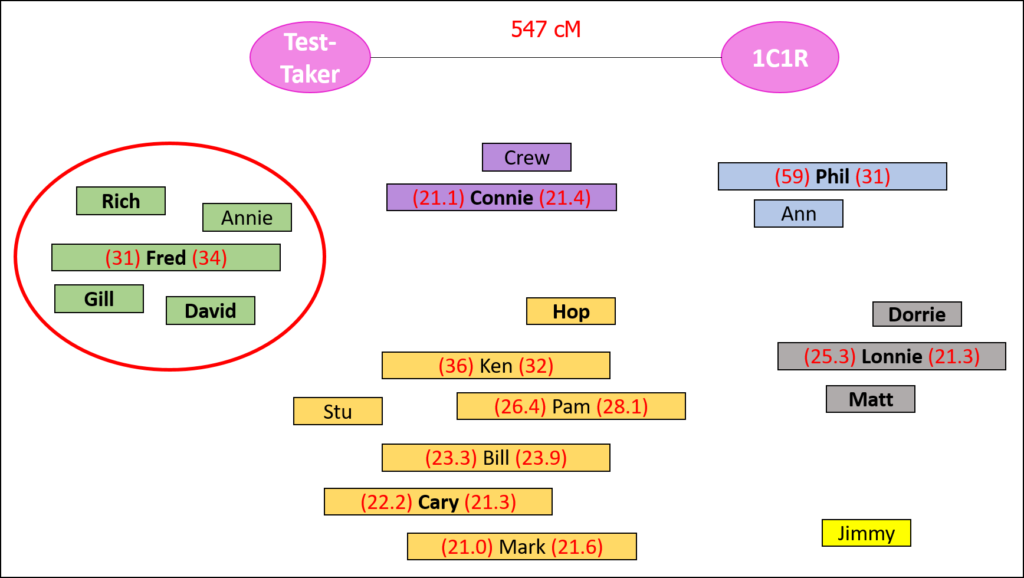 CAVEATS
Please keep the following caveats/tips in mind:
Of course, transfer to GEDmatch and convince your matches to transfer to GEDmatch. But almost all of them won't, so this is a tool for working around a lack of segment data.
As always, this may be problematic if there is significant endogamy. However, if there is only endogamy on one side or in one branch, you may be able to use that to your advantage (as that branch or side may have plenty of shared matches, making it clear that it is indeed that branch or side).
These are just CLUES. Everything discussed in this post can only serve as a clue, and requires more research to flesh out the clue and perhaps lead to a conclusion or simply a piece of evidence.
How have you used this clustering method successfully as a clue? What ideas do you have for furthering this method or automating it?