[Link for the survey is here: https://goo.gl/forms/oSpKuAfU4sGnShJ73]
I've tested myself out to 67 Y-DNA markers (67-111 are pending!), and I've compared that to two 5th cousins. We have some genetic differences, as expected, and I'm always interested in learning more about my Y-DNA. One thing I'd like to do, for example, is compare my results to closer relatives (father and/or son) to look for mutations in father/son pairs.
What is the likelihood of a mutation arising between a father/son pair? What mutations are most likely to arise? Can we use this information to improve estimates to the MRCA?
There are existing studies that examine Y-STR mutation rates (see a great list on the ISOGG wiki: Mutation Rates). Most have dealt with SNP-derived haplogroup ages rather than close relatives, although some have indeed utilized father/son pairs. I'm always on the lookout for more data, however, and as scientists we want this information to be repeated with different father/son pairs. Once we have this data, we can incorporate it into haplogroup age estimates and many other areas of research, hopefully improving the outcomes.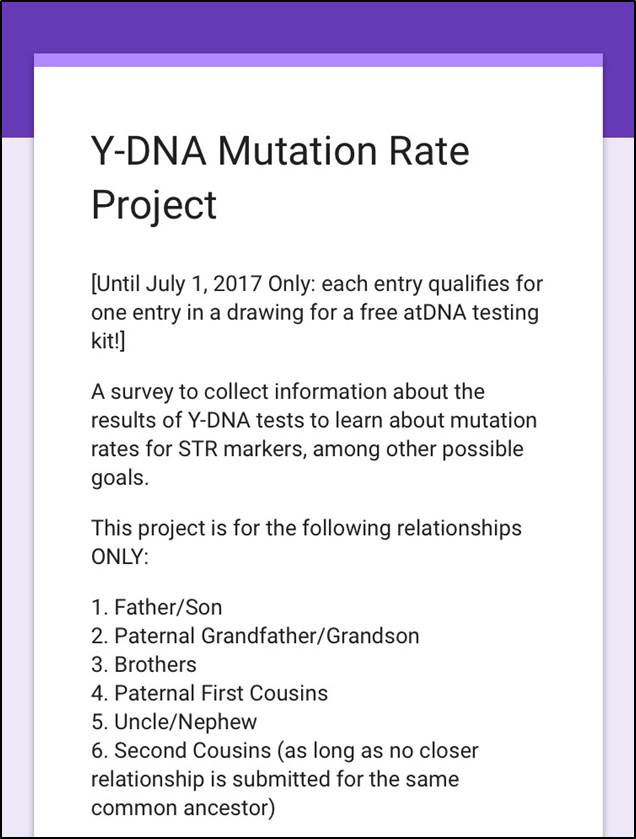 Contribute data before July 1, 2017, and you'll be entered into a drawing for a free atDNA test kit!
The project is currently for the following relationships ONLY:
Father/Son
Paternal Grandfather/Grandson
Brothers
Paternal First Cousins
Uncle/Nephew
Second Cousins (as long as no closer relationship is submitted for the same common ancestor)
If you have another relationship, like 1C1R (first cousin once removed), just select "Paternal First Cousins" and enter 1C1R in the notes field. But please, no relationships more distant than 2C.
I am especially interested in Y-DNA from non-European haplogroups, since these haplogroups are seriously underrepresented in all research. Also, please don't think you need to have mutations to contribute; that's actually bad for the project as it will skew the results toward a higher mutation rate. So feel free to contribute even if you don't have any mutations!