Today (March 28, 2017), AncestryDNA launches a new tool called "Genetic Communities." Genetic Communities (GCs) are groups of test-takers who are connected through their DNA because they descend from an identified recent and distinct population of ancestors (somewhere around 1750 to 1850, in my experience).
There is a lot to explore with these GCs, so this will be just an introduction rather than a complete guide.
At 2 PM EST this Thursday I'm doing a webinar for Legacy Family Tree Webinars called "Exploring AncestryDNA's New Genetic Communities." You can register at any time. If you're reading this after March 30, 2017 and you missed the free webinar, you'll be able to watch the webinar if you are a Legacy Family Tree member (and you should be!).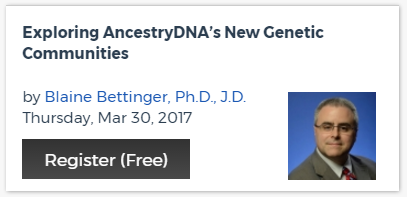 I've compiled a PDF of the 300 or so Genetic Communities, with the associated hierarchy. It can be downloaded by clicking HERE. Feel free to use and share. See the bottom of this post for more information about the PDF.
Genetic Communities – the Science
The science behind GCs is pretty impressive. Much of it has been published in a peer-reviewed journal called Nature Communications. If you read the paper ("Clustering of 770,000 genomes reveals post-colonial population structure of North America"), be sure to read the Supplemental Material too, it's full of great information. For short summaries of the journal article, see:
AncestryDNA has also created a white paper for GCs: "Genetic Communities™ White Paper: Predicting fine-scale ancestral origins from the genetic sharing patterns among millions of individuals."
Finding Your Genetic Communities
Most people will have at least one GC. You'll find your GCs on your main DNA page, right below your ethnicity estimate summary: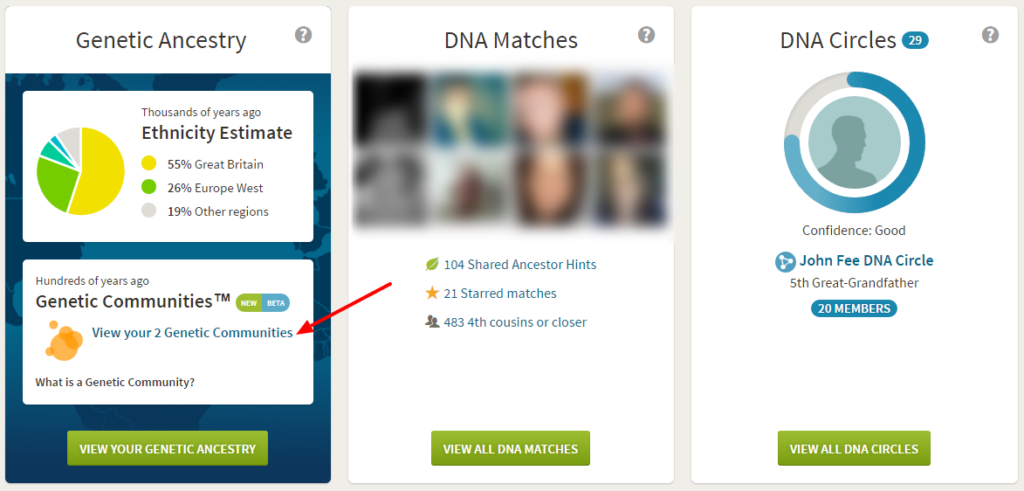 As you can see, I have two GCs. Clicking takes me to the next page to see them: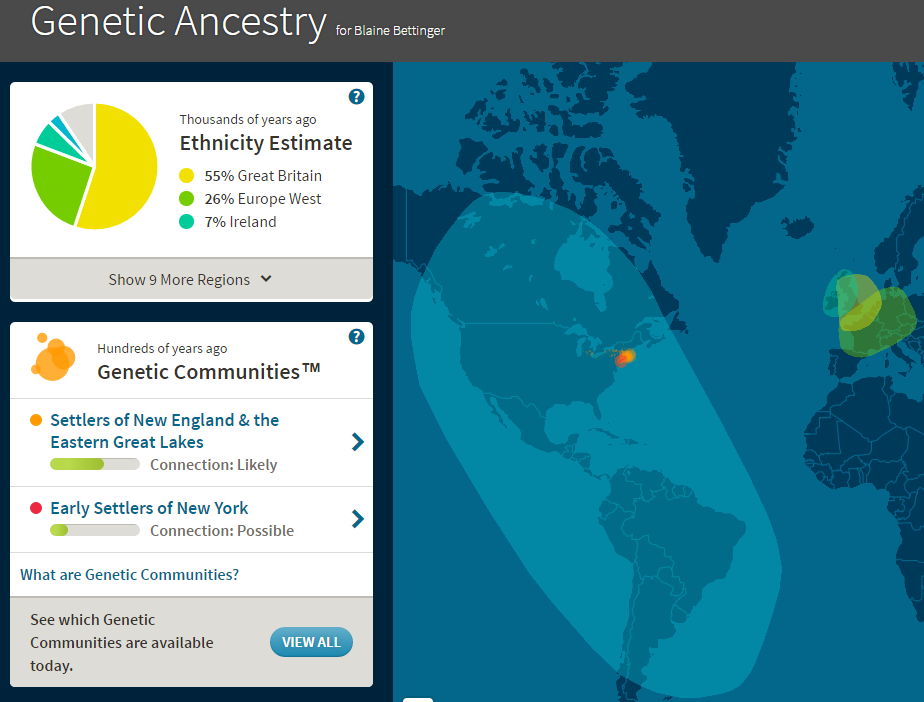 These align well with my known ancestry, which has plenty of Early New York and New England ancestors. You can then narrow in on a single GC to see the "Story" page: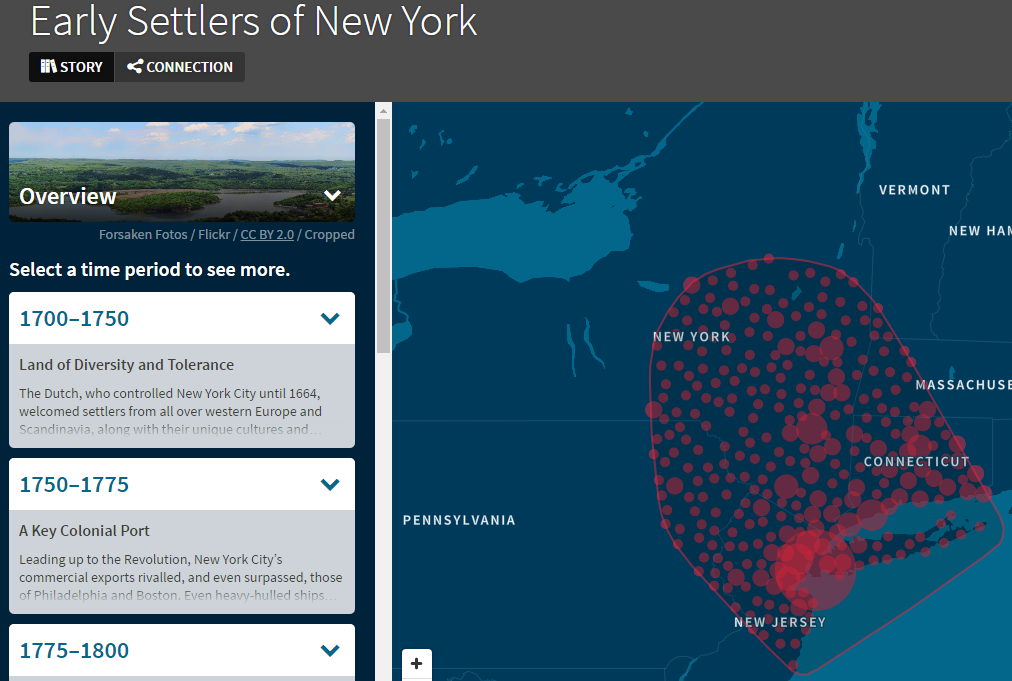 Clicking on one of the time periods shows more information, including some of your ancestors from your tree (if you have one attached to your DNA results!):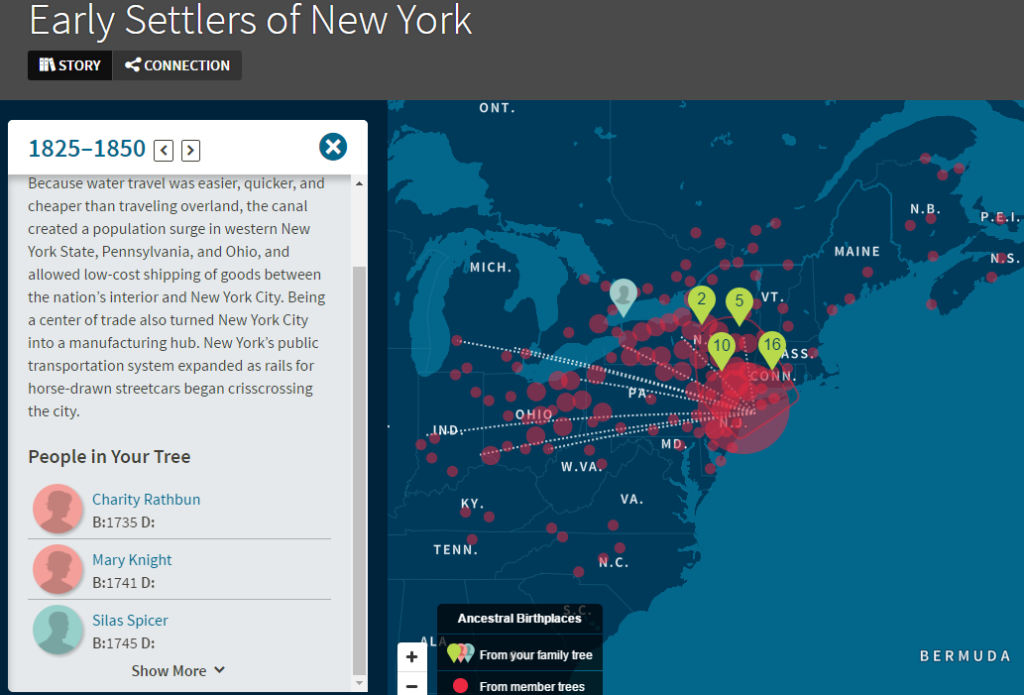 The "Connection" page is my favorite, however. Clicking on "Connection" under the title of the GC takes you to this page: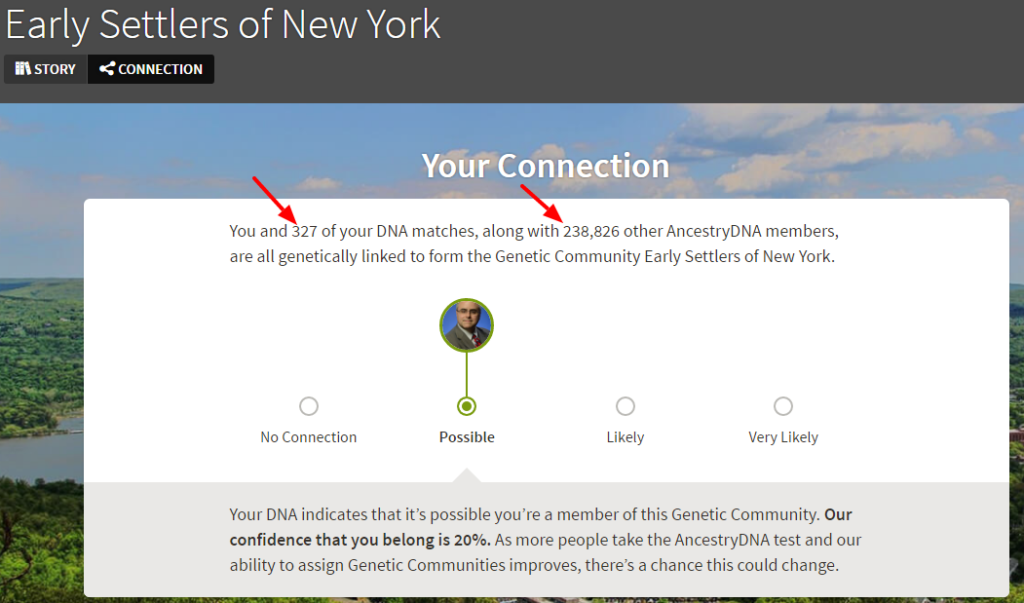 This shows you how many of your matches are included in this GC (here it is 327), how many people total are in the GC (238,826), and the confidence level that I'm a member of the GC.
At the bottom of the page, you'll get a link to see your matches included in this GC, and a list of surnames that are enriched in this GC: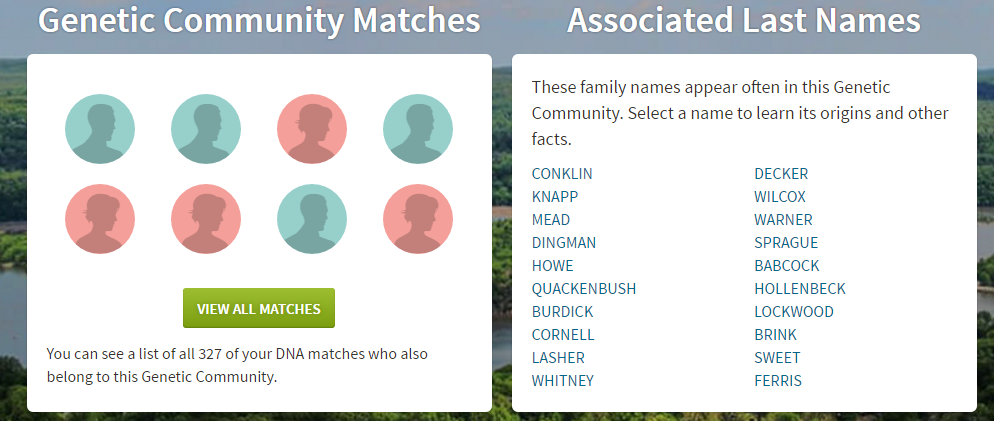 Clicking "View All Matches" actually takes you back to your match list with a new filter applied, the "Genetic Communities" filter:

This filter will allow you to select only those of your genetic matches that are also assigned to that GC. This could be a very useful tool, for example, to begin to cluster your matches. For example, people with holes in their trees or adoptees may use these filters to assign matches to groups.
BUT A NOTE OF CAUTION!!!! Just because a genetic match shares a GC with you does not establish that the GC is responsible in any way for your shared ancestry! NO! And, just because you share a GC with a parent and with a match does NOT mean that you can definitively label the match as maternal or paternal! 
These are good hypotheses, of course, but it will be very important to avoid making unsupported conclusions using GCs.
As an example, when I select the filter "Early Settlers of New York," my genetic match list looks like this:
Children
Mother
Maternal aunts/uncles
Paternal 2Cs
Maternal 3C
Paternal 3Cs
And so on…
So, clearly the "Early Settlers of New York" filter is one I have to be careful with (and with 238,826 members in the GC, that's not too surprising!).
Important Points About Genetic Communities
Thinking about GCs, there are several major points I want to make:
First, it is important to keep in mind that this is the first version of a product that will continue to evolve. Just like in the early days of atDNA testing when matches were few and distant, GCs will be broader and fewer. Over time, GCs will narrow in both space and time, and their numbers will increase. It may be possible that they will narrow in on counties or villages or families, eventually, if enough people test. Accordingly, we shouldn't expect to have all of our possible GCs yet.
Second, those of us with Colonial America or Western European roots should be careful when evaluating GCs to avoid a bias that could develop due to our extensive genealogical records. We tend to have very good records, meaning that our trees are not a huge mystery around 1750-1850 (although I know I have plenty of holes, they often aren't enormous ones). However, there are innumerable populations in the U.S. and abroad that have terrible records, and GCs will provide important clues. Often, it may be the only information they ever have, and it can sometimes narrow in on very small areas.
As an example, I have African and Native American DNA that traces back to my maternal grandmother in the Honduras.  Unfortunately, I know nothing about these African and Native American ancestors because the records are so poor. However, several of my maternal grandmother's descendants have GCs that represent African Caribbeans, which supports my hypothesis that my African DNA came from Africans brought to the Caribbean during the slave trade. Considering the poor records in that area, GCs and tools like it will likely be the best support I ever get for these conclusions.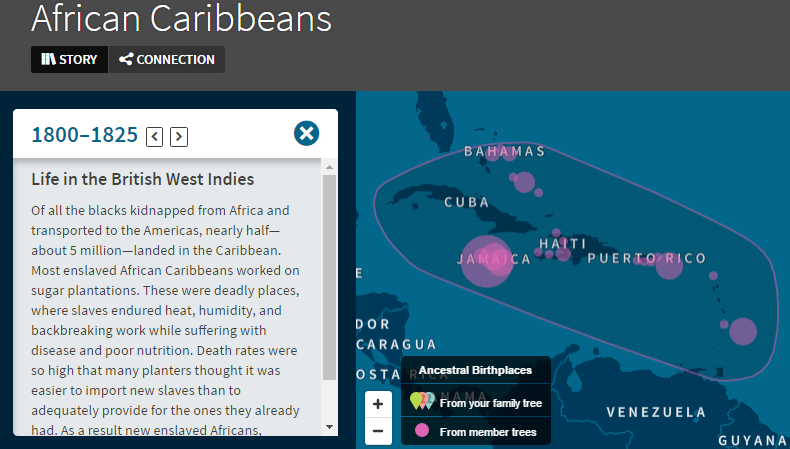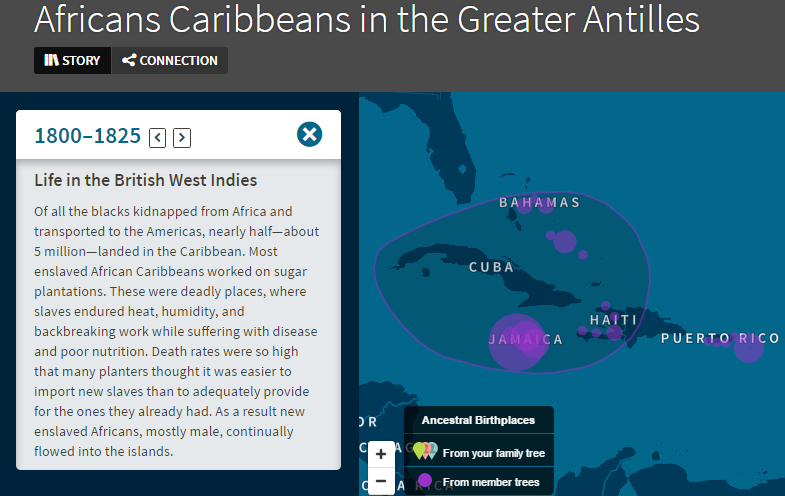 I think there will be many people that have holes in their tree in 1750-1850 who will use this tool as clues to direct some of the research.
Third, I am beginning to suspect that GCs are better than ethnicity estimates. Unlike ethnicity estimates, where I recommend that people ignore sub-continental categorization, GCs are almost all sub-continental. And, in my opinion, GCs are based on much better science than ethnicity estimates. Although I can't rely on sub-continental ethnicity estimates, I will likely rely on sub-continental GCs. Indeed, GCs may even largely replace ethnicity estimates someday, which I think would probably be a positive development.
As an example, I'm working with an adoptee who has a large percentage of Eastern European ancestry, but that is as distinct as the prediction gets. However, the adoptee has two Eastern European GCs that potentially narrow in one region that is located largely within a single country and another that spans a couple of countries. This may be extremely beneficial information for the adoptee.
Last-Minute Genetic Community Tidbits
You do NOT have to have a tree or a paid subscription to get Genetic Communities. However, there are benefits to having a tree linked to your DNA results when using GCs (the tool will pull in people from your tree onto the map where you are exploring a GC).
There are more than 300 Genetic Communities as of the launch date.
Although Genetic Communities are annotated with user trees, they are annotated using thousands of user trees. Additionally, they are annotated using primarily location information from those trees. Although poorly-sourced and -researched Ancestry trees are always a concern, the sheer number of trees (and the fact that it involves locations which tend to be more accurate) means that errors are unlikely to impact a GC.
I've compiled a PDF of the 300 or so Genetic Communities, with the associated hierarchy. It can be downloaded by clicking HERE. Names for about seven of the GCs are missing because I was unable to hover over the GC to reveal the name in the "View All" mode. However, I left them blank so you could write them in later. I believe we can quickly crowdsource those missing names.